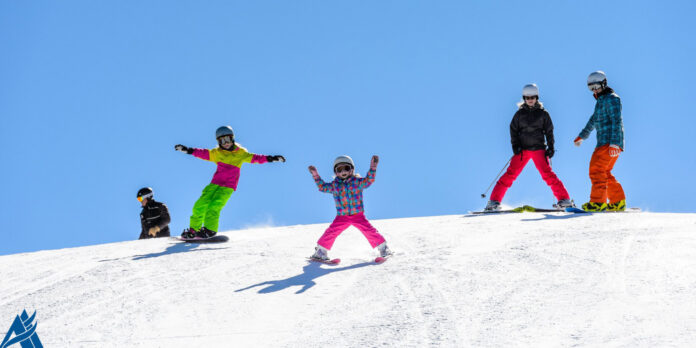 Have you ever imagined immersing yourself in the cool mountains and fresh air? What if we tell you that this will help you accelerate your riding, sliding, and skiing skills across the white snow surface?
The best ski resorts in New Mexico will help you to bond with nature, meet new people and explore new terrains. Want to know which hill to hit for your coming winter vacation in New Mexico? Mentioned below is a comprehensive guide to the best ski resorts in New Mexico for your upcoming snow adventures!
 1. Angel Fire Resort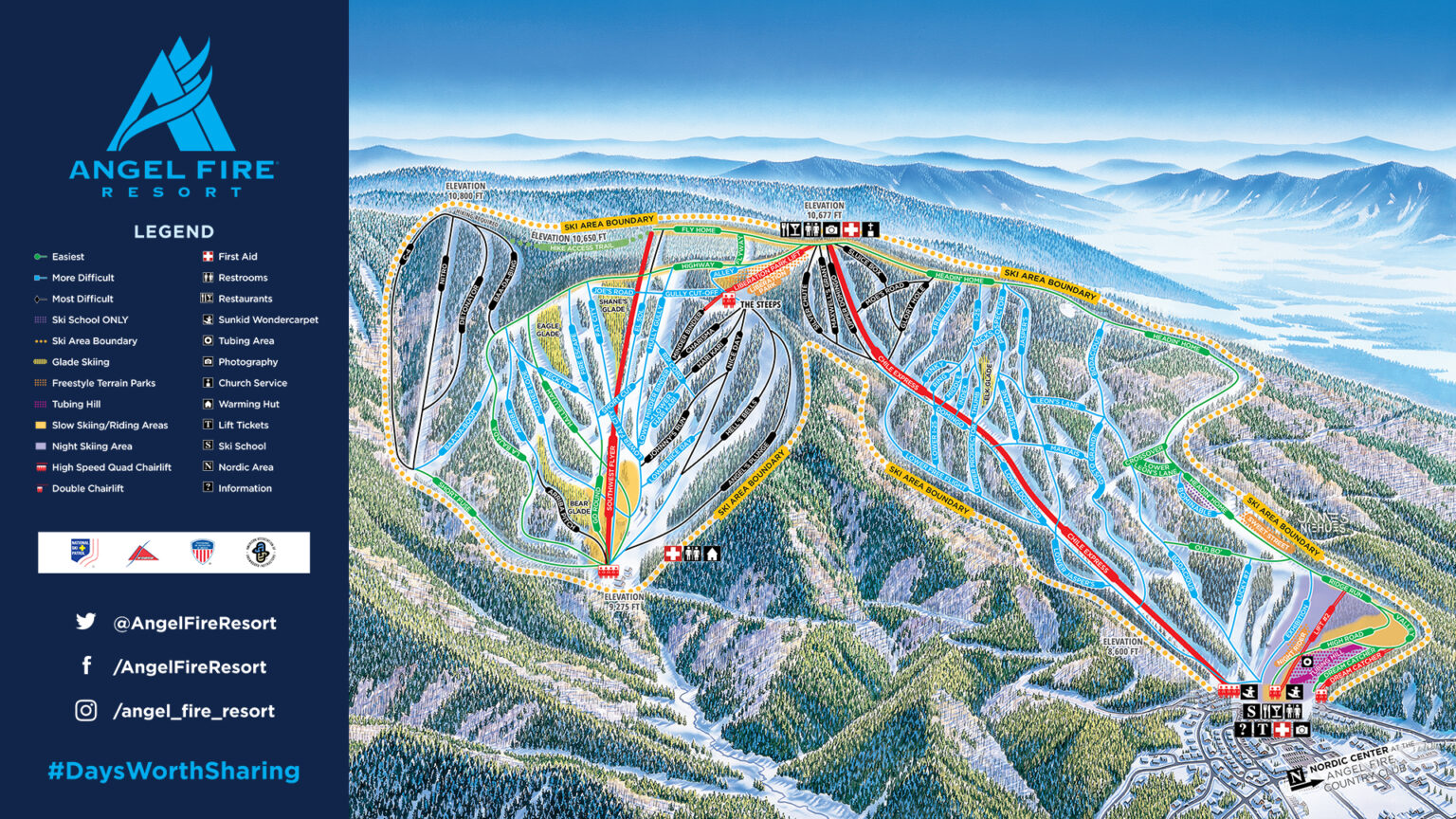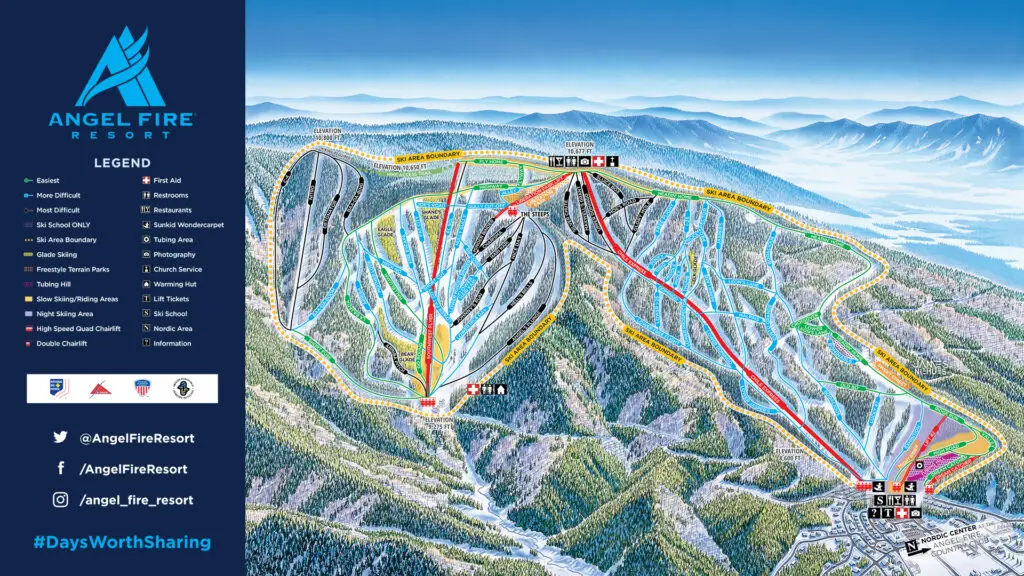 The Alpine Ski Resort at Angel Fire in New Mexico is the perfect place for intermediate as well as beginner-level skiers. This is a four-season resort that provides an adventurous Rocky Mountain experience for outdoor enthusiasts, families with kids, and groups of people.
The Angel Fire Ski Resort has 81 runs of which approximately 77 are rated either intermediate or simple, thus making it an ideal location for a perfect family ski holiday.
Situated 8,600-feet above sea level in the Southern Rockies, the resort offers winter adventures sports such as skiing, snowboarding, tubing, sledding, and snow blading among others.
You do not have to worry if you reach the resort late during the day as the ski resort provides an option of night skiing with an additional charge.  Did you know that this is the only night skiing and snowboarding resort in New Mexico?
With respect to accommodation, you can choose from condos, hotels as well as bed and breakfasts. Throughout the winter months, Angel Fire Resort offers a free shuttle service to The Lodge, for any Angel Fire Resort lodging guests traveling via Taos Air. The Angel Fire Airport is just three miles away from the Angel Fire Resort, hence making it convenient for travelers.
 2. Sipapu Ski And Summer Resort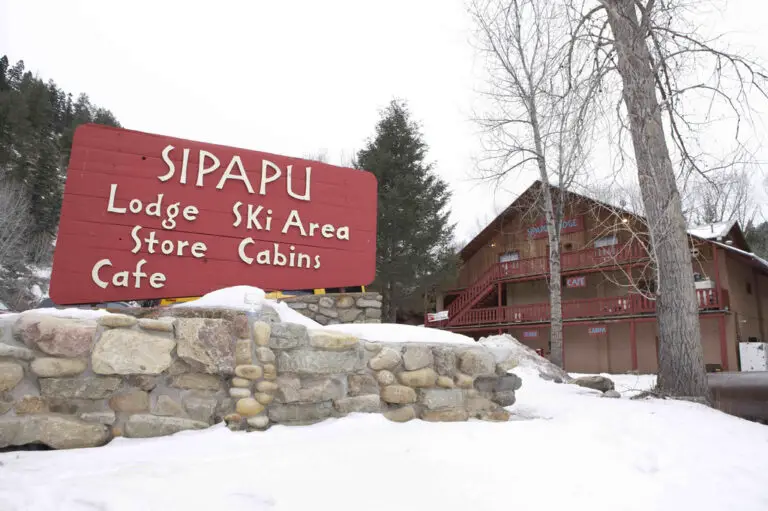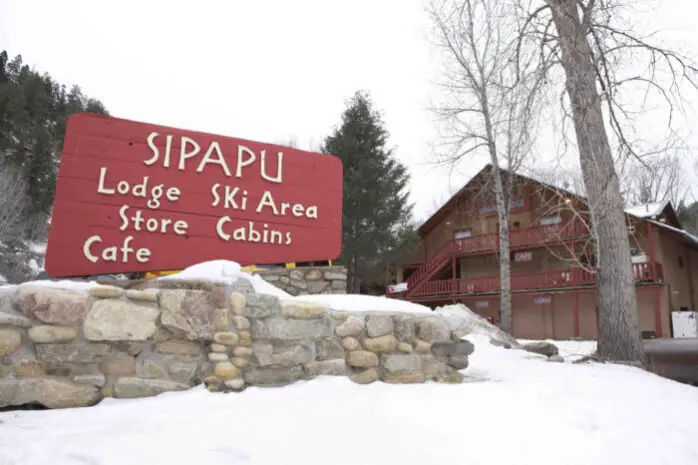 Surrounded by the beautiful Carson National Forest and the Sangre de Cristo Mountains, Sipapu Ski And Summer Resort, also known as Sipapu, has more than forty trails and three mesmerizing terrain parks.
This family-run resort is situated nearly twenty miles southeast of Taos and approximately two hours north of Albuquerque.  Sipapu is the oldest ski resort in Northern New Mexico and is well-known for being a destination for family fun.
The resort is said to provide the best deals, which allows families to have the best time and bond with each other, at a reasonable as well as affordable pricing.  Special instructions by experts on every terrain and at every level are provided by Sipapu's Ski & Snowboard School. Depending on your preference, you can opt for private or group lessons at Sipapu.
Some of the accommodations and other amenities at the resort include The Riverside Cafe and Slopeside Lodging which includes a historic lodge, cabins, suites, and so on. Another fascinating feature is the Paradise Riverside Bar and Grill which provides the best riverside dining experience in New Mexico.
Another highlight of the resort is the Sipapu Disc Golf Course, which is listed among the top 5 courses in New Mexico. Visitors can also engage in trout fishing a little distance away from the ski resort's slopeside accommodations.
Undoubtedly, Sipapu Ski and Summer Resort is one of New Mexico's fastest-growing resorts on account of the various facilities and exhilarating opportunities offered by it.
3. Enchanted Forest Cross Country Ski And Snowshoe Area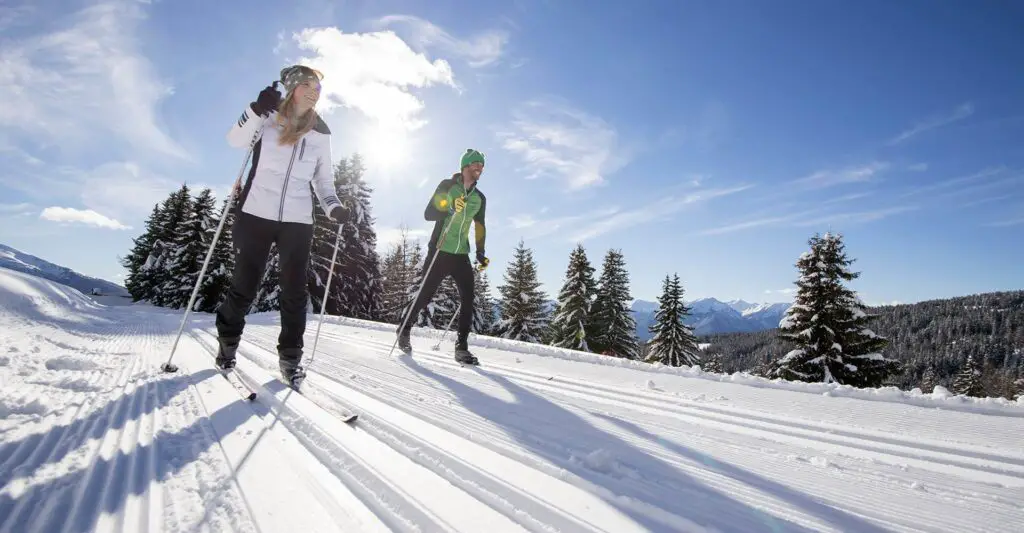 Next on our list, we have the Enchanted Forest Cross Country Ski And Snowshoe Area. This ski resort has the perfect arrangement of backcountry trails for skiing and snowshoeing in the midst of beautiful mountains.
You can enjoy snowshoeing and cross-country skiing through aspen forests and pine trees, as a cool breeze creates a refreshing climate. The ski area has approximately 20.5 miles of groomed trails which are meant for skiing and nearly 11 miles for snowshoeing.
The trails are also open for trail running and hiking with mountain biking. What's more exciting is that the ski area has a dedicated trail system where visitors can bring their fur babies!
The ski area has Winter Yurt Rentals, however, these are accessible only via hiking or biking and not driving. You and your family would definitely want to visit these yurts as they are semi-primitive. The newly built, dog-friendly, twenty-foot-long Glade Yurt can accommodate up to eight people.
Apparently, Enchanted Forest Cross Country Ski And Snowshoe Area intends to build a year-round recreational facility along with expanding the provisions of wilderness experiences with exciting adventures.
4. Ski Santa Fe Ski Resort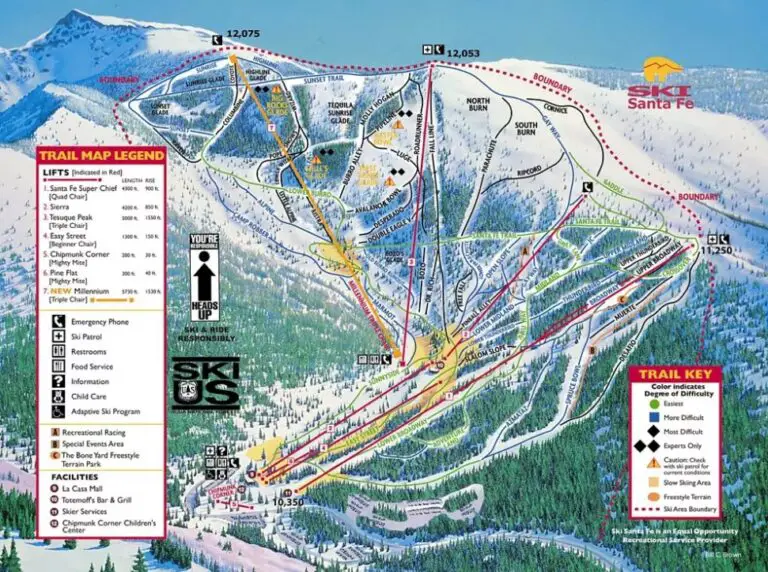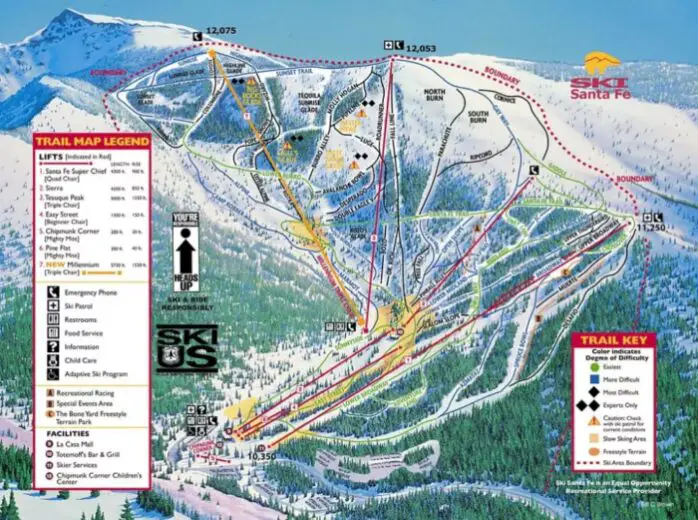 With an approximate base elevation of 10,350 ft, Ski Santa Fe is the perfect point for an adventurous ski experience for all ages! The resort is located nearly sixteen miles from the main city of Santa Fe. Hence, one can explore the city during the night and enjoy the delicious local cuisine and trendy art scene.
You can rent your equipment from the base of this lift and also learn some techniques from professional ski experts for a seamless skiing experience. El Rey Court, Santa Fe Sage Inn & Suites, Drury Plaza Hotel are some of the accommodation options where you can relax, explore, and enjoy.
Resorts, spas, beds, and breakfasts, are some of the other room options that you can keep an eye out for, depending on your budget and needs. Known to be a unique ski destination, Ski Santa Fe has 660 acres, 86 runs, one Quad Chairlift, and two conveyor lifts.
The Santa Fe National Forest and Aspen Vista Trail are some of the nearby attractions of the ski resort.
5.  Ski Apache Resort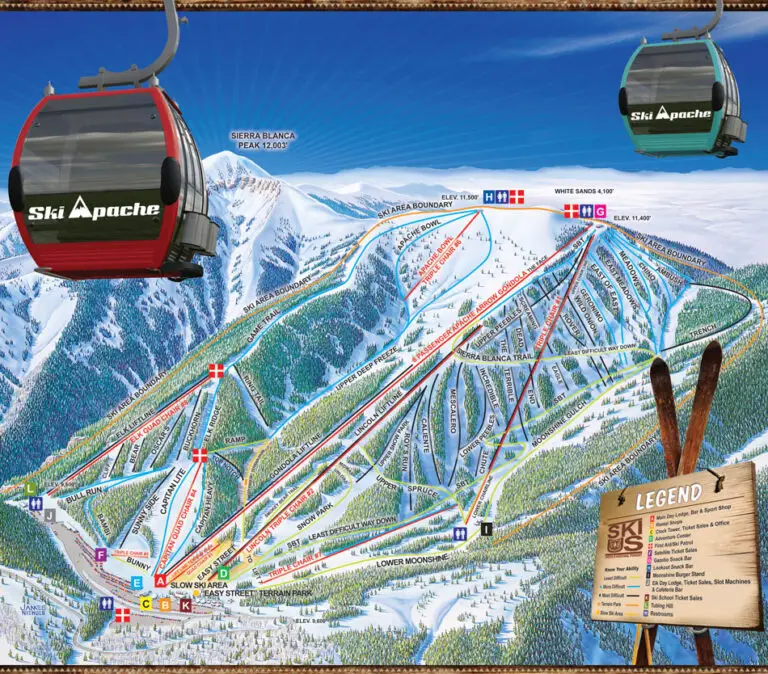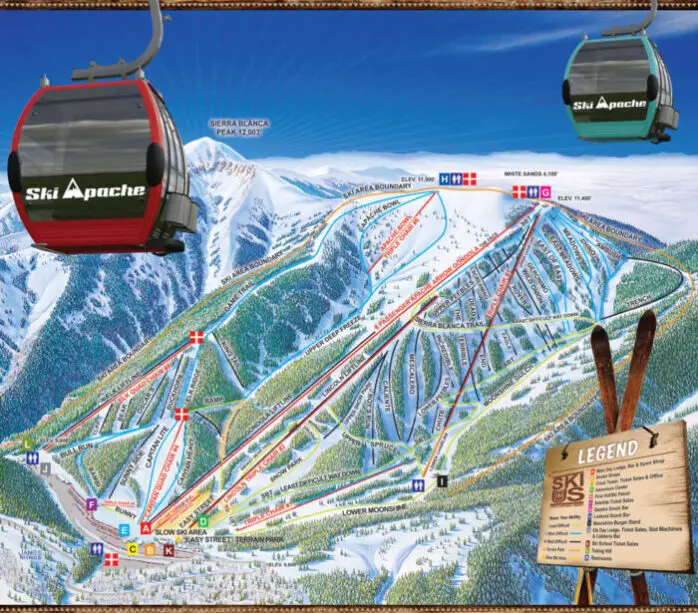 Located towards the southern end of New Mexico, the Ski Apache Resort offers skiing with exciting and adventurous activities for everyone who visits this place. You can take in the awe-inspiring sight of the Sierra Blanca mountains on the one and only eight-rider gondola in New Mexico.
Furthermore, you can enjoy the stunning course of the mountains through the well-designed mountain biking pathway in addition to hiking trails. If you are craving some adventurous activities, you can consider some more challenging routes like a huge bowl, cruising run, or a terrain park with jumps.
The well-known Wind Rider Zip Tour is considered to be the biggest highlight of this fascinating resort. At almost 8,800 feet of a High-Speed Thrill, this captivating Zip Tour is believed to be one of the longest ziplines on this planet. If you are here, you should definitely not miss the once-in-a-lifetime experience!
Through the Apache Wind Rider Zip Tour, you will fly over the skiable terrain of the Apache Bowl and then over the trees. You will land near the top of the Elk Ridge run. The resort advises its guests to book rooms in advance for desired visits to the resort. The Inn of the Mountain Gods and Ruidoso River Resort are the lodging partners of Ski Apache resort.
The estimated 2023-2023 ski season of the resort is reported to be between 4th December 2023 to 26th March 2023. The resort is a 45-minute drive from the Sierra Blanca Regional Airport and almost a 3.5-hour drive from the Albuquerque International Sunport.
6. Pajarito Mountain Ski Area Resort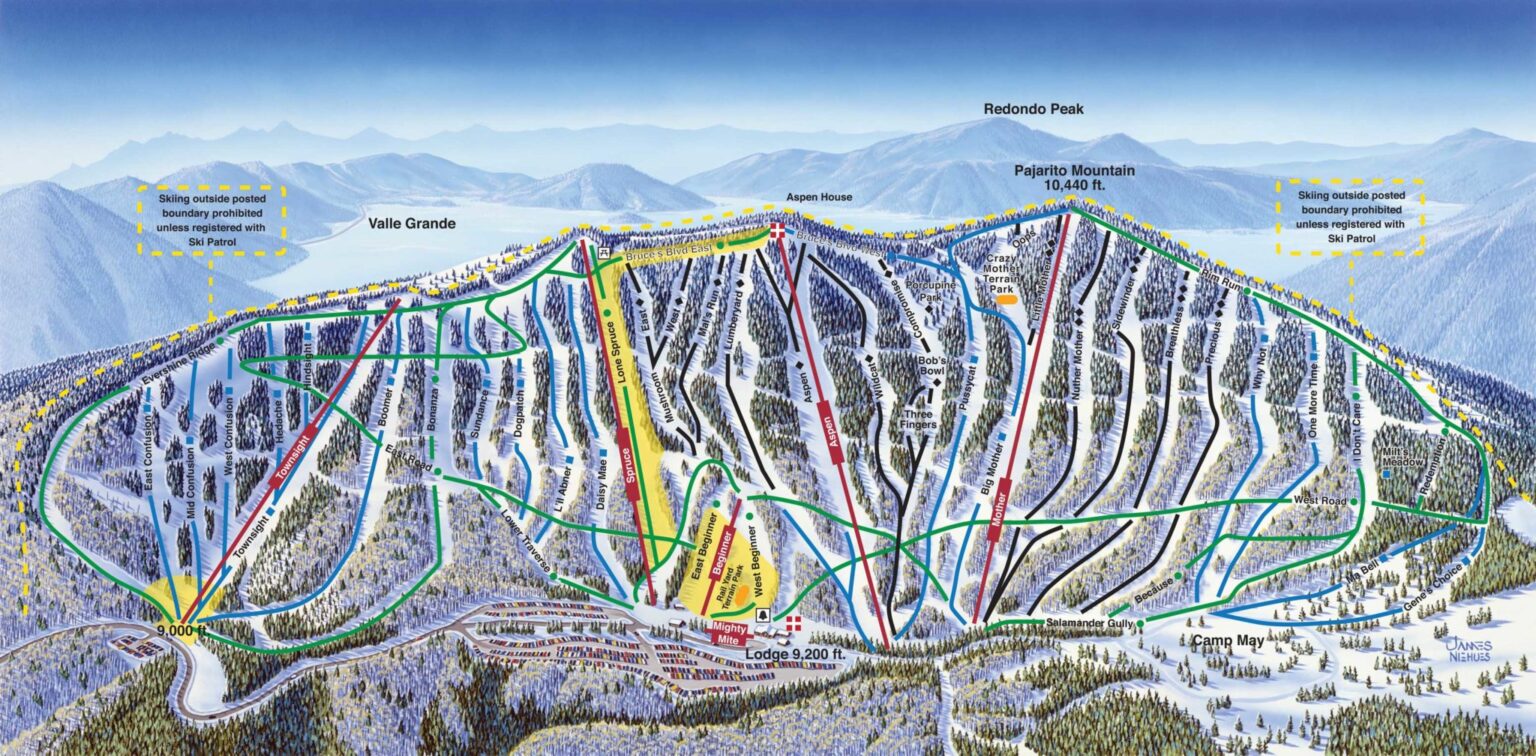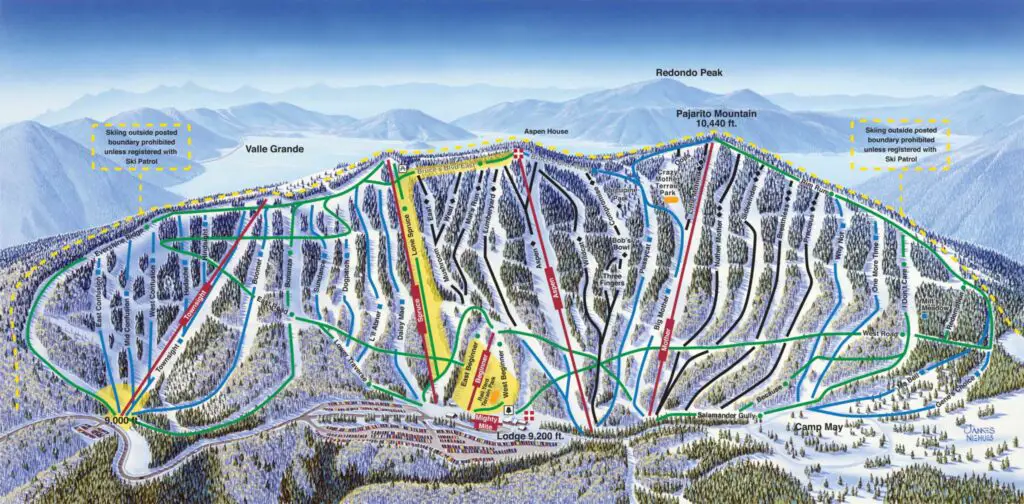 Positioned towards the northern side of the Pajarito Mountain, the Pajarito Mountain Ski Area in Pajarito is known for its exemplary festivals and music festivities. The resort is situated near Los Alamos towards the eastern region of the Jemez Mountains.
Pajarito entails 300 skiable acres and 40 trails. The ski resort is well known for the magnificent views it offers of the Rio Grande Valley. It is also known for activities like tree skiing, terrain park, and bump runs. Pajarito is an almost 45-minute drive away from Santa Fe and nearly a two-hour drive from the city of Albuquerque.
Season passes are also available with discounts for early season purchases. Children aged twelve and below, receive Free Season Passes at the Pajarito Mountain Ski Area. Visitors who are 75 years of age and above receive the freeSuper Senior Season Pass. The resort has rental facilities, retail avenues, and cafeterias along with a high-quality snow sports school, which has professional and experienced ski instructors.
7. Red River Ski & Summer Area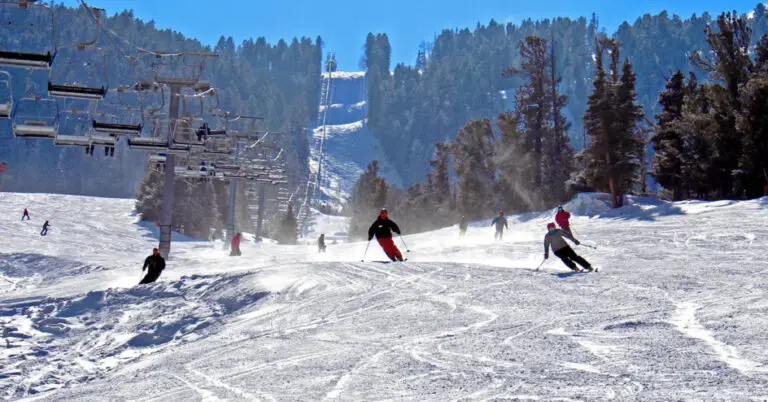 Surrounded by the Southern Rockies of New Mexico, Red River Ski & Summer Area is a family-owned business. The resort is around 60 years old! The motivating factor to visit this resort is that the hills at Red River are gorgeous views of snow-capped peaks.
The mountain boasts of a magnificent geographical location as it is placed along the famed Enchanted Circle – near Texas, Albuquerque, Taos, and Santa Fe. 85 percent of the mountain is enveloped with pearl-white snow, which takes everyone's breath away.
You can look for wide-open groomers and steep powder-filled trees with park laps which make it a must-visit spot during the winter climate. However, the resort has something exciting to provide during the summer season too. Go ahead and experience the cool mountain retreat with an amazing aerial escapade ropes course and spectacular, scenic lift rides along with zip line activities.
Red River Ski & Summer Area proudly states that it was built by miners, not developers. If you visit this ski resort, not only will you have a wide range of accommodation to choose from, but also an array of local cafes or restaurants?
Wouldn't it be exciting to enjoy skiing plus snowboarding with minimal lift lines and fresh powder stashes that exist for several days at the Red River Ski & Summer Area?
You will instantly fall in love with this small-town beauty. Reportedly, for the 2023-2023 season, the first day of skiing with riding at the ski resort commences on 24th November 2023. Make the best out of it as there is special pricing available on lift tickets.
8. Taos Ski Valley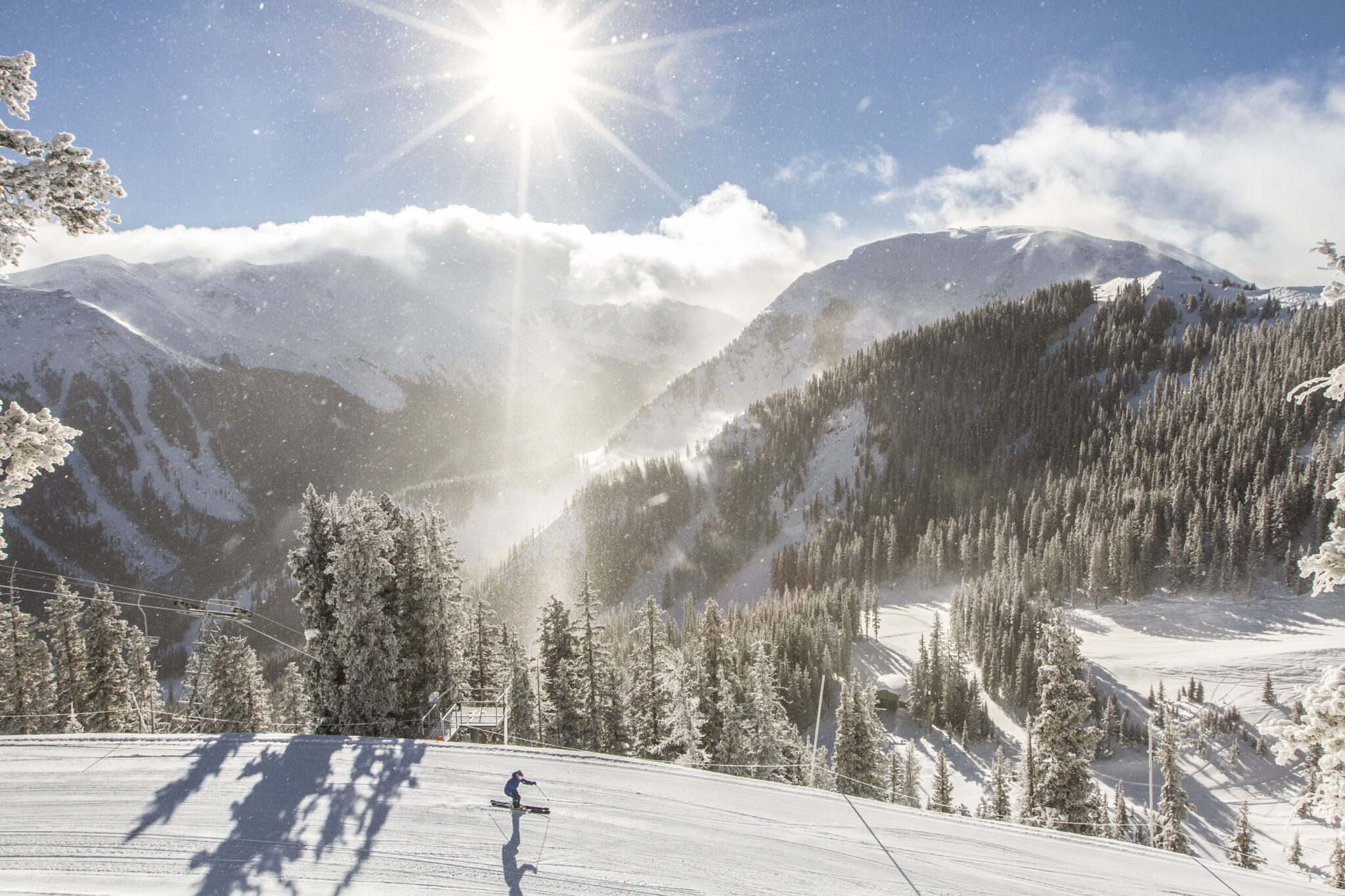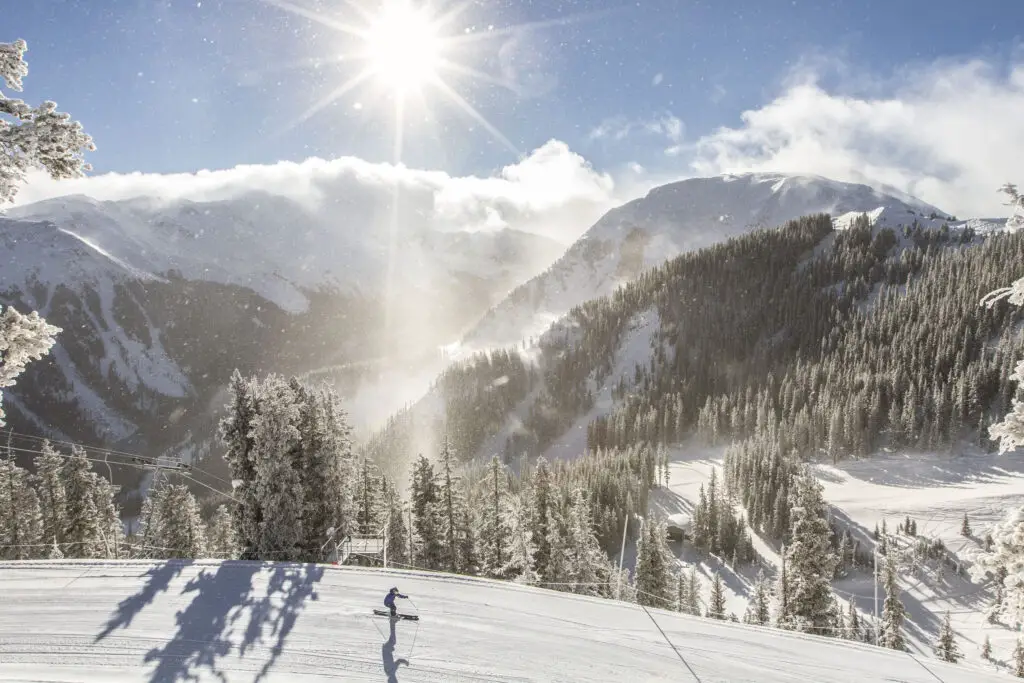 Though the name Taos Ski Valley is cited last on our list, it is amongst the premier ski resorts in New Mexico.  It is said that nearly 50% of the terrain is graded for experts with tight chutes along with powder-filled bowls which are yet to be explored.
Additionally, this ski resort is a top-notch destination for advanced skiers and boarders. Nature lovers can enjoy picturesque scenery at the top of Kachina Peak. You would definitely not want to miss these mesmerizing views.
Beginners need not worry as the Ernie Blake Ski School is rated as one of the finest in New Mexico. The green and blue runs are covered by snow and provide one of the best learning environments for skiers.
The ski resort extends amazing facilities such as children's ski programs in addition to daycare facilities.  If you think of planning a trip, the resort is almost a two-hour drive from the Santa Fe Regional Airport, and nearly a three-hour drive from the Albuquerque International Sunport.
The ski season at this ski resort is between 30th November 2023 to 8th April 2023.  The resort offers snowsports programs, children programs, adult programs, and adaptive programs among others. Such programs would want to make you book your next skiing trip at this resort.
Taos Ski Valley was the first major ski resort to attain a certified B Corp! This certification indicates that Taos Ski Valley meets the highest standards of verified environmental and social performance.
Final Words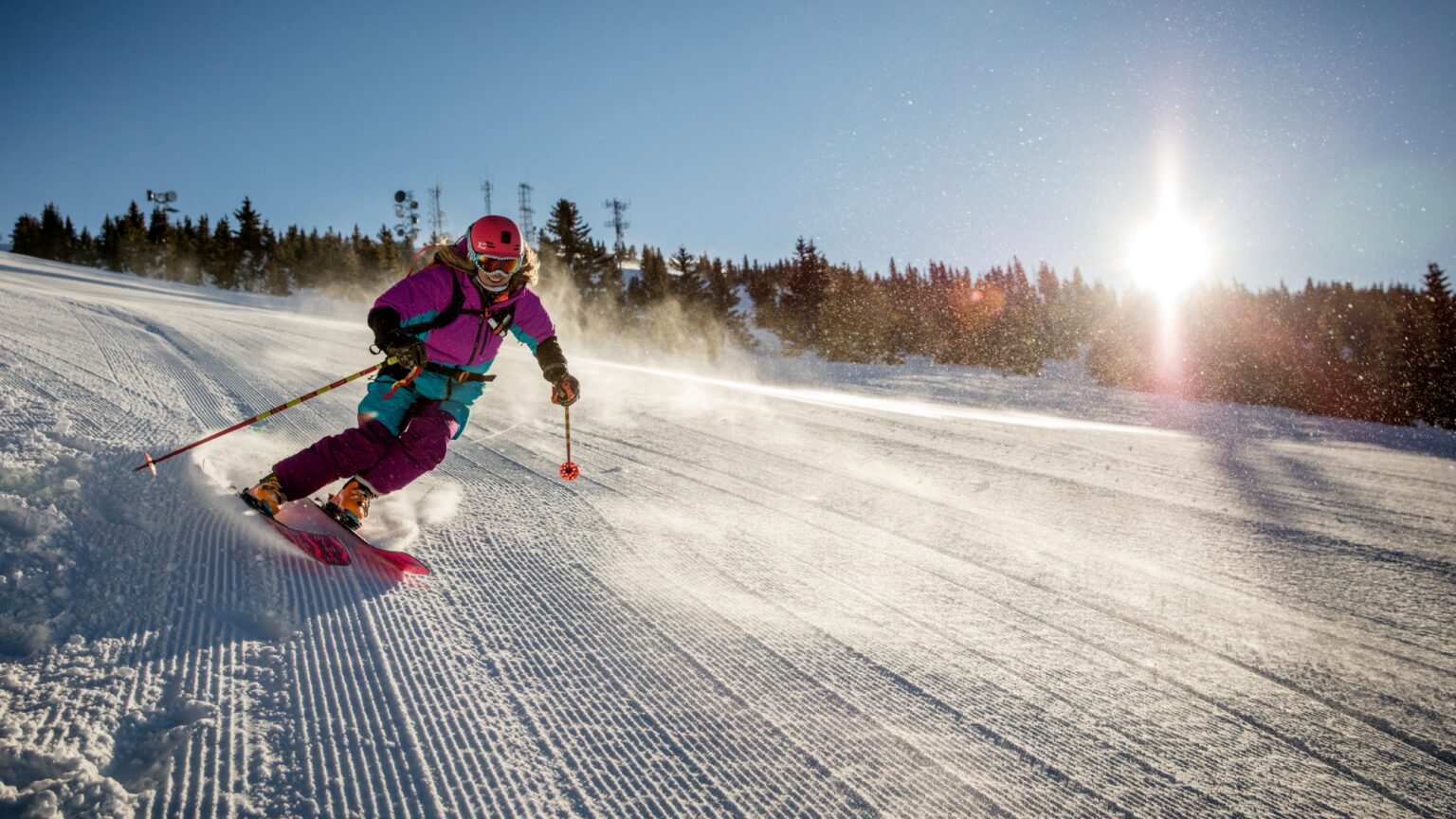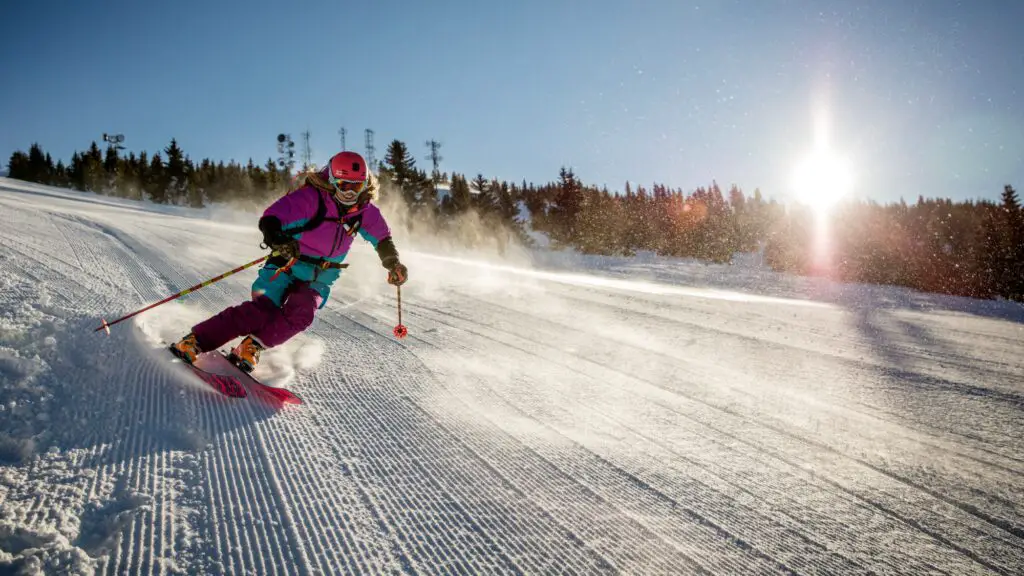 Skiing down the mountains is an amazing sport and a recreational activity. It is a perfect body workout for all enthusiasts. To some, it is a competitive winter sport while it is a source of happiness for others.
In fact, various skiing events are recognized by some ski federations and ski committees. Diving headfirst into famous chutes is always an action-packed experience for all you adventurous folks. Challenge yourself into such exhilarating as well as thrilling experiences in the midst of white mountains in New Mexico.
Always seek advice from a professional ski instructor and skiing professionals if you are new or a beginner to this adventure. Why wait? Go ahead and grab the exciting ski holiday deals which are offered by the above-mentioned ski resorts in New Mexico.
Happy skiing!