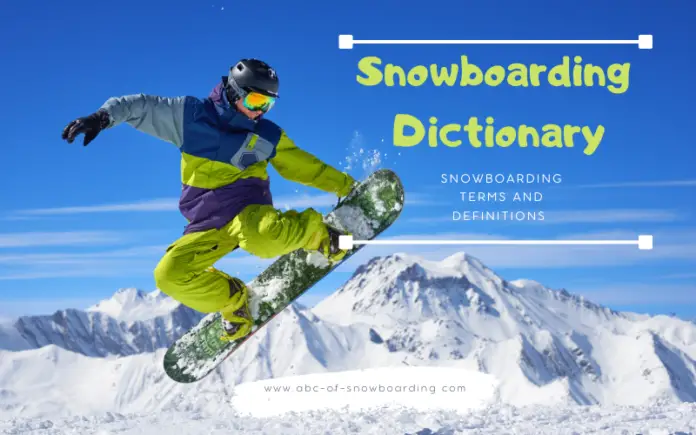 These are the Snowboarding Terms, Definitions, Slang and other words currently stored in our Snowboarding Dictionary.
If you know any snowboarding terms that are not mentioned in this list then go ahead and suggest a word for our dictionary.
There are 405 Snowboarding Terms in our Snowboarding Dictionary:
"BITCHIN" CALFDICK
its when your high backs press into your calf's while making it impossible to ride. (Mike Lamb: Atomic Southeast Rep)
"BONED OUT"
used to explain the emphasis of style in a trick. if someone "boned out a indy" they would grab hard and create an emphasis of the maneuver such that his/her legs may appear extended or stretched to a maximum degree. or the style of the indy was more.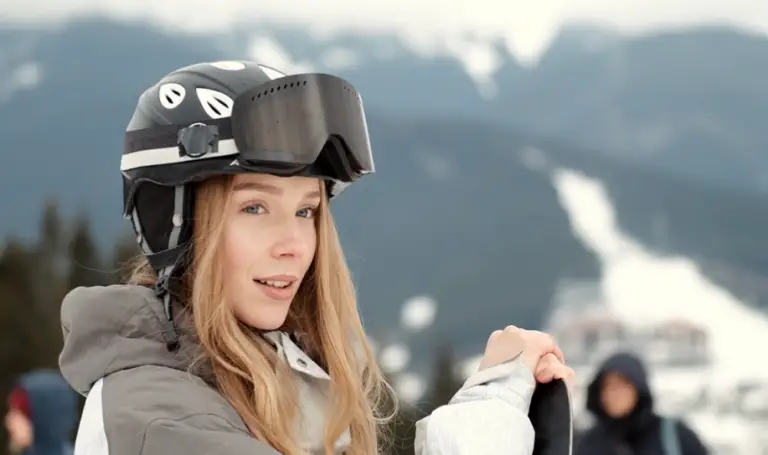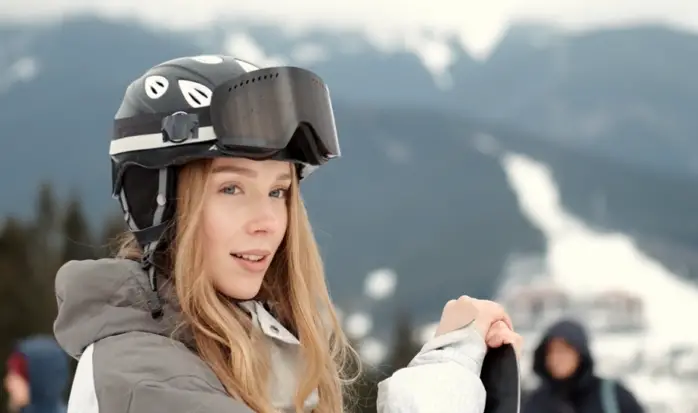 "FRONT"
This is the ultimate description of euphoria. That last trip to the mountains was FRONT!!!! Dude, he pulled of a FRONT airdog. Check out the FRONT chick on the lift. Origin- Cold Front brings the start of the season, abreviate and it's FRONT bro.
3, 5, 7, 9, 19, 12
Summaries of respectfully a 360, 540, 720, 900, 1080 or 1260 turn. Used for aerial tricks.
5-0 GRIND
A 5-0 grind is when you jump on a box or rail in a 50-50 and do a butter the rest of the way.
50/50
is when your board is facing straight and it can be on any rail, not just a house rail/box
AASI
Stands for the American Association of Snowboard Instructors. AASI is a way for snowboard instructors to put forth a safe, and fun lesson in which students can learn and enjoy the sport nationwide.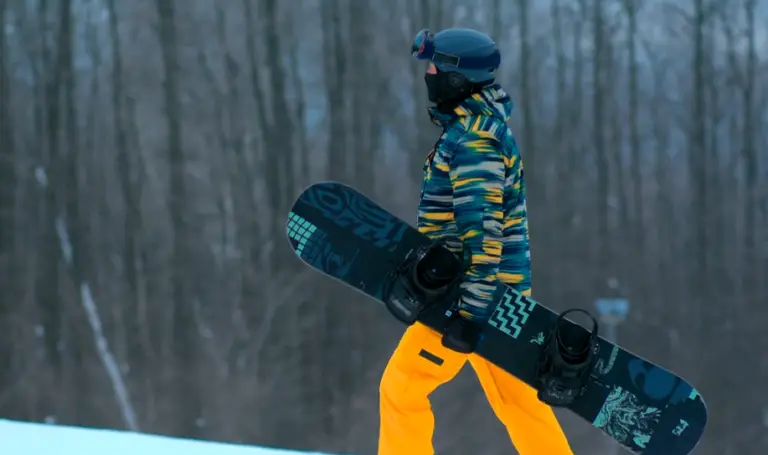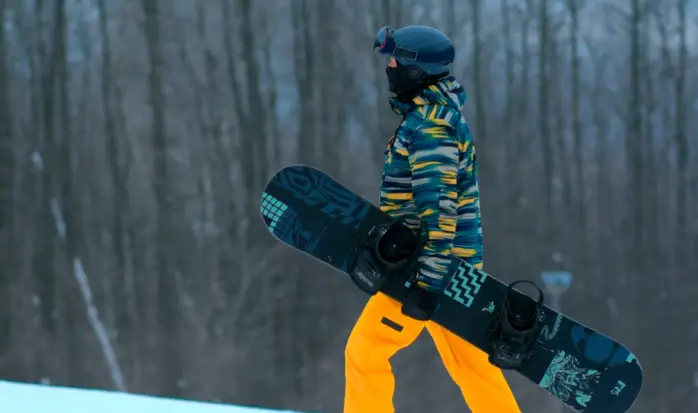 ACCESSORY MAN
A snowboarder with every piece of snowboard gear imaginable. He has been known to use it all at the same time whether or not the circumstances call for it.
AIRDOG
A snowboarder who jumps most of the time and is most interested in airial tricks
ALIEN LID AKA ALIEN
A Rider that wears a helmet used mostly by speed-oriented downhill skiers. Helmets resembling what road cyclist wears.
ANCILLARY STOKE
The condition bestowed upon an onlooker or crowd as a snowboarder pulls off a totally insane maneuver.
ANDRECHT
A rear handed backside handplant with a front-handed grab.
ANGELO
A perfectly performed trick, turn or jump. With no fall involved, only professionals can be called. E.G. "That guy is busting Angelo-style!"
ARTIC COUGAR
An old lady who goes for really young guys on the slops and in the lodge
ASSPASS
when you fall on your ass but going so fast that you pass people on your ass -he pulled the old "asspass" on me, and flew right by!
AVALANCHEACTIVATOR
A person who always triggers avalanches. E.G. "Look at that AvalancheActivator ride."
B.C.O.C
Boarders Code Of Conduct, Can be used as part of "are you part of the BCOC?" or "thats not part of the BCOC"
BACKCOUNTRY
Areas out of the ski hill boundaries; off-piste. E.G. "Let"s go shred the backcountry today." Out of a resort area.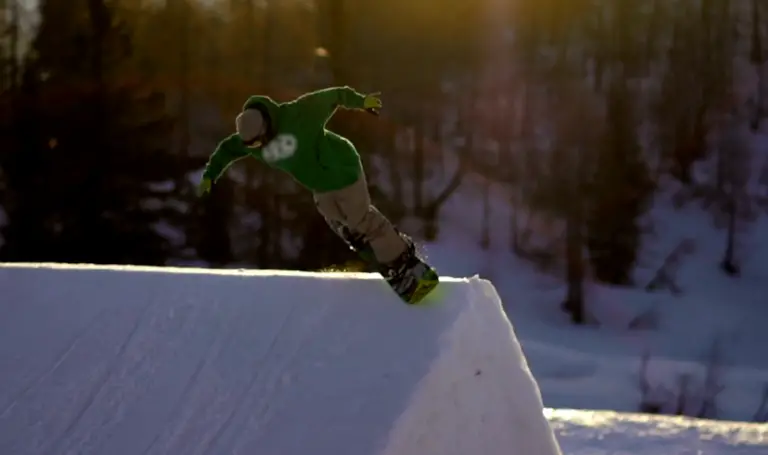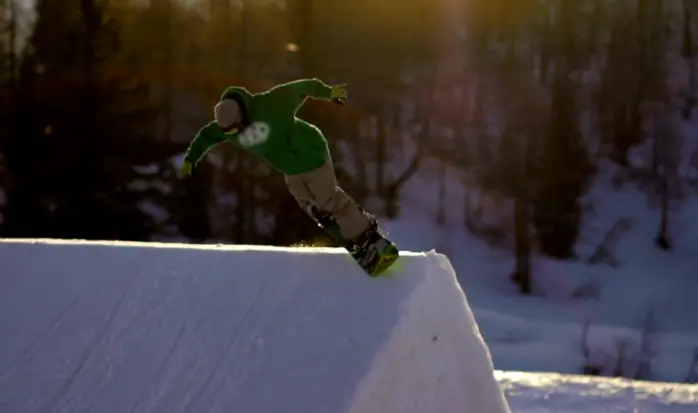 BACKSIDE 180
Aerial maneuver in which the rider makes a 180-degree rotation off the jump leading with the heelside (clockwise for a regular stance-counterclockwise for goofy)
BACKSIDE BUTTSLIDE
A trick where the rider rides up beside a rail or box and sits on it, kicking their feet out and sliding across on their rump. Can be tweaked by putting arms behind the head or blowing kisses to hot babes.
BACKSIDE RODEO
Coming off a jump and turning your back down the hill, flipping 540 and landing fakie or rotating a total of 720 and landing regular.
BACKSIDE RODEO
Coming off a jump and turning your back down the hill, flipping 540, and landing fakie or rotating a total of 720 and landing regular.
BAIL
A term used to describe crashing or falling. e.g. "He bailed and landed on his head." (by Jason Dow)
BANGING
used when a nice trick was landed -that was a banging tail grab!
BARGE
To go for a trick with all you've got. e.g. "Dude, you just gotta barge that jump!"
BATTLESHIP
A rail in the park that kinks up, then flattens out, then kinks back down.
BEAT
A term used to describe something that is not good. e.g. "It's pretty beat that we have to shape the pipe all day." (by Jason Dow)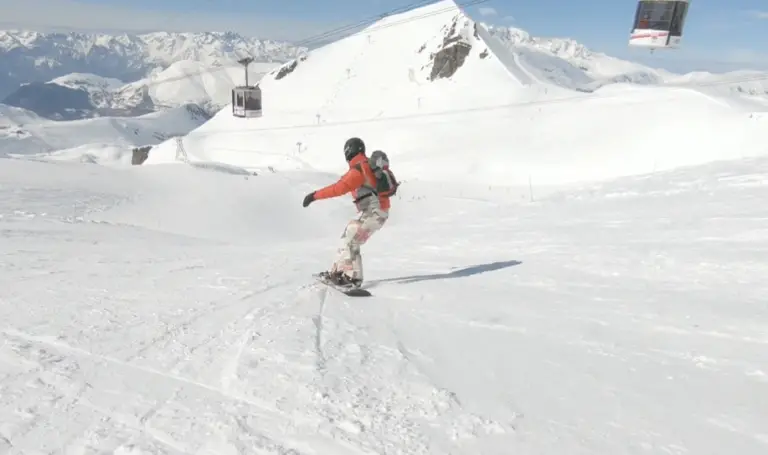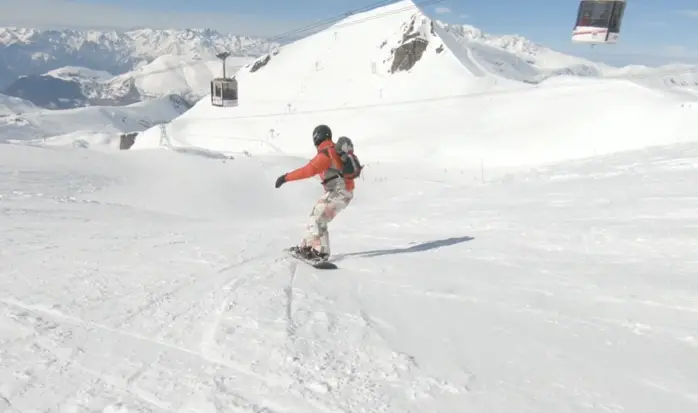 BEEF
A wipe-out; is another word for biff. Ex: "Dude, I beefed that one so badly!"
BEEF WELLINGTON
Something thats hella big or tricky
BEIGE
Totally wack e.g. "Did you see that hoedad in the cafe? That is so beige," or "How beige is the weather on the mountain!"
BETTY
A girl who can't ride (a poser who is a girl). Characteristics include: a Roxy snowboard, sideslipping through park, flirting, being loud and obnoxious, matching jacket, pants, hat, etc.
BI
Adj. To be able to ride a board either goofy or regular without any problems either way. Also see SWITCH.
BIFF
Someone who wipes out really bad. For example, "Did you see his huge biff?"
BINGO
When you pull-off 3 360s in a row
BIP
A mix between your butt and your hip.
BIZATCH
What do you call someone who cut you off.
BLASTED A DOOKIE
Seeing someone fall really hard while watching from the lift. e.g. "That kid blasted a dookie."
BLAZIN' RAISIN
The old man who's just gunning it down the mountain.
BLEAH
Insane air.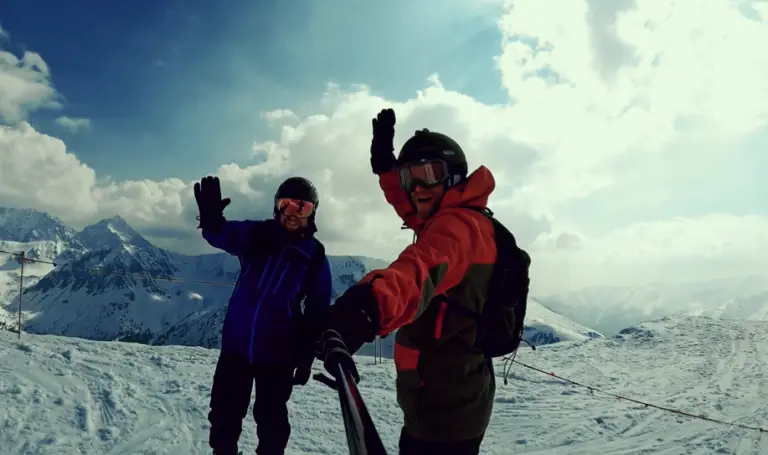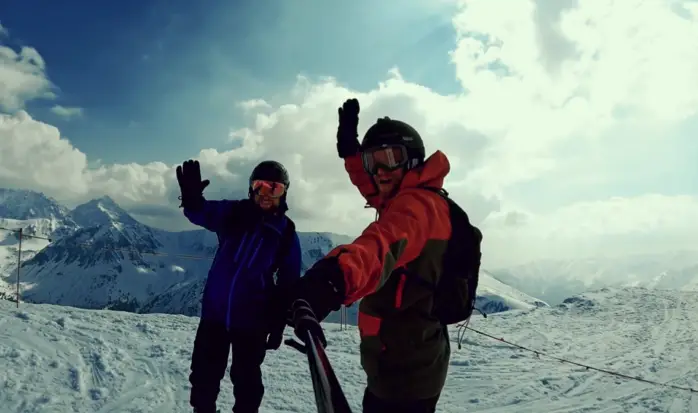 BLINDSIDE
A term given to any rotation where the rider has oriented him/herself "blind" to his/her takeoff or landing and must stretch to look over their shoulder. Such a technique usually increases the difficulty.
BLINGERS
Refers to the people who buy all matching equipment regardless of quality or performance and are on the hill not to snowboard but to be seen snowboarding.
BLUE BIRD
A beautiful day. e.g. "Cuttin' the pow pow on a blue bird day."
BOARSKII
This word is Snowboarding and Skiing in one. My friend and I made it up since she skiis and we had to combine the words so we could go, "Boarskiing" together.
BOMB
To point the nose of your board straight down the hill to accelerate. E.G. He bombed the jump at 60 miles.
BOMB HOLE
A big hole in the landing of a powder jump from somebody bailing. "If you make a bomb hole on the landing of that jump, everybody will hate you.'
BONED OUT
A term used to explain the emphasis of style in a trick. In other words, if someone "boned out an indy" they would grab hard and create an emphasis of the maneuver such that his/her legs may appear extended or stretched to a maximum degree.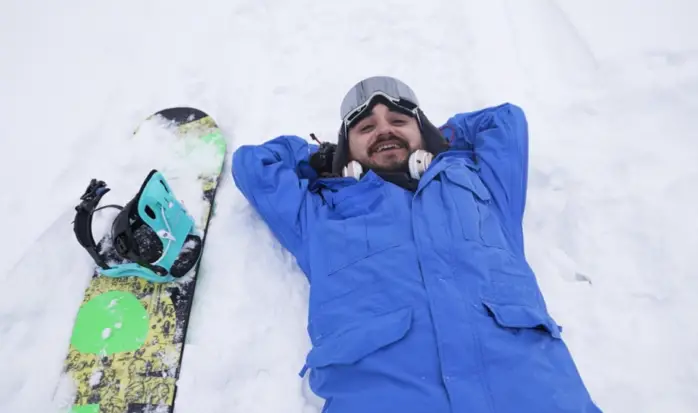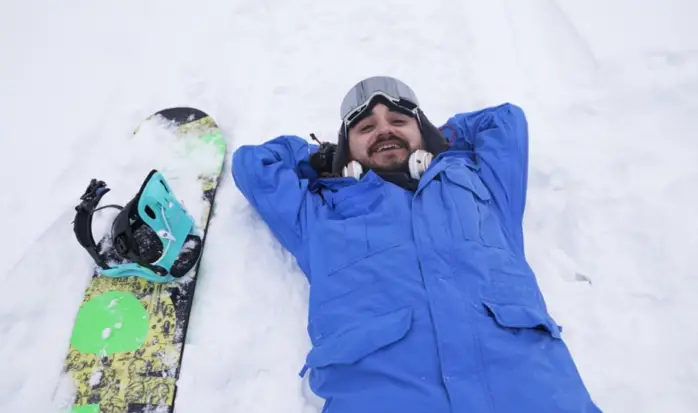 BONJ
A person who takes a beating of everybody on and off the piste.
BONKING
Hitting an object really, really hard with your Snowboard
BONO
Riding/Skiing into a tree at high speed and not by choice.
BONUS LIFE
When you smoke the competitors in a competition
BOOMPH
It's what is said when you fall in the thick stuff, because "Boomph" is the sound that is made.
BOOST
A term used to describe catching air off of a jump. e.g. "He boosted ten feet out of the halfpipe."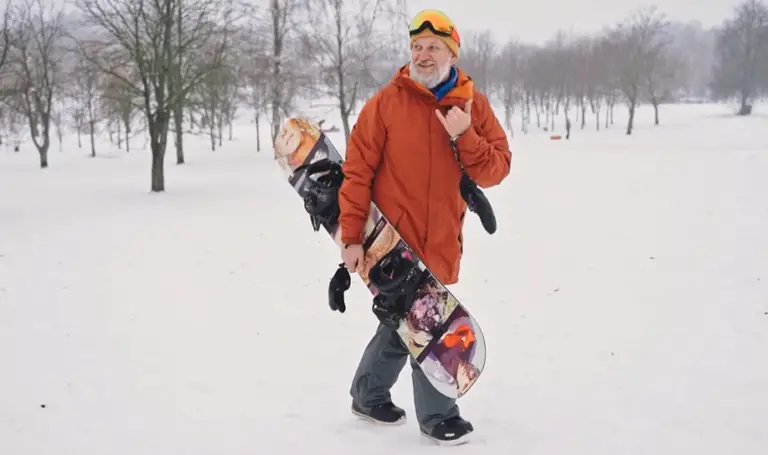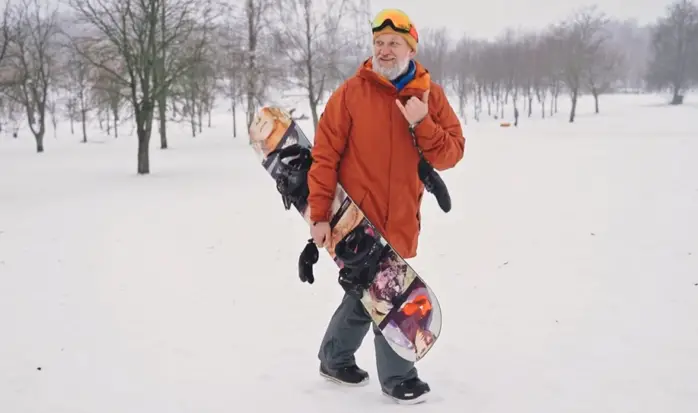 BOOTER
This refers to a massive kicker that needs to be hit down harder to insane air, thus requiring a harder kick than a kicker. "Oh man that thing is huge, it's definitely a booter."
BOTWOKER
A term used to describe a new boarder who can't stay upright
BOWLING PINS
Skiers, or sometimes boarders, who are making an obstruction of themselves. Typically skiers who stop in a group blocking the track, most often on a flat spot or at the top of an incline a boarder will need to keep speed up to get over (where it is most annoying).
Can also be slow skiers carving together in such a way that you can't pass them.
BRA TREE
when girls throw bras and panties on a tree under the lift
BRICK
When someone hits a kicker and their snowboard comes out from underneath them and they land on there back. (derived from kids in the east coast)
BRID (PRONOUNCED 'BREATHE')
A common term used to describe an unintentional fast descent e.g. "coming down on the last run, I intially intended to stay off the fall line, but in the end I just had to Brid"
BRO
If you don't know someones name on the mountain you call them bro
BROADWAY
A word that means really cool or good eg that trick was so broadway same as words like sick.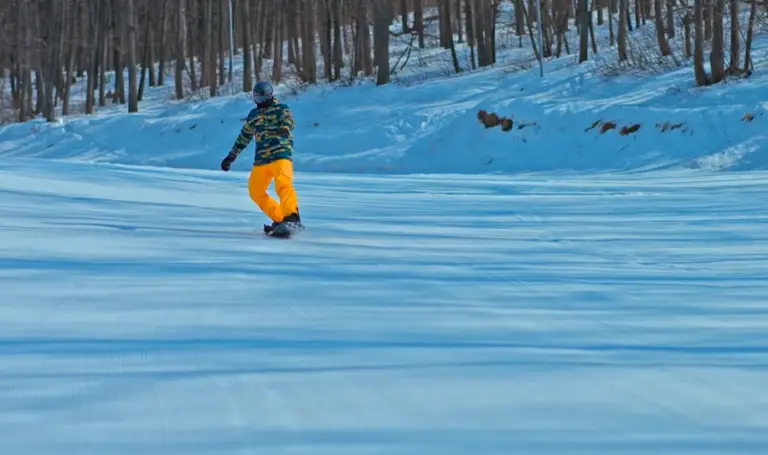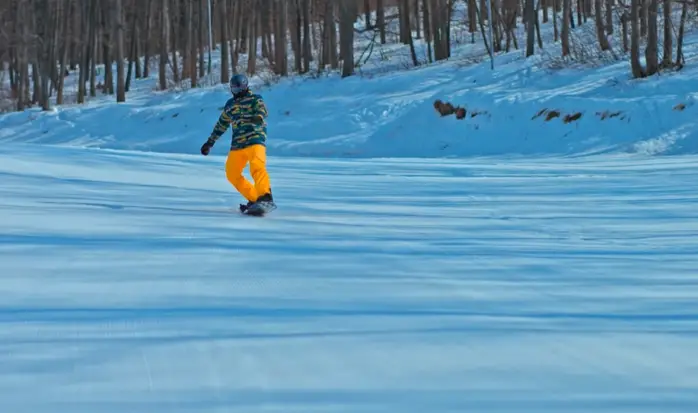 BUNK
When something is wack. Mostly when the pipe or best run is closed EX: "Dude, the pipe is closed? That's Bunk!"
BUNNY HILL
Small hill usually with a toe rope where beginners learn to snowboard.
BUST
A term used the same as the verb "to do" only with more emphasis. e.g. "He busted huge air over that tree."
BUTT SLIDE
The result of sliding out while attempting a backside boardslide.
BUTTER
When you lean on the nose of your board (like a nose manual) and swing the tail of your board in front. E.G. "Did you see that butter to BS 5?"
BUTTER PRETZEL
this trick is where you do a butter front side or back side then 180
BUTTERY
description of a snowboard with good flex that lends itself well to the butter maneuver
CASE IT
Landing on the nuckle of the jump and compressing.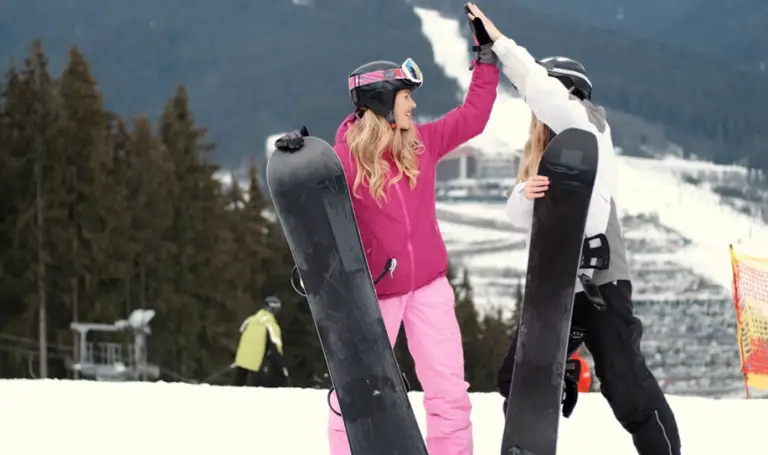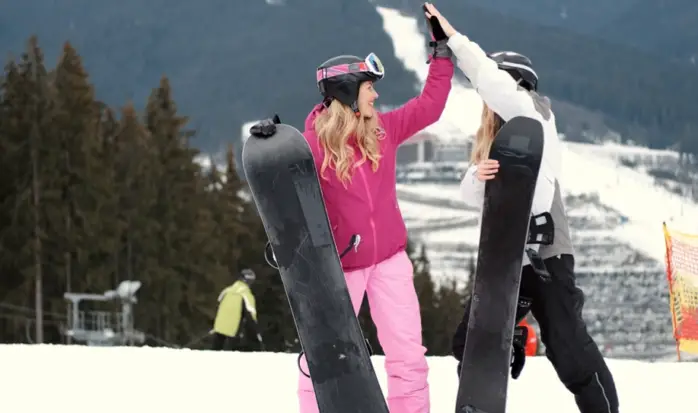 CHATTER
When the snowboard vibrates unnecessarily. Usually, this happens at higher speeds and through turns. Racers are always trying to reduce chatter in their boards so they can stay in control. (by Jason Dow)
CHILLAX
It means chillout and relax.
CHOPPY CHOPPY
Rough Terrain "Its a little choppy choppy today, lets bail."
CHUMPLES
A fat kid that has no skillz
CMANIA
A person obsessed with taking C-boxes.
COLORADO SLIDE
Coming to a halt by sliding your board between someone else's bindings, intentionally or otherwise.
CORDUROY
When a snowcat freshly grooms a trail it will leave a finely ridged surface. Corduroy is usual very nice for laying out clean turns. (by Jason Dow)
CORK OR CORKED
Is freestyle used to describe an off-axis rotation.
CORNICE
A sudden drop-off, usually in the backcountry. E.G. " Wow! That was a huge cornice eh?"
COULOIRS
Slopes. e.g. "Rockin' down the badass couloirs".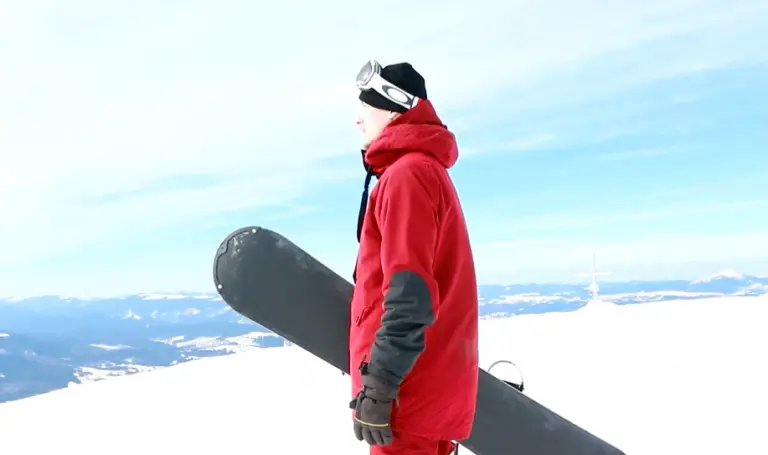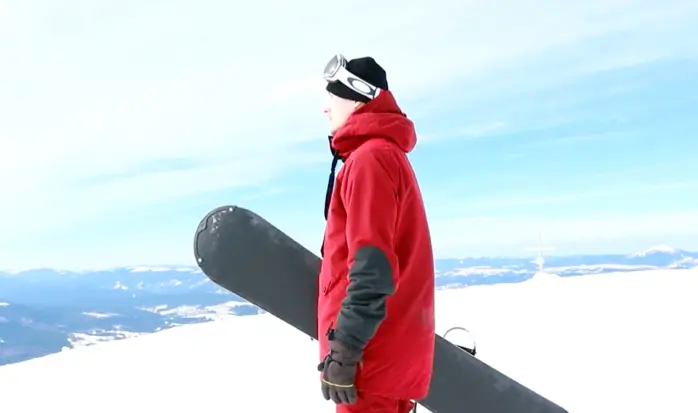 CRAPTASTIC
Fantastically crapy. Examples: "the conditions on the Mt are craptastic." or "that craptastic landing wishboned my board."
CRATER
A term used to describe a crash or fall. e.g. "He fell off the lift and cratered into a snow bank." (by Jason Dow)
CREW
A group of people you shred with. "We had mad crew shredding last weekend."
CRISPY
Used to define something that happened and was awsome -"That was stunt was hella crispy bro!" (also see Crunchy)
CRUISER RUN
What you call making a relaxed and mellow run on a fairly smooth trail.
CRUMPET
english people eat these for good luck before hitting the slopes
CRUNCHY
A term used to describe something great, i.e., "The snow is super crunchy right now."
CRUST-BUSTIN'
Glorious in every way. I.E. "Yo bro, that 360 tail press was Crust-Bustin'!"
CRUSTY
Ugly (As in chicks) or sketchy (as in tricks)
CRUTCH
A boarder who has a ski pole and pushes hisself/herself with the pole.
CURLING FIELD
when the slopes are so icy that they resemble a curling field. ex. "check out that kid shreding the curling field"
DANK
An expression used to describe awesomeness. Ex: that board is totally dank!
DEATH COOKIE
a big snowball in the middle of a run frozen to the ground.
DECK
The top of both sides of the halfpipe where riders can drop-in or destroy themselves if they fail to carry momentum properly. ie. dude I just hit the deck and bailed backwards to the bottom of the pipe or dude just lean forward and lift your knees to get on the deck of the halfpipe.
DIRTY POOL
describing a really awesome run or trick EX. That 1080 air was dirty pool!
DOG TRAINER
A parent that has their kid on a leash to teach them how to snowboard.
DOINKLET
1. A word to describe something that can't be described 2. Foreign Currency. e.g. "Did you see the size of the DOINKLET'S?"
DOLPHIN TURN
This is making an ollie movement to change edges in a turn down the hill. Example: heelside nose lifts of snow first then heelside tail , then nose toeside lands and then tail toeside and so forth.
DOPE
To say that was good, great, excellent! E.g. "Dude, that was dope!"
DRAGON
A term used for when a Ski/ Snowboard instructor is leading a bunch of small children around that are wearing red or orange "please don"t hit me" vests. It is characterized as a dragon because from a distance, the line of red dots resemble a dragon.
Usually, this word is only used when the Dragon is in your way, or your about to take out one of its kids.
DRIFTER
Beginner snowboarder who 'drifts' across the hill by side-slipping back and forth.
DROP TROU
insult, short for drop your trousers: "drop trou you bonj"
DROPPED A LOAD
Shaking the snow off your board while on a lift so it hits somebody below. "You totally dropped a load on that chick."
DROPPING IN
Who is going next down the run, jump, or rail.
DRY SLOPE
A snowboard or ski slope that is not made out of snow and can be used year round in places that dont get very much snow.
DUDE
if you don't know someones name just call them dude
DUST ON CRUST
Thin layer of snow on top of crusty snow (snow with ice on top).
DUTTY
If something is really good same as sick "wow dutty jump bro"
DYKE BOARD
When someone is using a board that is too short for their height
EASTWOLF HELISKI
new heliski company in gudauri, georgia
EAT SNOW
Same as face plant.
ELGEURIAL (BFM)
It is an invert where the halfpipe wall is approached fakie, the rear hand is planted, a 360-degree backside rotation is made, and the rider lands going forward. This is named after Eddie Elguera.
EPIC
Anything that is totally awsome. e.g. "That jump was wicked epic", "That board is epic"
'ERIAL
When you get some air and meditate.
ETCHED OUT
When the opening take-off area for a jump, rail, or piece of equipment is cut into and tracks are left by the snowboarders edges when turning before the take-off or lip of the jump. (ie. that ride up to that jib is etched out like crazy, lets go hit some tables.)
FACE PLANT
When you fall and plant your face deep in the snow
FAKIE
Riding the snowboard backwards from a normal stance
FAKIE TO ASS
When attempting a rail or picnic table Fakie that you fall off rail or table and land hard on your ass.
FALL LINE
The route directly down the hill; it is the most direct path down a mountain.
FALLING LEAF
Beginner snowboarder that rides one edge horizontally, back and forth, the whole way down the slope.
FANCY PANTS
Some old fart of a two-planker that's wearing snowpants from the 80s – the one that's like hunting while skiing or making a hippy statement.
FEESH
Cool foreign dude from the Andes that pulls lots of hot chick with his South American charm.
FLAIL
A term used to describe riding badly and out of control. (by Jason Dow)
FLAMBOYANT WEEZY
What a snowboarder looks like after he has been drunk or stoned, goes off a jump, and hits a tree or pole at full speed.
FLUKE
A fluke is when you pull off an insane trick without meaning.
FLUTE
A column of snow stacked on a terrain feature such as a rock or on a near-vertical slope
FLY-SWATTER
When you catch an edge and fall forward, slapping the ground very quickly and rapidly, often results in a 'whiplash' feeling.
FRAGGLE
Term for accident involving two snowboarders, when the boards entangle causing injury.
FREAK A LEAK
to take a piss
FRESHIES
The morning powder before other boarders or skiers have hit the slopes. USAGE: After realizing that you and your friends are the first people off the lift, "Woah, major freshies dude."
FRUIT BOOTER
A word used to describe a skier. EX: "Thst damn fruit booter cut me off!"
FS
Frontside (If you"re regular, spinning to the left. If you"re goofy, spinning to the right). E.G. "He did an FS 180."
FUDGED
To mess up something badly…(i.e. You fudged that jib dorkmo!)
GAFFER
Skier or "tourist in the way with no business on the mountian". `nuff said…
GANGSTAR
A rider so on form that it is considered illegal to shame his fellow riders in such a fashion.
GANJALA RIDE
A ride on the gondola, during which the occupants partake of some kind bud.
GAP
To fly over something without touching it. e.g." I gaped the road."
GAPER
pronounced "GAY-per", an inexperienced skiier or boarder who attempts runs or tricks that they are not able for- ironically ends up with no injuries themself but causes everyone else to break bones.
GHETTO
Something that is very gross or crusty, i.e. "I lent my board to a mate and it was all ghetto when i got it back."
GIGANDOIDTRON
A wave or jump that resembles a large monster.
GNAR POW KILL
when youre slashin the gnar pow full on ( e.g. Kaley is goin gnar pow kill on Qualmie fo' real)
GNARLY
Wicked, awsome, cool. e.g. "That was gnarly."
According to tarn montagu, it could also mean something hard, e.g. "That's a gnarly drop."
GNARYLEBONE
For those of us who live in Marylebone london, but still like to rock sweet pow pow on our sick boards. e.g. "This slope is gnarylebone"
GNATS
Beginner, confused, selfish, or aloof Riders that sit on trails, usually in the middle and mostly to talk or Gape at the view.
GON-GUIPTOO
A Rider/Skier that has gone berserk in either a positive or negative way. Typcially when a Rider has pulled off a difficut feat or when a Rider/Skier has had enough and lashes out, usually at resort staff.
GOOFY
Riding with the right foot in front instead of the left foot which is the normal stance
GROMMET (GROM)
Another name for a small, young snowboarder. Especially one who is very "in" to snowboarding. (by Jason Dow)
HAIF
High Altitude Induced Flatulence aka – Mountain Butt The curious, and as yet unexplained, condition experienced when coming from sea level to a higher elevation
HANDSOME PANTS
Some dude with spiffy snowpants that's just been stomping it all day. e.g. "Way to stomp it Handsome Pants!"
HANDY DANDY
a person….(usually old and on ski's) ….. carving all over the place and cunttin people off left and right
HEADER
Headfirst dive. E.G. "He took a header trying a flip."
HEEL TO HEELS
This refers to the action that happens when hopping backside 180s between the transition of turns, using nothing but the heelside edge of the board. This is typically more difficult than toe to toes because of the backside rotation.
HEELSIDE EDGE
This is the edge of the board that is closest to the rider's heels.
HELLA
awesome (that was hella) or really (that was hella cool)
HERB
Short for Herbert, a bad snowboarder or skier. In particular a skier who cuts boarders up and can't do parelell turns. Good looking female boarders and skiers are exempt from bieng called herbs.
HIPPIE
Someone who boards shirtless with a peace-sign necklace.
HIT
1. Park feature. E.G. "There are 23 hits in the park." 2. To trick off a park feature. E.G. "Let"s go hit the rail."
HOEDAD
The person you always see at the lodge or sitting in the parking lot with his board, but never hits the mountain EX: "That guy is a hoedad"
HOMBRE
Spanish for guy, dude, homie etc.
HOT DOG
Really quality female snowboarder who tears up the slopes
HOWLER
extremely windy day that threatens to shut down the lift; "Dude, it's a howler up here today, if they shut down the lift we're hiking the park." Can also be when you bomb a run and howl ("A-roo!") at slowpokes when you blow by 'em.
HUCKER
One who throws himself/herself wildly through the air and does not land on his/her feet. (by Jason Dow)
HUCKFEST
A gathering of snowboarders riding as hard and wild as possible
HUGE
A term to describe something (stunt, idea, trick, discovery etc.) that is big. 2. A term to describe something (stunt, idea, trick, discovery etc.) that is awesome, gnarly or insane.
ICEPHALT
A run so icy that you'd be better off on skates. Instant concussion if you catch an edge.
INVERTED
Upside-down. E.G. "He pulled an inverted method."
JAM
Abreviation of the word jampiece. Same meaning. "That run was the jam!"
JAMES BROWN
A trick done on the heel side edge of your snowboard across a box or rail (opposite of a micheal jackson)
JAMPIECE
Something that is excessively cool, beautiful, fun. "Hey Bro, that pow was the jampiece!" "That girl is a jampiece!"
JAPAN
In this maneuver, the front hand grabs the toe edge, the front knee is tucked and the board is pulled up and the back is arched.
JEANER
people who board\ski with jeans on
JELLYBEANING
When you go down a run where you're not allowed, and you have to hike back up to avoid being caught by a guy in an orange coat and becoming kicked off the mountain. Example: Dude, it sucks that we had to jellybean it back there.
JIB
The act of riding on something other than snow, i.e. rails, trees, garbage cans, logs. (by Jason Dow)
JIMMY LEG
Describes a snowboarder in the "Dirty South" that rides with a stiff, strait front leg and kicks (jimmies) the tail with their back foot. From Jason "The Jam" Cataloochee Ski Mtn. Founded in 2005 at an AASI Level I Exam
JOEY
Someone who is a beginner skier/snowboarder and/or has a gap between his or her goggles and helmet. See Gaper
JOLLYOLLIE
WHen you crash doing an ollie and everyone laughs at you.
KARAHE
Someone or something that is barely tolerable. May also be used as an adjective to describe something that is barely tolerable.
KICKER
To build your own jump. "We built a sick kicker in the back country"
KICKIN CHICKEN
When someone (usually a snowboarder) catches large air either off of a jump or in a pipe, and kicks their legs back and forth to keep stable. This also includes RAM, or Rapid Arm Movement.
KILLA'
A homicidal maniac who boards with a knife in one hand. Hint: don't p!ss him off.
KINK
When riding halfpipes or other jumps, one may come into contact with various abnormal and not smoothly transitional surfaces. These kinks cause problems when trying to ride over them.
KOOKOO
Doing something that is a bit crazy but awesomely entertaining. e.g. a kookoo run, a kookoo move, "Did you see that man? That was kookoo!"
KRUNKED
Someone that gets so messed up they cant move for like 45 seconds. e.g. "That dude just got krunked on that 15-stair!"
LATE
A term used to describe incorporating something into a trick just before its' completion and landing, i.e. a Method to Late 180 would mean doing a method air and at the last possible second rotating 180 degrees and landing fakie. (by Jason Dow)
LAWN CHAIR AIR
To jump very high and then to collapse like a lawn chair upon impact.
LAYOUT
used to describe someone when they land flat on their back "dude he totally just did a layout"
LE MRCELLE/ LE GARY
To be an air dog who always asks the question, ou est le discotech?
LEAF
To sway from side to side all the way down the hill
LEGIT
Similar to real or absolutely awesome. "That trick was so legit!"
LEONARD
A person who is generally having a rough day, constantly stacking, not landing jumps and is just a big FAIL
LIMP
Unnecessary faking of an injury.
LINE
The path you take, usually backcountry, or off the reg slope lay-out. e.g. "How was that line?"
LIP
The top of the jump; the part that is usually quite steep. E.G. "That's an insane lip."
LIPLAYER
A person who bails at the lip of the jump. E.G. "Hey! There"s a LipLayer."
LIP-MOLE
This refers to a person who sits behind a lip of a large jump so you cannot see him or her until you are in the air.
LOCKDOWN
When a rider definitely lands a trick to do his skill level. eg. "yo he's got that trick on lockdown, there's no way he won't stick that".
LOTTOEY
Rich person, often with really, really really, really expensive stuff. E.G. "That lottoey can't ride for beans, eh?"
LOUNGING POSER
The guy or girl that walks around the Resort Hotel taking advantage of the free internet Wi-Fi hookup on his/her laptop, always in the lobby chilling, walking around at 2 in the morning to find someone to talk to, you always seem to see this person every time you go in an elevator, walks around in the robe and slippers from their room(mostly the guys do this), and yet you never see them with a board or any gear.
Eventually, you start to wonder if this person even has a room! Quote: "Dude! That girl just sits there on Myspace for hours!" or "That guy is so lame, he thinks he's cool because he can "pull off" the robe and slippers. It's really not a pretty sight.
LUMP
A landfill turned into skihill. It is very common in the midwest. Ex: "Dude when do we get off this lump and shred some mountain pow?"
MANUAL
To ride with the nose of your board elevated from the ground; wheelie. E.G. "That guy can manual the whole flat."
MAX AIR PLUMMET
Get max air off a jump, go horizontal in the air, forget to land and do a face plant.
MEAT TORPEDO
A child between the ages of 4 and 9 years, on skis, with no concept of fear, speed or momentum.
MILAGS OR MILAGRO
A word used to describe something that that's really cool. The polar opposite of something that is uncool or barely tolerable (see karahe).
MOB
to go very fast down a hill or do something sick off a jump. or just to leave." hey lets mob down this hill."im gonna mob this kicker." dude im done, lets mob outta here". its an oregon thing. peacE!
MOGULS
The bumps on a hill, that are created from snow being pushed down the mountain.
MONKEY BRAINS
Lingo for supper.
MONKEY TRAIL
A little off-piste trail, often through the woods. E.G. "I hit a rock taking the monkey trail."
MUNTJAC
A term used to describe a boarder who disappears off on his own, becoming elusive and almost unknown to the rest of the group.
MUPPET
Friendly insult, as in "Ya muppet".
MYSTERY DATE
When you stick your back arm out for balance
NECTAR (NEC-TER)
Totally Sweet, Awsome Insane. "That Trick was so frikin nectar."
NEWBE
A new border that is not very good.
NO JOY
Borrowed from pilot slang, "Top Gun"- not possible/ no good/ why bother. e.g. Q-"What abot the lift?" A-"No joy- line is wicked long."
NOLLIE
To launch the board into the air as with an ollie except to do so loading the nose of the board instead of the tail to get the pop.
NOOB
New Boarder (can also be used to insult people). e.g. "That noob over there wiped out on the bunny hill!"
NOSE MANUAL
To ride with the tail of your board elevated from the ground; nose wheelie. E.G. "Can you pull a nose manual?"
NUCKLE
Point on jump right before the landing.
OL' POPS
Old people on the ski hill, generally wearing the 70's neon one piece suits. Some guys bomb kickerz and do the the splits. Kinda weird eh?
OLLIE
The act of lifting the nose and tail of your board into the air at the same time. "That ollie was HUGE!"
ONE-FOOTY
Riding with only one foot in your bindings. E.G. "Did you see that guy take the box one-footy."
OSCAR
A person who has all the nice things such as nice board and nice outfit but sucks at snowboarding. They are really good at acting so they deserve an oscar.
PACK
A term used to describe a crash or fall. e.g. "He packed into that snow bank and broke his leg." (by Jason Dow)
PANTBINDER
A boarder who displays a cavalier attitude to their own survival.
PENGUIN SLIDES
Lie face down on the snow on a green or blue slope (red or black for the extreme penguin sliders out there). Press your belly into the snow and raise your snowboard up off the ground by bending your knees.
Slide down the slope as fast as you can while looking like a penguin… The "penguin slide"…fun for all families!
PERPENDICULARITY
This is the degree to which a snowboarder maintains a stance that is always perpendicular to the snow surface. Imagine an upside-down "T". Maintaining this image helps the rider remain balanced and in control of their snowboard.
PEW PEW
A thin layer of fresh pow on top if compacted snow
PEW PEW
A thin layer of pow on top of compacted snow
PHAT
Used to describe how exceptional something is. "Phat Air" might be a really styled out trick as well as being "large", that is, very high.
PIPE
Short for halfpipe. E.G. "Check out his style in the pipe."
PISTE (PRONOUNCED PEEST)
(Mostly) European word for a trail, slope, or groomed run. Frence word meaning trail or track.
PLANK
A snowboard. Referal to older snowboards.
PNEUMONOULTRAMICROSCOPICSILICOVOLCANOCONIOSIS
Long way of saying 'black lung,' or more correctly, 'silicosis'. Longest word in the English language. If you snowboard in coal mines long enough, you might get it.
To ride a snowboard in a ski only area and or ski only resort and not get caught by the red coats. Made famous by jake burtons request for video evidence of Snowboarders in Mad River Glen Vt, Deer Valley Ut, Alta Ski area Ut, and Taos Ski Valley Nm. JAke burton offered 5000 dollars for video of one of these being poached someone could win 20,000 dollars
POETRY
Mix of odd lingo, Swiffers and wonked stoners.
POO ICE
A description of hard snow that might be dirty/ nasty, ect. ex: Man theres so much poo ice out there . Dang it!
POP
getting the push off the lip of a pipe or jump ex. "i didnt get the pop i needed to pull that trick"
POP TART
when you fall, and one side of your body is covered in snow, like a frosted pop tart. frontside poptart=front covered in snow. backside poptart=back covered in snow.
POSEUR
One who pretends to be something one is not. (by Jason Dow)
POTE
French for homie, guy, dude.
POW
1. A punch. 2. Short for powder. E.G. "Shreddin' da pow."
POW POW
Fresh powder. e.g. "Cuttin the pow pow."
POWDER PUFF
Somebody who only loves riding pow
POWNED
Normally 1337 lingo: meaning to completely waste the competition or to pull off a big trick when someone said you couldn't. e.g. "That dude said i couldnt do a 360…well i totaly powned him!"
POW-PHOBIA
someone who doesn't ski or snowboard, or even hit the couloirs.
PRESS
To apply pressure to a designated point of the board (nose or tail) and elevate the opposite end. Ex. "I stretched a sweet tail press down that face".
PRICKS WITH STICKS
An insulting term used to describe an annoying skier or group of skiers.
PULLIN A PLAX
A person who is cruising down a run with no problem, and then outta no where he dirfs it all by his self. EX: Dude that kid just pulled a Plax.
PUNCH
Crashing bad. "He caught his toe edge and punched the jump."
QP
Short for quarter pipe. E.G. "Look at that QP!"
RABBIT
An old man/woman riding in the park. (Tricks are for kids)
RACHETS
Traditional style of bindings. i.e strap in bindings
RAD!
Something that is totally sick!! aka cool or awesome. EX. "Dude that trick was Rad!"
RAGDOLL
Bail that occurs most at high speeds. One will catch and edge (usually heel) that sends them carooning out of control, resembling the form of a ragdoll, as they descend the slope.
RAPTOR
This is a boarder who rides with his or her arms out, much like a tight rope walker.
RHINO FUCK
another name for the knuckle. "aww man i landed right on the rhino fuck" also a verb "that kid just rhino fucked that jump"
RIDIN HIGH
when people smoke bud on the way up a lift
RINSE
A versatile term used when describing excellent boarding technique e.g. "Mate, check out that hot chick, she's on the rinse." or "Dude, you totally rinsed that 720."
RIP
Snowboards very well. "Wow, that kid rips."
RIPPIN FLAKE
coined in 2006 by Andy McPherson, rippin flake is a general term to describe all snowboarding. E.G> I've been rippin flake all week in Tahoe, brodal.
ROCHAMBEAU
This is a technique used at lineup by snowboard instructors to determine who is teaching instead of hitting the knee deep freshies.
ROCKY
A person obsessed with ollieing or bonking rocks. E.G. "Hey look, it's Rocky!"
ROLLING DOWN THE WINDOWS
A phrase used to describe when someone is caught off balance and they rotate their arms wildly in the air to try and recover.
RUBE GOLDBERG
A term to describe a huge combonatoiin of tricks. E.G. he pulled a Rube Goldberg
SALAMI SANDWICH
The ridiculously overpriced food at the lodge. i.e. "that food is so salami sandwich!"
SAUCE
sauce- realated to sliding on rails with style. ( we gunna sauce dem rails up tonight
SCHRIFF
to carve with style, head-turner i.e. "That guy is shriffing out there."
SCHWANK (PRONOUNCED AS SHU WANK)
Super; cool; awesome. e.g. "That phat 9 was Schwank"
SCOPE
To check something out. E.G. "We scoped out the landing before we hit the jump".
SCORCH MUFFINS
The ultimate bad ending to anything big (On your ass)
SCORPIAN
Face plant so hard that your legs and you board hit the back of your head like a scorpian's tail
SCORPION
When you go to stop but your toes dig into the snow and your head flies forward. i.e. "That noob over there did the scorpion when he tried to stop."
SCREWED
This is what happens to you and your board when a screw is higher then the lexion top sheet on a jib feature. This typically results in broken edge, and body.
SEAL BOARDING
Lying on your belly with the board held up like a spoiler (so you don't take off) and bombing down the slope. Works best where you know that the terrain's farily smooth.
SESSION
A name for a certain interval in which one snowboards. e.g. "That was a good halfpipe session, but the powder session was even better." (by Jason Dow)
SHACK
Lodge at a ghetto hill.
SHACK BOOTER
A kind of jump consisting of a triangular prism of snow. E.G. "Let"s air off the shack booter."
SHARKING TORPEDO
A crash when you know that it's going wrong, and you eventually let yourself fall to the ground.
SHAVE IT
Shave the fresh powder off a mountain or top of cornice
SHITTER
to wipe out BAD and eat mad snow ex : dayum that dude just took a huggge shitter
SHLOBY
bigger snowboarder who thinks he or she can get mager air but really only get a couple inch off the jump…or beau mondeau
SHMOB
To wrecklessly control your vehicle or snowboard. e.g. "Let's shmob the new Caddy." or "This party sucks. Let's shmob."
SH'MON
Can be used as a verb or a noun. Verb = to go or move or come. e.g. "Wow! You Sh'moned that one." Noun = word used if you don't know what something is called or just can't think of it at the moment. e.g. "Could you pass the Sh'mon?"
SHRALP
To ride really aggressively; shred. E.G. "That guy sure shralps the park well."
SHRED
To tear up the terrain.
SHRED HEAD
someone who is really good at snowboarding but always shreds with people worse than them
SHRED SLED
This is another word for your snowboard. Example: "I've been ripping sweet pow pow all day long on my shred sled."
SHRED THE GNAR
To shred something gnarly (hard), like a hard run.
SHREDDER
a really good snowboarder that kid can shred man
SHRIPPING
Shredding + Ripping = Shripping
SHUT DOWN
Stomping a crazy trick, or crashing very badly. "Dude, you just shut down the park with that fs 720!" or "Man, he crashed so hard, he got shut down."
SICILIAN
Highly impressive, epic, daring, corageous, grand, fearless. Massive, huge, legend. "That was a sicilian jump, sis!" "This sicilian hangover ain't good"
SICK
An expression used to describe something exceptionally good. (by Jason Dow)
SICK NASTY
intense; insane
SKATING
With front foot strapped in board, push with other foot then put it on stomp pad and ride….to the lift.
SKETCHING
The act of riding along precariously and near falling. (by Jason Dow)
SKETCHY
shaky, landing a small air or trick but meesing up the landing but not falling
SLAY
To pull an insane trick on a rail, or to grind or jib the whole rail. EX: I slayed that rail.
SLOPE(S)
another word for mountain. ex. yo dude are we headen to the slopes tomorrow?
SLOWPO
An extremely slow skier that gets in everyones way.
SMOKIN'
Make and "S" shape in the air.
SMUD
Brown, muddy, snow found on very warm days.
SNAKE
A term used to describe someone who cuts in front of you in the lift line, or drops in front of you in the halfpipe. (by Jason Dow)
SNIP
Used when you have nothing better to say or when you can't think of a good answer. Example: "What are you doing? I'm just snippin'."
SNO
What you ride on. Geez!
SNOW ANGEL
That really hot chick skier that you can't stand, yet can't stop checkin out.
SNOW BUM
Someone that eats, breathes, sleeps, and lives for snowboarding or skiing; lives in a shack next to the nearest resort to get on the slopes early and works in a boardshop to pay for lift tickets.
SNOW BUNNY
A very good-looking female boarder.
SNOW GUMP
Someone who passes themselves off as a snowboarder by submitting snowboarding terms to websites but really is just a sad, billy no mates who has dreamt his whole life of being cool.
SNOW SLAPPED
When another boarder/skier does a really big carve in the snow and you get snow on you.
SNOW SLEEZE
A bad female boarder who rides in a bikini over spring break
SNOWBOARDIONARY
The official source of intelligence, language aids, lingo, terms, definitions, slang and things that make you SMARTER. Uh huh. You bet, eh?
SNOWING
It's a short way to say snowboarding. e.g. "Hey! let's go snowing!!!"
SNOWSLUT
A girl who gets with every guy on the mountain.
SNOWSNIFFER
Person who stops at the lip of the jump.
SOUTH SHORE BIRTHDAY
A beating. e.g. "Don't make me give you a SOUTH SHORE BIRTHDAY."
SPLATTIN
falling on the ground but not sliding much, just, KA-PLOP i.e. "Wow, dude, did u see that splattin that boarder was doin?"
SPORE
– an acroynm for "stupid person on rental equipment"
SPRAY
The powder that flies up when you biff or land a jump.
STACK
To fall over quite badly, so badly it hurts.The word has crossed over from skating 'cos it normaly hurts more in skate parks.
STEEZ OR STEEZE
So much style. e.g. "Yo dude you had so much steez on that corked 9."
STFG
To Shred The Fu**ing Gnarr (see Shred) (see Gnarly) EX. dude we just STFG"d
STICK
1. Another name for a snowboard. 2. A term used to describe making a good landing. e.g. "He stuck a huge Method Air off of that jump." (by Jason Dow)
STICKS
Those funny-looking things skiers ride on – usually look impossible to carry to the summit. i.e. "Dude, sticks are for those who can't ride with the boardin' possie."
STOKED
An alternate term for the word psyched. In other words, to be excited. (by Jason Dow)
STOMP
A term used to describe making a good landing. e.g. "He stomped that McTwist." (by Jason Dow)
STRAIGHT AIR
The absolute pinnacle of mankinds aerial achievements on a snowboard!
STUMPY
A person obsessed with ollieing or bonking stumps. E.G. "Hey look, it"s Stumpy!"
STUNTED
when some newbie falls getting off or on the lift and they stop it while you're riding it up
SUATB!
See you at the bottom!
SUITCASE
A type of grab were you use your leading hand to grab the toe side of your board from underneath. Under forearm is against bottom base of board.
SUITCASE GRAB
You throw your leading arm behind you, and grab the toe side edge of your board from underneath. (Bottom of forearm is against the base of the board)
SUN BAKER
Someone that is chillin on the side of the hill for a break.
SWAG
Free gear or snowboarding related equipment; either won in a contest or in a competition
SWIFFER
When you pull two turns it opposite directions, and form the Swiffer "S".
SWITCH
To ride with the tail of your board in front; fakie. E.G. "He"s good at riding switch."
SWOOF (SWOOFER)
when a beginner doesnt know how to carve. instead the bomb the hill. eg. THAT SWOOF ALMOST HIT ME!
TABLETOP
A kind of jump consisting of a smaller jump, then a large tranny and then the landing. E.G. "You can get insane air of the tabletop."
TAIL SLIDE
To slide on a box or other surface only on the tail of the board
TECH
To be hitting rails with really hard styles such as a tweaked out nose press or really cool style EX. Dang that dude was gettin tech up on that rail
TEEPEE AKA MOOMOO
A Rider, usually younger, that wears oversized t-shirts and hoodies resulting in a cartoonish look, resembling a teepee or moomoo.
TENDER VITTLES
Young men who go for Arctic Cougars
THE WETMORE
someone who is too big and goofy to snowboard
TIGHT
A term used to express extreme joy. "That was tight."
TITS
To empasize that something is good. EX: "That board is tits!"
TOE TO TOE TURN/CARVES
This refers to the action that happens when hopping 180s between the transition of turns using nothing but the toeside edge of the board.
TOESIDE TURN
Lift up front heel and press toe down, move knee over foot (back and shoulders follow), end up pressing all toes down.
TOOTLOOP
A schwank recovery from an almost deadly Dook Blast.
TORPEDO
An unleashed snowboard that is traveling down the mountain.
TRAIN PACK
A really wacked bunch of skiers that are kind of cool but still a bit wack.
TRANNY
sloped part of a landing so you don't land in the flats. Its not a "Little ditch or empty space to gap." You want to land in the tranny, not jump over it. Gosh
TREE
The kid who is ALWAYS sitting in the middle of the trail blocking a jump. If he has friends with him they are a forest
TRICK
Something cool and interesting that you can do on your board.
TRICKY
One who pulls off many sweet tricks. "that kid is tricky"
TRIP
When something is good e.g. "That 900 was trip!"
TRIPPY
Something cool and crazy. Like "Dude, your board is trippy!"
TUCK
Low wind resistance crouched position used to go faster
TWEAKED
A term used to explain the emphasis of style in a trick.
In other words, if someone "tweaked out a method" they would grab hard and create an emphasis of the maneuver such that their ankles or other joints may appear bent injury. i.e. "He tweaked his ankle." or twisted to a maximum degree. (by Jason Dow)
TWO-PLANKER
Another term for skier.
WACK
Something that is not good. e.g. "It's pretty wack that my board broke in half." (by Jason Dow)
WARBLE
a large chunk of snow on which one ollies, spins on top of, and rides off.
WARCKDARD
Something weird: we don't know what IT is.
WARPED
Pretty bumpy, wack or kinked surface/terrain. Very unpleasant to shralp or shred.
WASTED
getting sprayed with snow when someone stops right near you. i.e. you just got wasted…i wasted that dude so bad.
WAY OF LIFE
Semi-interchangeable with lifestyle. This is a more accurate definition for how board riders see the sport and life.
WEST-BURN
verb: a wipeout or a fail: eg He totally westburned that.
WET RIDE
Liven up your chairlift by taking a piss off the side. It's harder than it sounds but very rewarding. When taking a wet ride, consider the wind direction and watch out for the golden spray.
WETCAT
This refers to Todd Richard's signature pipe move – an inverted aerial where the rider performs a 540-degree rotational flip.
Then, an added flat spinning 360-degree rotation is thrown, making the completed rotation of 900 degrees.
WICKED
this word is known throughout the country as evil but here in Boston, it's used as awesome, cool, or sick.
WILDERBEAST
someone who cannot board and just takes up space on the mountain -that wilderbeast is just a waste on this mountain.
WIMP
Someone who is scared of everything; wussy.
WISH BONE
when a border snaps their board doing something narly.
WONKED
A description of someone who is stoked or stoned.
YA SMELL ME?
Do you understand me?
YARD SALE
When a boarder (or skiier) bails so hard their hat/goggles/etc go flying. "Did you see that gnar yard sale?"
YUPPIES
Some city people that think they can rip it up, but can't.
FAQs
1. What is snowboarding slang used for?
Snowboarding slang is used for a variety of purposes. It can be used to communicate with other snowboarders, to describe snowboarding conditions or equipment, or simply to express excitement or disbelief.
2. What do snowboarders call each other?
When you're out on the slopes, you'll hear all sorts of snowboarders call each other all sorts of names. Whether it's a friendly nickname or an insult, here are some of the most common terms you'll hear:
Bro – The most popular term used by snowboarders, regardless of age or gender. Can be used as a standalone term of endearment or as part of a sentence (i.e., "What's up, bro?").
Grom – A young snowboarder. Usually used to describe someone who is under the age of 18.
Shredder – A skilled snowboarder who rips up the slopes. Can be used interchangeably with "ripper."
Kook – An inexperienced snowboarder who makes a lot of mistakes on the slopes. Also used to describe someone who doesn't follow standard etiquette (i.e., cutting in line, riding out of bounds, etc.).
3. What do snowboarders call fresh snow?
When a snowboarder talks about fresh snow, they're referring to newly fallen snow that hasn't been ridden on yet. This is the best type of snow to ride on because it's soft and powdery, making for a more enjoyable experience.
It can be difficult to find fresh snow if you're not one of the first people on the slopes, but it's definitely worth the effort.
4. What does jibby mean in snowboarding?
Jibby is a term used to describe a type of snowboarding trick where the rider jumps or slides along a rail or other surface. The word can also be used as a verb, meaning to perform this type of trick.
Conclusion
Now that you've gone through this snowboarding dictionary, you should have a much better understanding of the sport and all of the terminology that surrounds it.
Whether you're interested in taking up snowboarding as a hobby or you just want to be able to understand what your friends are talking about when they hit the slopes, this dictionary should give you everything that you need. So get out there and enjoy the powder!