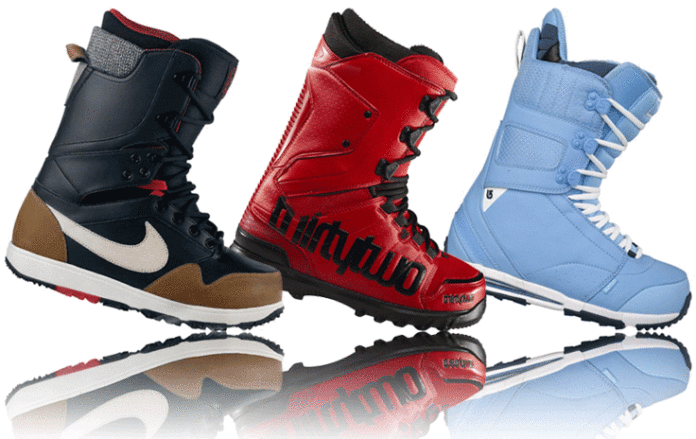 Snowboard Boots are essential for Snowboarding. Together with your Snowboard Bindings, Snowboard Boots transfer energy from your feet and connect your body to your Snowboard. Also, how you are able to control your Snowboard largely depends on your Boots and bindings. Good Snowboard Boots should give you maximum control over your Snowboard, protect your feet and ankles from the pressures of high speed turns, and keep your feet warm and breathing in all weather conditions at the same time.
What follows is all the information you need to know about Snowboard Boots – from the different Boot Types to the Proper Boot Fit. These sites will help you Choose the Appropriate Snowboarding Boots for you. Still, regardless of the Type of Snowboard Boots, you intend to wear, choose the pair that fit your feet best. After all, you wouldn't want to be out of control and in pain when you ride down the slopes.
Shop & Buy Snowboarding Boots
Snowboard Boots are another essential piece of your Snowboarding Equipment. We offer a variety of Snowboard Boots for all types of Snowboard Bindings.
Function and Types of Snowboarding Boots
A detailed look at the importance and the different kinds of Snowboard Boots (i.e. Soft, Hard, Hybrid Step-in Boots) and their Specifications. You want to make sure that when you go Snowboarding, your feet is protected as well. Read this section for more information.
Steps on How to Fit Snowboarding Boots
The way the Snowboard Boot fits, holds, and supports your feet and ankles are the most important basis in selecting Snowboard Boots. This section explains the importance of Boot Fit and enumerates the steps on how to try on Snowboarding Boots.
How to Buy Snowboard Boots
This is a Snowboard Boots Buying Guide that will work you through the basics of selecting the right Snowboard Boots for you. We have prepared a number of guidelines to help you out. Choosing your Snowboard boots is very crucial and this article will help you with that.
Boots come in many Variations and Styles. There are Different Types of Snowboard Boots appropriate for the three Riding Styles in Snowboarding. Before you select Snowboard Boots, you must first decide whether you want to go with a Step-in Binding or a traditional Strap Binding. Remember, while traditional Strap Bindings will work with any non-Step-in Boots, Step-in Boots must be purchased together with their corresponding Bindings. Currently, a lot of boarders prefer Soft Boots with Strap Bindings, but Step-ins are a convenient alternative.
Take a look at our guide to the best snowboard boots in 2023.
Having the Right Pair of Snowboard Boots is essential since it could make a great difference in whether you'll be spending hours of excruciating pain or blissful comfort on the slope.