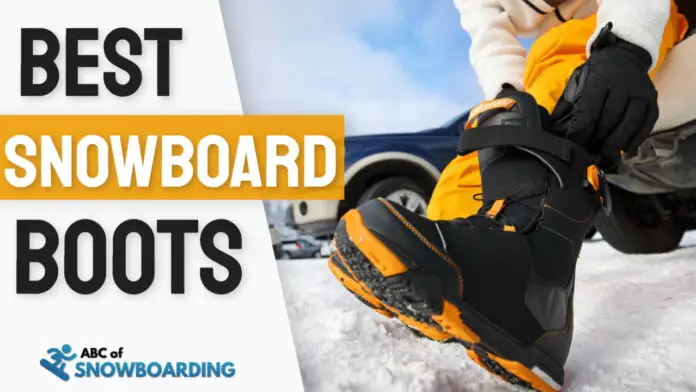 Best Choice
Good Choice
Also Consider
Don't Miss
Burton Moto Boa Snowboard Boot - Men's Black, 7.0
THIRTY TWO STW BOA Snowboard Boots Mens Sz 5 Black
K2 Maysis Snowboard Boot Mens
thirtytwo Women's Exit Snowboard Boot (Black/Mint, 5)
Lacing System: Quick lace
Lacing System: Traditional
Best Choice
Burton Moto Boa Snowboard Boot - Men's Black, 7.0
Lacing System: Quick lace
Good Choice
THIRTY TWO STW BOA Snowboard Boots Mens Sz 5 Black
Also Consider
K2 Maysis Snowboard Boot Mens
Don't Miss
thirtytwo Women's Exit Snowboard Boot (Black/Mint, 5)
Lacing System: Traditional
Snowboarding is a fantastic sport. Suppose you are an amateur eager to make it your hobby, good for you. But, it would be best if you never tried it without proper equipment. One of the essential pieces you're going to need is the snowboard boots. To make snowboarding a good experience, you need to get yourself a nice pair.
We are here today to help you make the right decision. Please, go with us through this list of the best snowboard boots for 2021. Enter the new winter and skiing season on a high note with a pair of boots for show off.
Our Top Picks
1. Burton Moto Boa Snowboard Boots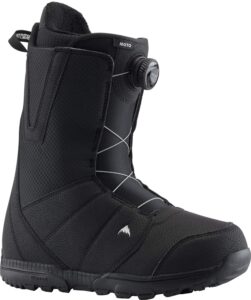 If you're looking for soft and comfortable shoes that will make your day on the mountain enjoyable, these are for you. They're easy to put on and take off thanks to the Boa Coiler lacing system and fit perfectly to your leg, which makes them ideal for long strides down and up the mountain. Within, you have the footprint-reduction technology, which makes your foot fit perfectly inside and make you feel entirely comfortable for any challenge snowboarding might have. Regardless of the weather, you'll face, there's no chance of getting your feet wet or cold thanks to internal gussets and liners.
Pros
Easy to put on and to keep them tight to the leg
Not too much heel lift
You can easily do the up even in gloves
Cons
Any break is critical, and you'll need a new pair
Can put pressure on your leg
2. ThirtyTwo STW Boa Men's Boots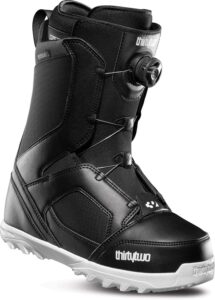 This pair is incredible, with perfect built for adorers of comfort and easiness. You'll be thrilled with their soft flex, heat-moldable liners, and foam outsoles. The focal point of these boots is the Boa Fit System, which creates one helluva package. With these boots, it doesn't matter if you are a professional boarder or a weekend hobbyist; they fit you well nonetheless. They're safe and fit perfectly with any board. Make your feet happy and buy this pair.
Pros
Immensely comfortable
Have stability for any move on the board
Durable
Cons
Deemed small, so you'll want to buy a bigger pair if you're buying online
3. Burton Ruler BOA Snowboard Boots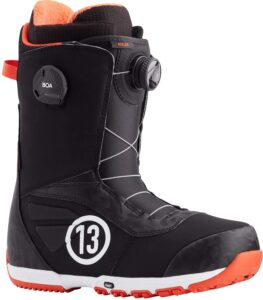 Burton Swath Boots are one of the most comfortable boots on the market. It's no wonder as they put a lot of focus on comfort. You could wear them for days without feeling tiredness in your feet. They're super lightweight but not too flexible. The entire design aims for minimalism, which can be seen in not such bulky seams and their Dual Zone Boa Fit System with Coiler™ Technology. When you add New England Rope laces with the Boa lifetime guarantee, you get boots that are easily adjustable to your feet. They come with a built-in Sleeping bag and ReBounce cushioning, which is what makes them so comfy and warm.
Pros
Comfortable, warm, and lightweight
No need to take off gloves
Cons
It's hard to tighten them all the way
If the lacing system fails, you can't fix it on the mountain
4. K2 Maysis Boots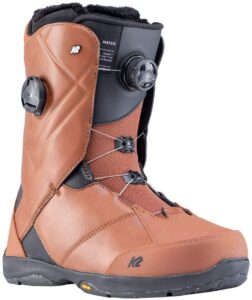 Once you try out these boots, you'll find yourself in a dilemma. They're comfortable to a fault but also sometimes feel too tight in the heel end while giving you too much space in front after tightening them. K2 Maysis Boots have enough flex to fit on a variety of boards. Whatever your board is, these will allow you enough freedom for any desired move. When it comes to shock absorption, they pass the test but don't expect too much. Also, don't expect too much out of the adjustability as you could end up disappointed.
Pros
Double Boa lacing system
Flexible
Cons
Not enough absorption
Widen too much upfront with tight lacing
5. Vans Aura OG All-Mountain Boots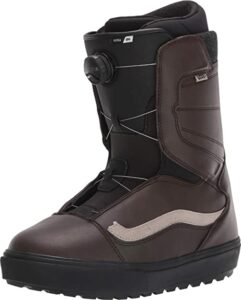 If you're not a complicated customer, this is your boot. They're simple, with plenty of speed and comfort, which is almost everything you could ask from a boot. The comfort comes from UltraCush liner and the materials used for the footbed, which are incredibly soft. The flexibility is at a medium level, which is enough for good rides down the mountain all day long. The Boa coiler system it uses is simple enough to be used by anyone and reliable to give you no worries. If you are new in this sport, this is the boot you should seek.
Pros
Here, you have super cute boots
They're comfortable like most top-end models
The lacing system is easy and reliable
Cons
Can be wide for users with small feet
Easy to lace, but also easy to loosen up
6. Burton Limelight Boa Women's Boots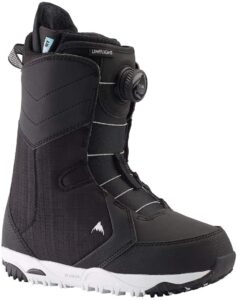 If you opt for Burton Limelight Boa Women's Boots, you'll be doing your feet a great favor. This pair is super warm and comfortable, thanks to Burton's own plush heat-moldable imprint. You'll also love the lacing system, Boa Coiler, which makes lacing these boots easy. It doesn't matter if you are a pro or an amateur. The flex set at medium makes them suitable for all parties. You can use them on slow lanes, without risk, but they're also great for fast lanes and a bit more professional ride.
Pros
Great color choices
Easy lacing system
Comfortable and warm
Cons
Can be tight around ankles
7. K2 Contour Women's Snowboard Boots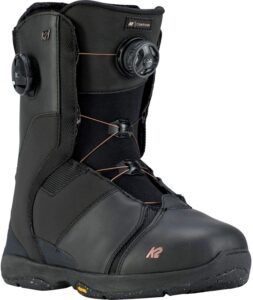 Precision and performance are what you're going to get with these boots. In these areas, these women's boots are almost unparalleled. The flex on them is really stiff, which is why they're employed by many professional athletes. The Intuition Control liner ensures stability and comfort, and the quality of rubber used for the sole end. If you decide to buy these boots, there's a chance you'll fall in love. It's worth the risk, though.
Pros
Tight on the ankle and secure
Light on the feet
Double Boa system allows tight lacing
Cons
Could be stiffer, as they go soft with time
Not suited for aggressive raiders
8. Salomon Titan Snowboard Boots Men's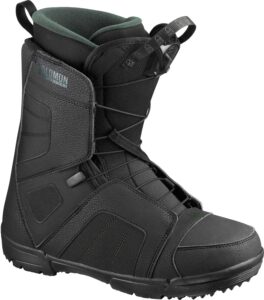 Winter hobbies can be made much more entertaining with a pair of Salomon Titan Snowboard Boots. They're comfortable enough and can provide you with the desired performance. They're easy to lace up thanks to the QuickLock lacing system. The warmth inside comes from the Bronze Series liner. Those who tried out these boots claim they're supportive of your feet and body, with the right amount of flex. Because of these traits, they're the favorite choice for beginners—this fact is also dictated by their fair price.
Pros
Attractive appearance
Good traction at the track
Cons
Not so good quality
Could be a better fit on the leg
9. ThirtyTwo Exit Snowboard Boots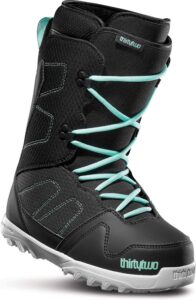 With these boots, snowboarding doesn't need to be hard and painful. If you equip your feet with these beauties, you'll avoid the freezing and wetness that comes with these activities. That's right; a good pair of boots is going to give you less trouble than anticipated. ThirtyTwo Exit Snowboard Boots should be the first choice if you plan on treating your feet the right way. These come with a cushioned tongue, a moldable intuition liner for warmth, which allows you the comfort for all days on the mountain.
Pros
Offer value for the price
Durable material
Great mold for the feet
Cons
Difficult to tighten at times
Short laces
Professionals could find them inadequate
10. Salomon QST Pro 100 Ski Boots
These boots are made for new discoveries. Salomon QST Pro 100 Ski Boots are what you need for maximum enjoyment. The mid-stiff flex is fantastic as it can be adjusted, same as the inner tongue, which can hold your leg regardless of the traction you'll create on the track. These boots are extra versatile and can be used sparingly by amateurs and by the pros alike.
Pros
Easy to buckle up
Top-end comfort
Adjustable
Cons
Can accumulate snow at the top
Complete Buyer's Guide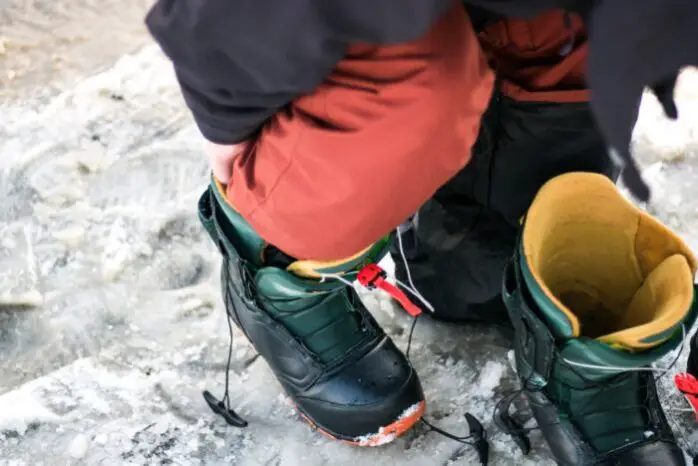 It's not easy to pick the right pair of boots for snowboarding. If this is your first time doing it, you'll need a buyer's guide. Below we're going to list the most important thing you need to pay attention to before you buy boots. You can't just order a random pair. Here's where your focus should lie:
Flex
Boots can be either soft or stiff. You can go somewhere in between, but first, you need to have a preference for this. Soft ones are better for beginners, while stiffer ones are sought by professionals.
Liners
You shouldn't make a mistake with liners. They're the inner part of every boot. They can be made from various materials and can be fixed and removable. We recommend that you start your snowboarding venture with removable ones. Also, be careful with fabric, as your comfort depends on it.
Sizing
Sizing depends on the country you're located in, the model, and the manufacturer. You can't buy snowboarding boots based on your regular shoe size. It all comes down to your feet shape and the size of your board.
Fit
Your boot must lie tightly to your feet. It's not recommended to have the loosed or more prominent than your feet for safety reasons. It would also be best if you counted in your liners and socks when determining the right fit.
Lacing System
This system can make your life simple or complicated, depending on your choice and previous experience with snowboarding boots. You need to be able to lace them real good but retain freedom of your feet and comfort. The most common choices include the traditional lacing system, quick-pull lacing, and Boa lacing system. All of them have their flaws and advantages and need to be appropriately investigate before you pick one.
Footbeds
The floor of your boots is also essential are that you want to cover with the correct footbeds. You have orthopedic ones available but go with those you find most comfortable if these are too expensive.
Socks
As we said, comfort inside your snowboarding boots is essential, and the right socks could help you resolve this issue. You can go with your standard socks, but it would be best to go with those that will give your leg comfort and warmth without too much sweating.
Check the following infographic on how to choose the right snowboard boots:

FAQ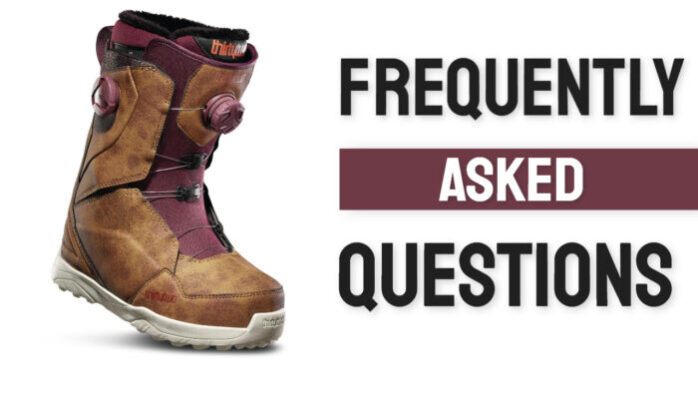 What's the difference between freeride and freestyle boots?
Freeride boots are for professional riders as they offer more support and stiffness. You can be as aggressive as you like with these when on a mountain. Freestyle ones are for beginners as they're softer.
How often should you buy new snowboard boots?
It all comes down to how often do you ride and what's your style of snowboarding. On average, snowboarding boots can last up to one hundred days. But, you're better replacing them before it's too late. They shouldn't last less than 40 days on the mountain.
Are stiff snowboard boots better?
Yes, you could say so – but only if you're looking for a better edge control while you on your way making cuts on the lane. These are intended if you like to snowboard like a pro.
Should your toes touch the end of snowboard boots?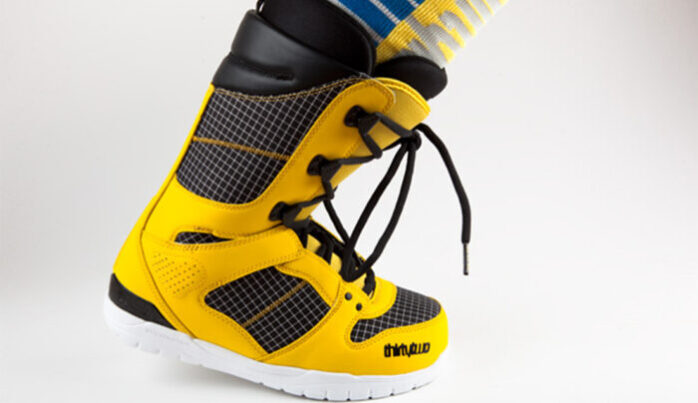 Once your boots are on, you should feel comfortable from all sides – at the back, in the middle, and upfront. Your toes should go all the way to the end of the board, but no further.
Are snowboard boots waterproof?
Snowboarding boots are made with the intention to protect users from weather conditions they can encounter on the mountain. While they succeed in doing this to an extent, no boot is 100% waterproof. They do an excellent job on most occasions, thanks to the materials and techniques they're built with.
Should I get my liners heat-molded?
This is not mandatory. It's unnecessary to mold your liner, but you can do it if you feel like it. If they fit you the first time you try them one, this is not what you need. But, if they feel off, yes, you could and should mold them.
Learn more about the necessary equipment for snowboarding in our article about snowboarding gear.
Conclusion
With this, we conclude our list of the ten best snowboarding boots. As you can see, the choices are vast, and anyone can find a matching pair. If you read our article carefully, you are now able to determine which boots are the ones that will fit you best. Take everything we said into account, and go shopping.
Before you go, take a look at some other valuable mentions available on the market:
Chamonix Lognan Snowboard Boots Mens Sz 8 Black
Ability: Beginner to Advanced
Terrain: All Mountain
Flex: Medium 4/10
Lacing System: Traditional Lacing
Shell: Synthetic Leather, Support Panels, Flex Notches, Reinforced Support Spine, Pull Handle, Double Reinforced Stitching
System APX Men's Snowboard Boots (8)
Liner: Thermofit Heat Moldable Get the perfect fit from your boots, eliminate pressure points, and ride in comfort all day! The heat mold liner allows the boot to adapt to every curve of your foot...
Lacing: Reenforced Traditional Laces The APX uses traditional lacing to allow riders to easily keep the boot tight in all the right places. Traditional laces allow riders to tighten each section of...
Warranty: 3 Years A three year warranty against manufacturer defects guarantees that this will be one of the longest lasting boot
HEAD Unisex Rodeo Boa Trace Sole Freestyle Snowboard Boots, Black, 235
BOA LACING: The Boa lacing system allows a boot to be fastened with the turn of a dial and loosened in a snap: no more fumbling with laces in the cold.
COMFORT CUFF SYSTEM: It delivers added flex on the medial side of the boot for added comfort and a more natural flex.
TRACE OUTSOLE: The Trace sole provides supreme grip, dampening & stability for a rider's foot; Centered rubber studs offer outstanding traction while the main frame provides superior foot support...
FLEX INDEX 5: This boot has a very forgiving flex that is ideal for beginner and intermediate riders.
TONGUE PULL: A loop of fabric at the top of the tongue helps in putting on and removing the boots. Pull it forward and to the side and your foot should slide right in.