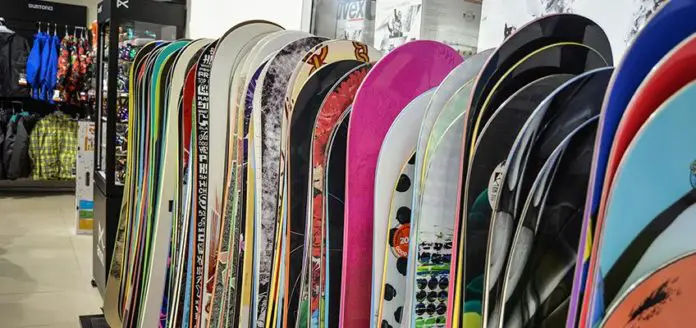 There are Three Different Types of Snowboards available on the market today: Freestyle, Freeride (All Mountain), and Alpine (Carving) Boards. Each board has a unique construction technique and materials, shape, flex pattern, and size. The type of Snowboard you ride should correspond to your particular style of riding.
Freeride or All Mountain Board
Of the three Snowboard types, the Freeride Snowboard is the most popular. Accounting for half of all Snowboard sales, this type of board is a good all-mountain, park and HalfpipeSnowboard that is designed to float well in Powder Surface. You can enjoy carving, catching air, and basically all riding aspects with this type of Snowboard.
Freeride boards have a directional shape and are meant to be ridden primarily in one direction. Having a directional shape means that the Snowboard's tip is different from its tail. In freeride, the tail is generally more narrow, shorter, and flatter than the tip of the board. With this, the stance on freeride boards is usually offset toward the tail of the board. Still, freeride boards can be ridden Fakie, despite their directional shape.
Freeride Snowboards are usually fairly soft and maneuverable enough for beginners, but stiff enough to hold a fast turn in hard snow. This type of Snowboard bridges the gap between Freestyle and Alpine carving. However, it isn't as stable as a carving board and it isn't as agile as a freestyle board.
Freestyle Snowboard
A Freestyle Snowboard is wider, more stable, and more forgiving to ride. Also, it is shorter, lighter and (compared with a freeride board) softer in flex, which makes it easier to turn. These characteristics make a freestyle board very responsive to the rider. Consequently, it is the best choice for the beginner.
These boards are built mainly for performing tricks in terrain parks and halfpipes (e.g. spins, air, grabs and riding fakie). Still, Freestyle Snowboards have limited edge grip and stability, and are not good for carving turns or cruising fast.
Most Freestyle Snowboards are either twin tip boards or directional-twin. Twin tip boards have a centered stance with a tip and tail that are exact copies of each other, making them symmetrical in shape. Both ends of a freestyle Snowboard have a shovel, and freestyle boards with twin tip design makes it easy for beginners to ride both forward and backward (fakie). Directional-twin Snowboards are similar to the regular twin tip Snowboard; only, its tail is stiffer than the nose.
Carving, Alpine, or Race Board
Carving Snowboards are narrower than freestyle and freeride boards. Their long, narrow, stiff constructions are configured for higher speeds and cleaner carved turns. With this, carving boards allow quick edge turns, swift, superior edge-holding power on hard snow, and good stability for speed.
Also known as alpine boards, these snowboards almost look like an enlarged Ski. They are made in both symmetrical and asymmetrical styles and tend to only have a shovel on the nose. Similar with freeride boards, carving boards are made to ride only in one direction.
While carving boards offer a higher level of performance, they are more difficult for the beginning rider to use and are generally reserved for more advanced riders. Alpine Snowboards are mainly preferred by Snowboard racers for a great day of fresh unridden powder. Keep in mind that alpine Snowboards are configured for riding and carving downhill, not for doing tricks.
To summarize, freestyle, freeride, and alpine or carving Snowboards are the three basic types of Snowboards. It is easier to maneuver a soft-flexing, twin-tip, gradual side cut Freestyle Snowboard. On the other hand, it is harder to maneuver a stiffer-flex, directional, aggressive sidecut All-Mountain Snowboard with scores of combinations in between. Always remember that the type of Snowboard you ride should correspond to the type of riding that you like to do, and that both Freestyle and Freeride boards are good Snowboard types for beginning snowboarders.