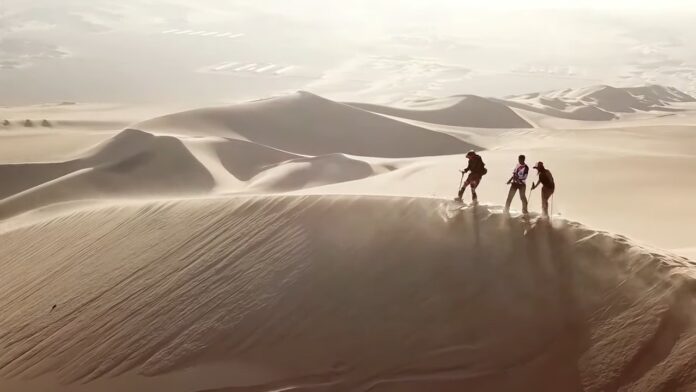 Like Mountain Boarding, Sandboarding is something that can be done all year round. As soon as the snow surface melts, you can always search for sand dunes at the beach or desert area and just continue boarding.
Currently, although it is still far from the mainstream, there are very popular sandboarding events and some well-known ambassadors of the sport. What follows are the Equipment and Tips for Sandboarding:
Equipment in Sandboarding
The equipment in Sandboarding are similar to Snowboarding. For racing down the dunes, all you really need is the Sandboard itself. The Sandboard looks a lot like a Snowboard – it has bindings to keep your feet securely attached to it but is also comparatively light.
Its lightness is a valuable factor since rides in Sandboarding tend to start at the top of the sand dunes. Consequently, you have to carry your sandboard up to the top each time you want to have a go at the dunes.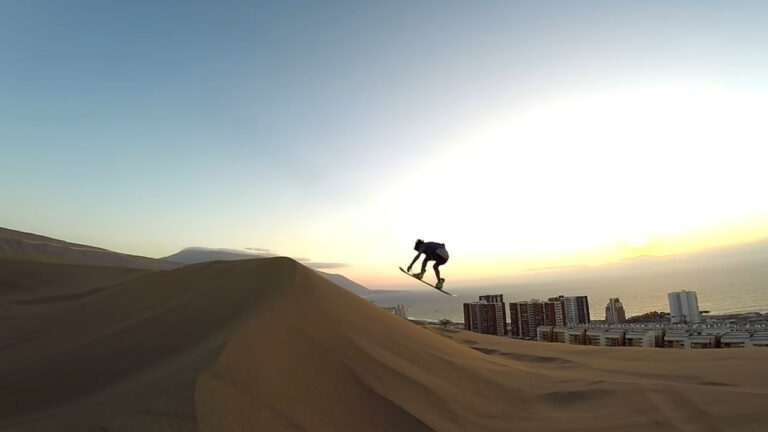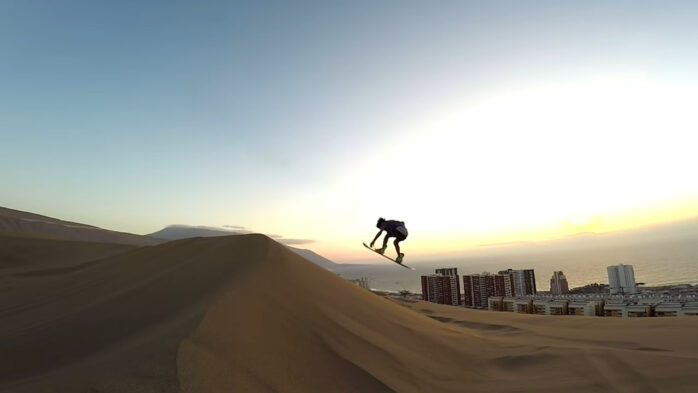 Today, sandboards are made with the best materials (wood, plastics, aluminum, etc.). Still, you can use snowboards with a specialized base. The base is a lamination that becomes even more slippery the more you ride your sandboard. As for the Snowboard Bindings and Snowboard Boots in Sandboarding, they are exactly the same as Snowboarding.
Even though you are riding on soft sand, wearing a helmet is a good idea since accidents can still happen. However, your safety gear is down to personal choice. All the same, you will need to bring sunscreen, thick socks, and a sun hat or cap for your protection.
Tips in Sandboarding
The best part about Sandboarding is that it's easy to learn and it's a good way to train for Snowboarding. This is because Sandboarding follows the same principle as downhill snowboarding.
Only, it is easier to learn on sand because it is softer and allows slower movement than snow. This gives the rider a chance to get their balance on the board and make their sandboard more manageable. And once you know how to Sandboard, you will be able to Snowboard.
What follows are some Guidelines in Sandboarding to ensure that you'll have a pleasurable time learning how to hit the sand dunes:
For beginners, we suggest that you ride downhill on a small dune that is not too steep to improve your technique.
For more advanced riders, we recommend higher and steeper sand dunes. This will allow you to focus on going fast or create obstacles and jumps to maneuver around and over.
For experienced snowboarders, keep in mind that the technique and stance in snowboarding is different from sandboarding. Accordingly, you need to adjust your stance and technique from snow to sand. Don't worry, after a ride or two it feel just like boarding in very thick powder snow surface.
When choosing your sandboarding site, select a middle of a wide expanse of sand. Never board over the dune grasses since this damages the roots and leads to erosion. Remember, sand dune ecology comprises a big part of sandboarding. Without the grass, the sand dunes will disappear; consequently leaving you "dune-less".
If you want to get the best results out of sandboarding, find dunes that are covered with dry sand. Wet sand can result to a bad ride since it can make your sandboard stick.
Even though you are riding on soft sand, wearing a Snowboard Helmet is a good idea since accidents can still happen. However, your Safety Gear is down to personal choice.
For your protection, put on sunscreen and wear Thick Socks and sun hat or cap.
Conclusion
I hope this article on sandboarding has given you a better understanding of what it is and why it's such a popular activity. Sandboarding is a great way to enjoy the outdoors and get some exercise, and it's also a lot of fun. If you're thinking about giving it a try, be sure to check out the beginner's guide to sandboarding.