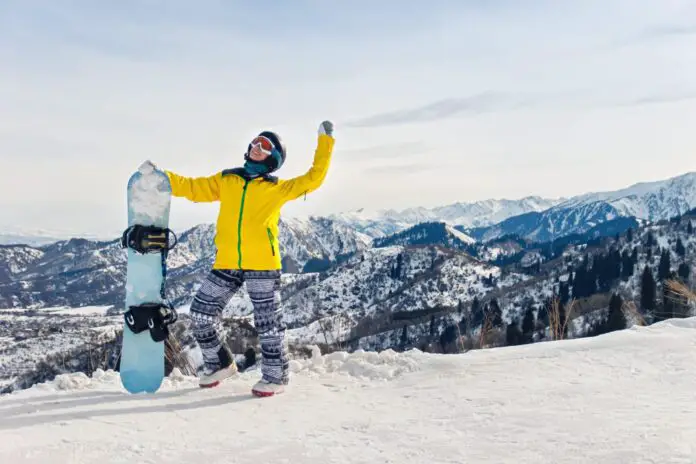 Snowboard jackets are the few outdoor accessories that are definitely worth your money. Well, if you're searching for the best women's snowboarding jackets in 2023, you've come to the right place.
Our Pick
Good Choice
Best Price
Don't Miss
Roxy Andie Parka Jacket Oxblood Red Leopold XS (US 0-1)
Arc'teryx Atom LT Hoody Women's | Lightweight Versatile Synthetically Insulated Hoody | Black,...
Volcom Mission Insulated Snowboard Jacket Womens Sz M Blue
AIRBLASTER Women's Nicolette Jacket, Oxblood, Large
Our Pick
Roxy Andie Parka Jacket Oxblood Red Leopold XS (US 0-1)
Good Choice
Arc'teryx Atom LT Hoody Women's | Lightweight Versatile Synthetically Insulated Hoody | Black,...
Best Price
Volcom Mission Insulated Snowboard Jacket Womens Sz M Blue
Don't Miss
AIRBLASTER Women's Nicolette Jacket, Oxblood, Large
In this article, you'll find the seven best jackets that ensure warmth, high-level protection and prevent snow from entering your pants in style.
As you delve deeper into the article, you'll find a detailed buying guide discussing how to choose the best snowboarding jacket and a few frequently asked questions. So, without any further ado, let's dive into the article.
Top Women's Snowboard Jackets Review
1. Roxy Insulated Jacket
Are you planning to snowboard in colder places? If yes, it's vital to prepare well, and a perfect jacket is a must. However, if you've no idea about the best jackets, a Roxy Insulated Jacket is a great choice. It ensures extreme warmth and comfort.
A few best features of the jacket include flexible, durable, highly insulated, and breathable too. So, not only it protects from chilling weather but also it is perfect for sunny days. Usually, this jacket provides a cozy and warm feel due to Primaloft black eco insulation.
It's made of 100% polyester, and you feel so lightweight. This jacket covers 60g on the body, 40g on sleeves, and a hood. Moreover, the detailed lining with robust fabric contributes to the best waterproofing for 10K mm.
Whenever you buy snowboarding jackets, make sure you choose the best waterproofing jacket with a rating of 10,000 mm or above. If you're looking for high-quality women's snowboarding jackets, add this to your bucket list.
Features:
Mesh-lined pit vents for good airflow.
An adjustable hood in three ways.
Additional layers of protection from chilly weather
Good insulation
Chic design
Ultimate waterproofing
2. Arc'teyrx Lightweight Hooded Jacket
If you're looking for the best backcountry and perfect fit women's jacket, Arc'teyrx lightweight hooded jacket is your ideal choice. Since this jacket is extremely lightweight and adjustable, it offers ultimate comfort.
This jacket is exclusively made for adventurous mountain rides and offers multiple flexible options that ensure warmth and effortless movements without any restrictions. The articulated elbows are a great feature of this jacket that you'll love the most.
The Arc'teryx jacket is made of Tyono 20 nylon material and perfectly lined with water-repellent fabrics. That's why it's highly known for excellent waterproofing. It also has numerous pockets with fine-textured zippers for hassle-free maintenance.
Features:
Best for backcountry
Excellent waterproofing
Comfortable and lightweight
Perfect fitting
Flexible
Removable hood
3. Airblaster Nicolette Pink-Colored Women's Jacket
Airblaster Nicolette is one of the best versatile and highly flexible snowboarding jackets for women. It's best known for extreme comfort, perfect fitting, and adjustable hood. Whether you'd like to enjoy terrain rides or mountain activities, this jacket ensures a seamless experience.
Another best feature of this jacket is its color. Since most women love pink, this jacket would be loved by almost all women. Apart from the pale pink, it's also available in red or blood color. So, it's your choice whether to go with light or vibrant colored jacket.
Since the Airblkaster Nicolette is made of 100% polyester, it offers ultimate waterproofing of 15,000 mm. Also, the breathability of the jacket is about 10,000 mm, which is excellent. This jacket has colossal pockets to store anything, pit vents for good airflow inside the jacket, and an extra piece of cloth to adjust the jacket.
Although the jacket isn't the warmest, it offers extreme comfort. If you're searching for an affordable jacket without caring much for the warmth, the Airblaster snowboarding women's jacket is your best choice.
Features:
Comfortable and versatile
Adjustable hood
Good waterproofing
Best insulation that keeps you dry always
4. Volcom Snowboarding Women Jacket
Volcom women's jackets are also one of the best choices that you shouldn't miss out on. Unlike many other jackets, this jacket incorporates a beautifully designed fur collar that attracts most people. Moreover, it ensures high-end protection and warmth in chilling weather.
This Volcom snowboarding women's jacket has a hood and vents with adequate insulation. It's designed with the low-loft insulation technique that ensures warmth in winters and cold in summers. Another great feature of the jacket is you can remove the layers whenever you want.
Since the jacket has a powder skirt around the waist, it prevents snow from entering the pants. Also, you can ditch these powder skirts and go for a zipped jacket with cool Volcom pants. If you're looking for budget-friendly jackets, check out Volcom snowboarding women's jackets.
Features:
Minimal insulation
Vents
Best waterproofing
Attractive fur collar
Hooded
5. The North Face Women's Jacket
The North Face is one of the few best brands that understand the very basic principles of outdoor accessories. Did you know over 85% of this jacket customers are delighted with their purchase? The specialty of this cool and chic women's jacket is powder skirt, vents, and removable hood style. The waterproof and breathable shell makes it perfect for both winters and springs.
Whether you're on an adventure or terrain ride, The North Face women's jacket is an ideal choice. Since it has vents, it allows you to adjust the temperature of the jacket instantaneously. Meanwhile, the powder skirt prevents the snow from entering the snowboarding pants.
The removable hood feature is really a game-changer. This jacket is one of the best cost-effective choices for people who don't love to wear helmets. Even if you don't like the hood, it's pretty easy to remove. So, if you're searching for chic, warm, and budget-friendly snowboarding jackets, add The North Face women's jacket to your bucket list.
Features:
Cozy and warm
waterproof jacket
Powder skirts
Vents on jacket
Versatile
Removable hood
How To Choose The Best Women's Snowboard Jackets 2023: The Buying Guide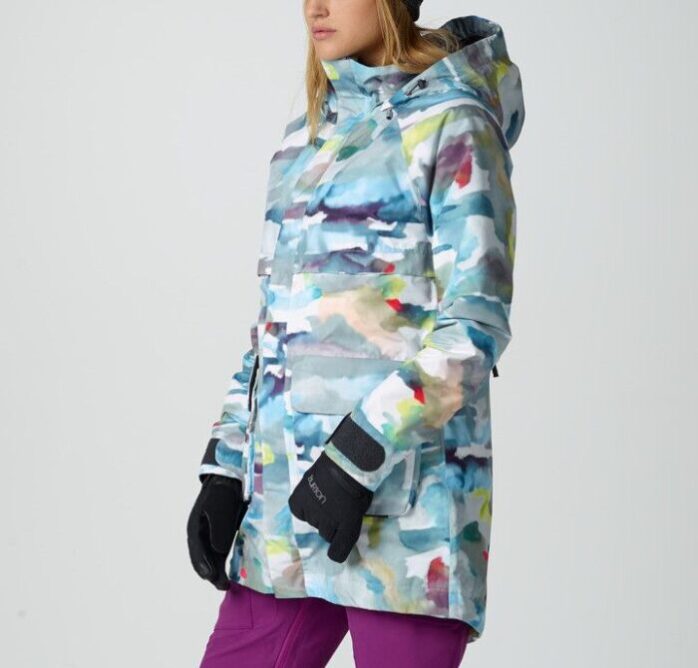 Since you find millions of snowboarding jackets in the market, it's pretty overwhelming to choose the single perfect jacket that suits you. So, to make your buying journey more comfy and effortless, we've come up with the definitive buying guide. Make sure you consider these factors mentioned below before buying the women's snowboarding jacket.
Select High-Quality Jacket
Snowboard jackets are a great investment in chilly winters. These jackets ensure warmth in the winter and prevent you from getting wet. Meanwhile, the breathable feature ensures comfort in sunny springs.
Since a jacket is protective and useful, one must take care of quality before buying. If you'd like to enjoy a durable snowboarding jacket, make sure you choose a high-quality jacket without compromising on the cost.
Consider Perfect Fit
In general, there are three primary kinds of women's snowboard jackets, including regular, loose, and slim fit. Slim fit(aka alpinist) exactly fits your body without any under layers. Loose fit is one of the wisely chosen jacket types that has colossal mid and under layers.
Similarly, the medium fit lies in between a slim fit and a loose fit. Most people prefer either a loose fit or a medium fit, depending on their convenience.
Understand Your Suitable Snowboard Jackets
There are various kinds of women's snowboard jackets available in the market. However, five types of jackets are pretty popular: shells, technical shells, 3-in-1, softshells, and insulated jackets. Since a jacket is one of the best investments, make sure you choose the right one suitable for you.
Now, if you've no idea about various kinds of snowboard jackets, let's discuss briefly here. Experts recommend choosing the most suitable jacket for you based on the geographic location or snowboarding type.
For instance, insulated jackets are ideal that usually keep you warmer throughout the day for people snowboarding in freezing environments like Vermont or Maine. However, if you spend your time in mild sunny regions, shell jackets are ideal rather than fully insulated ones.
Shell Jackets are versatile and can be worn in all seasons. The warm layers under the jacket protect in winters, while the minimal insulation supports on sunny days. Technical shells are waterproof and provide better protection than shell jackets.
Technical shell jackets are best for countryside rides or hikes. Similarly, softshells are great for spring snowboarding as they offer minimal insulation. Finally, here's the versatile 3-in-1 jacket suitable for all climates. So, choose the best jacket that's suitable for you.
Check For Powder Skirt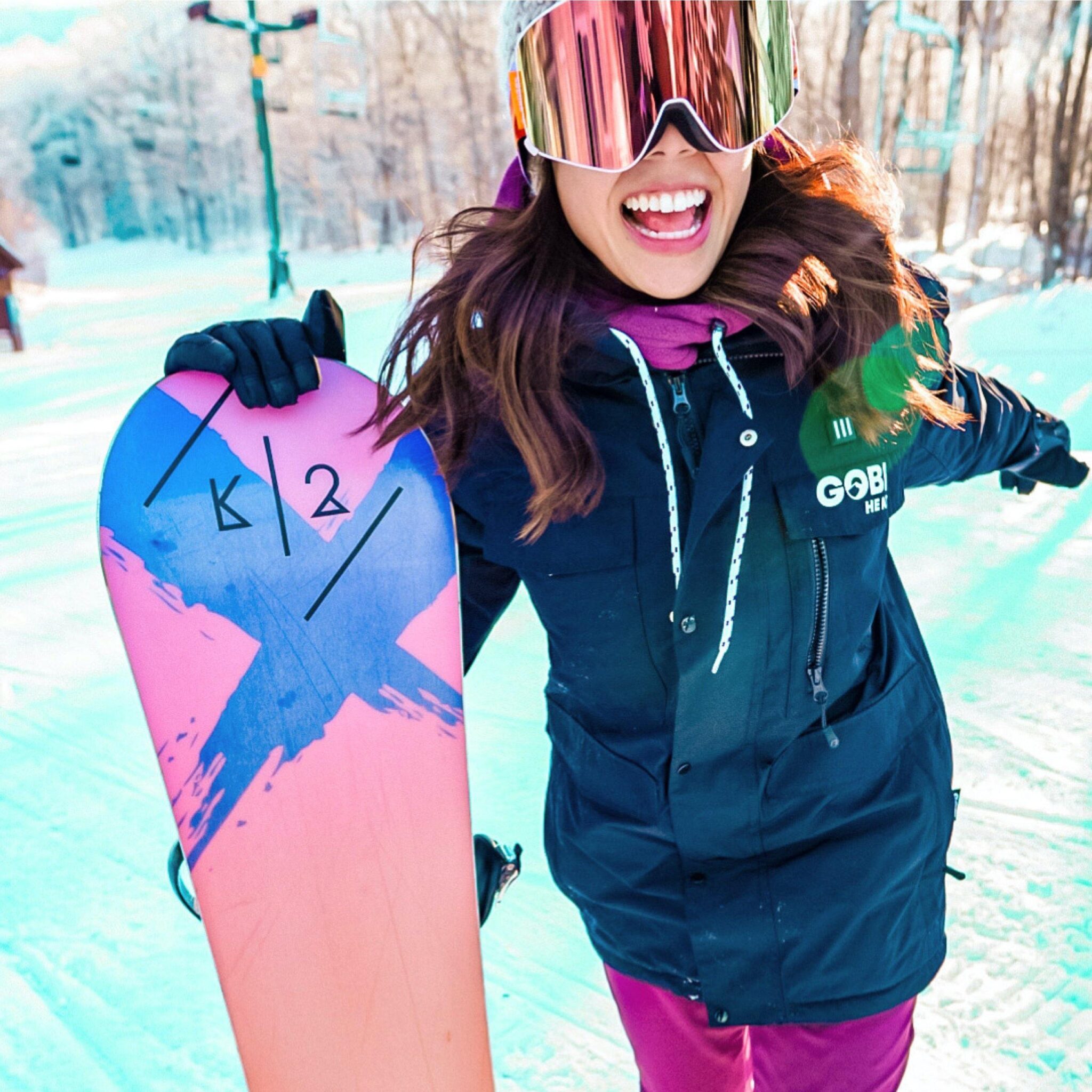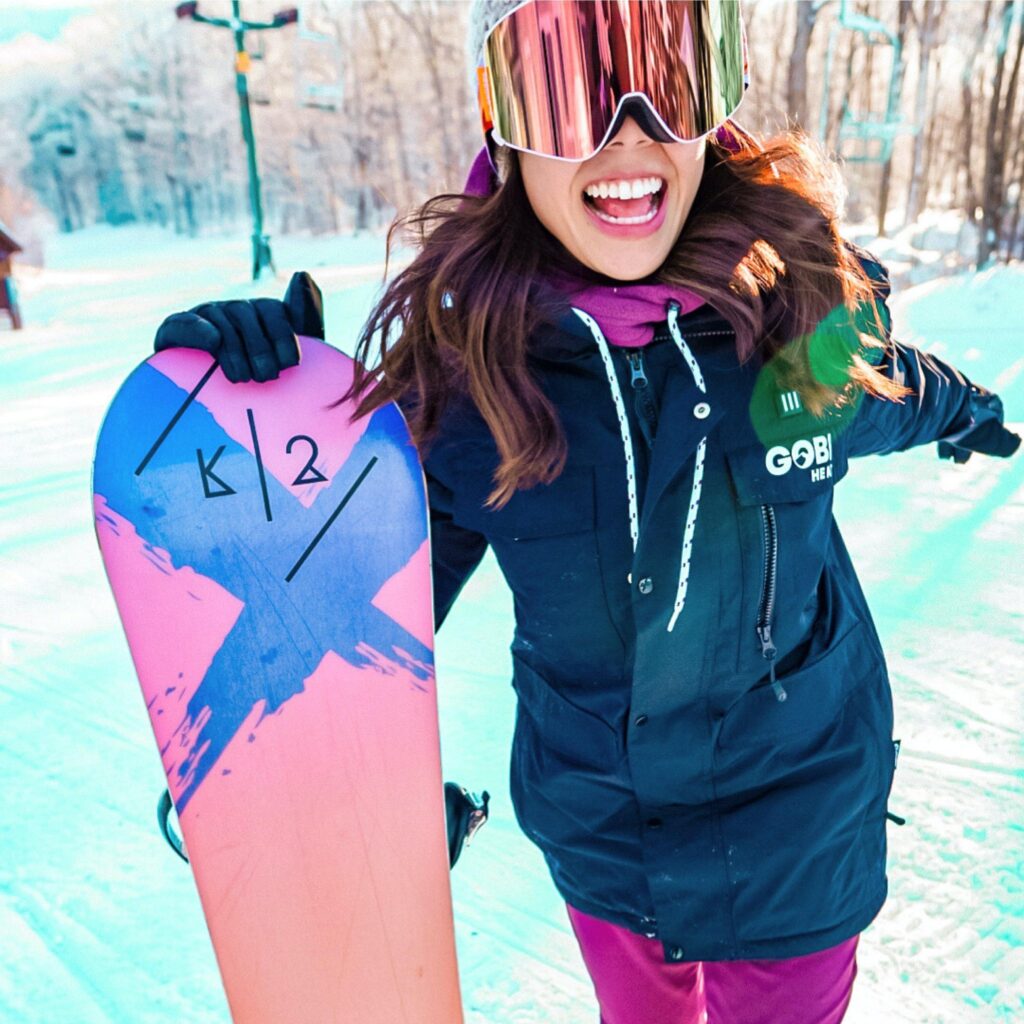 Powder skirts are small pieces of fabric that are built around the waist to prevent snow from entering your snowboard pants. Although it's not one of the mandatory factors, it's an essential factor to consider while buying women's snowboarding jackets in 2023.
Appearance Also Matters
Who wouldn't like to look smarter? That's why appearance matters a lot! Whether you're in the shop or on eCommerce websites, you gaze at the beautiful snowboarding jackets irrespective of their features.
Although appearance isn't a significant technical consideration, it does matter for most women. So, choose the best snowboarding jacket in the style that makes you feel good every time you wear it. Also, make sure you choose the jacket that allows flexibility and effortless mobility of limbs without restrictions.
Check For The Vents And Zips
It's no surprise to say that vents and zips are the ultimate features of the snowboard jacket that helps you adjust insulation. Imagine a scenario where you've left for snowboarding before sunrise in the chilly climate. After a few minutes, the sun rose and started hitting the sun.
In such cases, you feel pretty warm and wish to change the jacket or adjust layers that take lots of time. Here are the cool zippers and vents that instantaneously support these kinds of temperature adjustments to eliminate this issue.
What To Choose: Hooded, Removable, Or Hoodless Jackets
The snowboarding jackets come in three styles: hooded, hoodless, and, finally, removable. You can decide on either of these styles, considering whether you wear a helmet or not.
If you wear a helmet, it's completely OK to eliminate hooded or removable hooded jackets. However, if you don't use a helmet or have ever used it before, go for cost-effective hooded jackets. Hooded jackets ensure high-level protection, warmth and prevent precipitation.
Well, these are the few things that you should consider before buying snowboard jackets. If you find it difficult to search for jackets with all these features, go for a jacket that offers most of these functionalities.
Conclusion
Now, you might have understood the best women's snowboarding jackets for 2023 and how to choose them. Whether you're looking for jackets for springs or winters climates, the jackets, as mentioned earlier, are a perfect choice as they are versatile, breathable, waterproof, and highly adjustable.
It's your time to pick out the best jacket that fits you. Whether you'd like to enjoy peaceful terrain rides or adventurous mountain rides, don't forget to check out the above-listed jazy and super-comfy jackets.
Frequently Asked Questions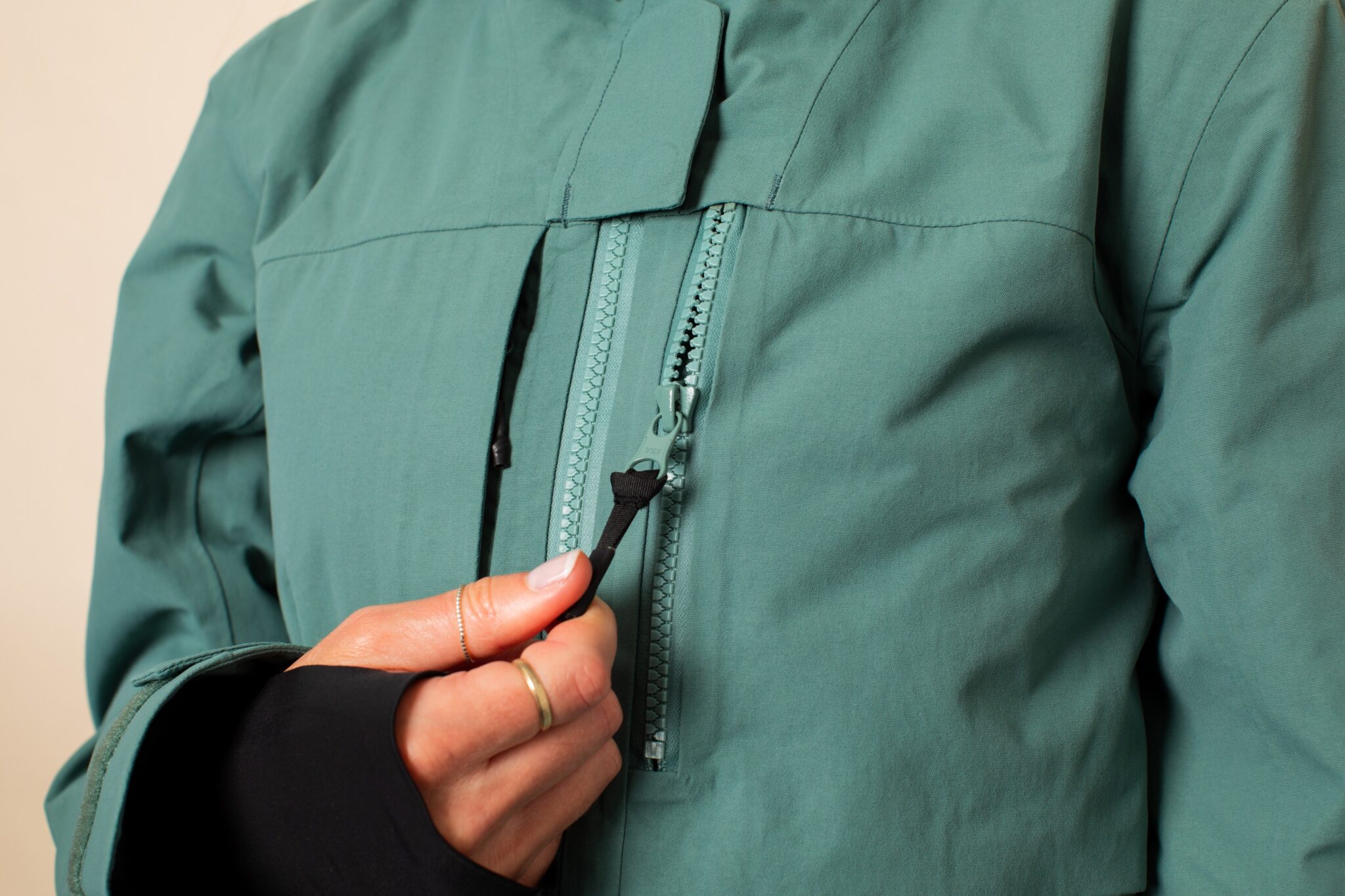 1. What's the difference between technical shells and softshell jackets?
Usually, softshells are water-resistant rather than waterproof. These are best for spring snowboarding as they offer minimal insulation and are highly breathable. While technical shells are waterproof, they are best for riders. In addition, technical shell jackets come with technical bells and whistles.
2. Which is better: waterproof or water-resistant jackets?
Waterproof jackets offer high-level protection, while water-resistant jackets prevent water from entering the jacket due to the fabric and additional coating. If you'd like to enjoy a durable and intense protective jacket against rains and heavy snow, waterproof is best. Or else, you can go for water-resistant.
3. Can women use men's snowboarding jackets?
If they fit perfectly, then women can wear men's jackets. However, it looks odd as women's jackets' designs, shapes, and models are highly different from men's jackets. So, make sure to wear women's jackets. In case you don't have any in emergency cases, you can go for men's jackets.
4. Are snowboard jackets long?
Yes. Snowboard jackets are longer than ski jackets.
5. What does 10k indicate on snowboard jacket features?
10K means waterproofing level. You'll also find numbers such as 5k, 15k, 30k, etc. The higher number indicates the best quality of waterproofing of the jacket.
If these weren't enough, check out some other picks from Amazon also: