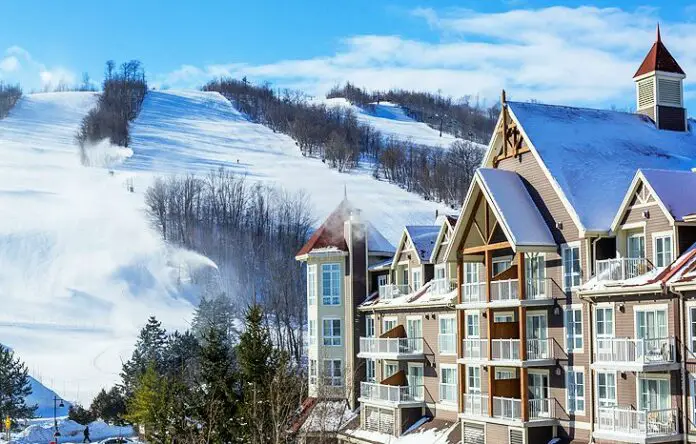 Skiing down the mountains in the fresh snow of New Hampshire is not a sport to be missed. However, you wouldn't want to spend time in a crowded area, nor can you find entertainment in solitude.
If you are looking for a perfect ski resort this holiday, here is a guide to help you look for the best ones. Read ahead and explore the best New Hampshire ski resorts famous for their services and tourist reviews.
What should you look for, for the best experience?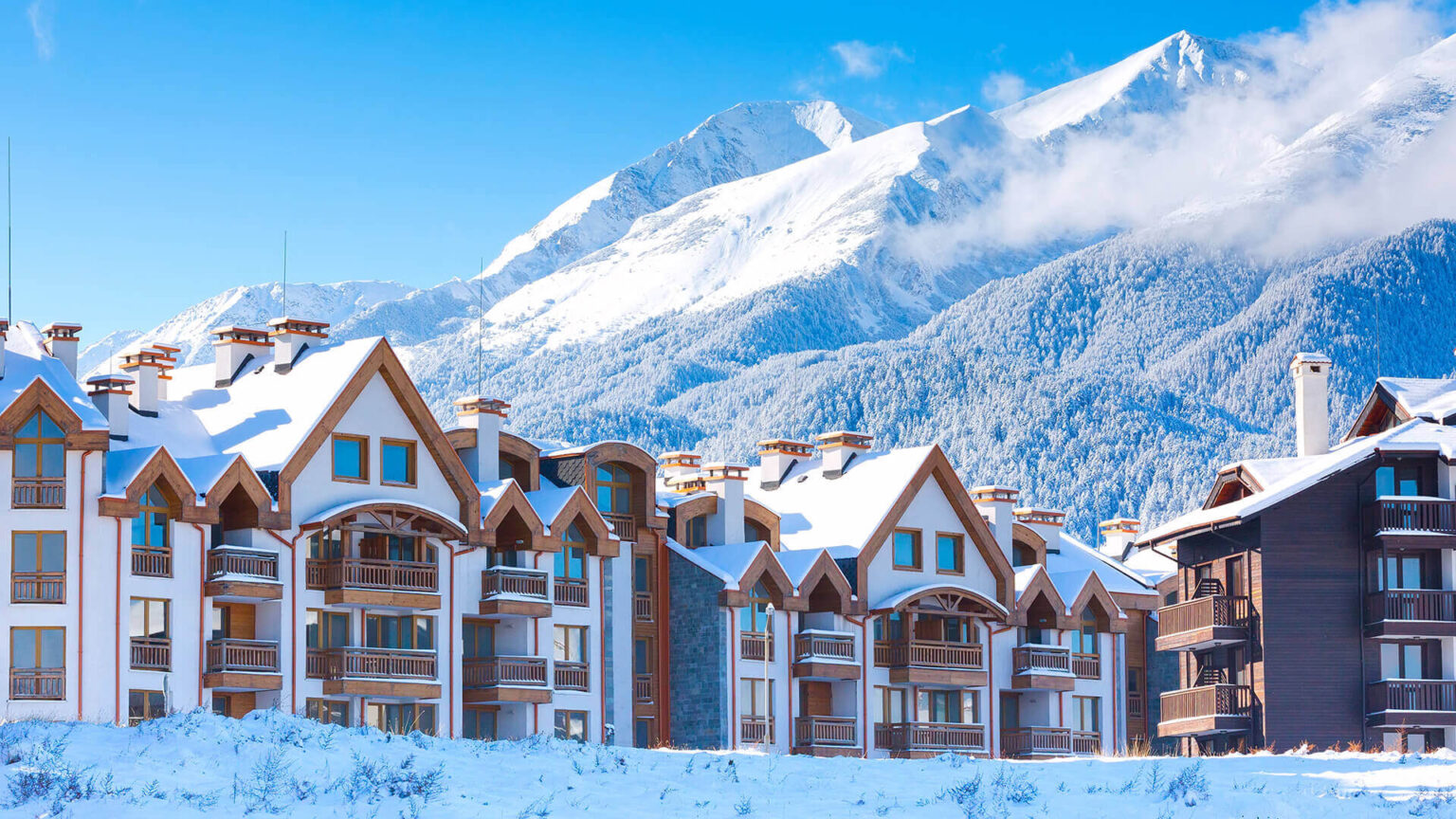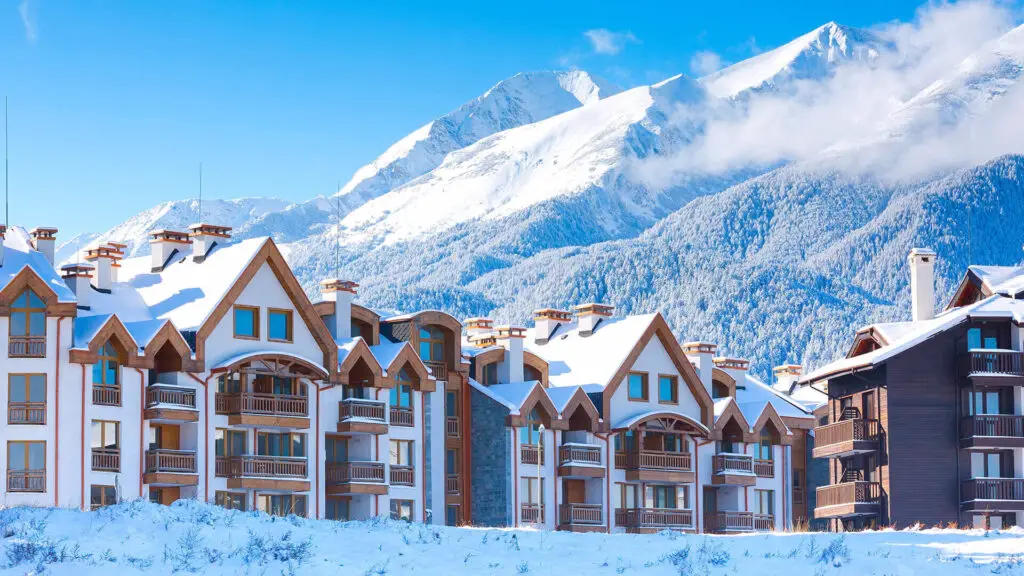 No doubt, New England is full of valleys and hills, and commercial ski resorts are one next to the other. You can find boards on streets and pop-ups in Google Maps if you start searching for the best ski resorts in New Hampshire. Since all aren't the same and provide the best, you should check for a few factors before stepping into one.
Choose the slope according to your talent
Skiing isn't actually easy for all, as it seems to be. It isn't simply mounting on the skates and pushing around with poles. Skilled skiers always look for high altitudes and steep hillsides to enjoy the extreme thrill and the gush of the wind while racing down. It can't be enjoyable but more of a nightmare if you are a beginner.
The steep slopes are also not suitable if you are visiting with your family and kids. Around New Hampshire, you can find resorts in different categories for beginners, experts, and family enjoyment. Check the details of altitude and level of skiing preferred and go through their photo gallery to ensure you are choosing a safe resort.
Check for lodging nearby
Planning for a trip also includes ensuring proper lodging and dining along with the adventure. Ski resorts may or may not have hotels and rooms available on their premises. You can find inclusive hotels in famous resorts like Loon mountain or Gunstock mountain but find their prices relatively costly.
But they are best if you plan for an extensive ski trip or are visiting with your family. If you wish to travel around or plan a road trip, you can also look for hotels and lodges around the resorts to cut down your fares. Hotels charge on the outskirt charge nearly $135 compared to the ones at prime locations that charge around $200.
Availability of guides and trainers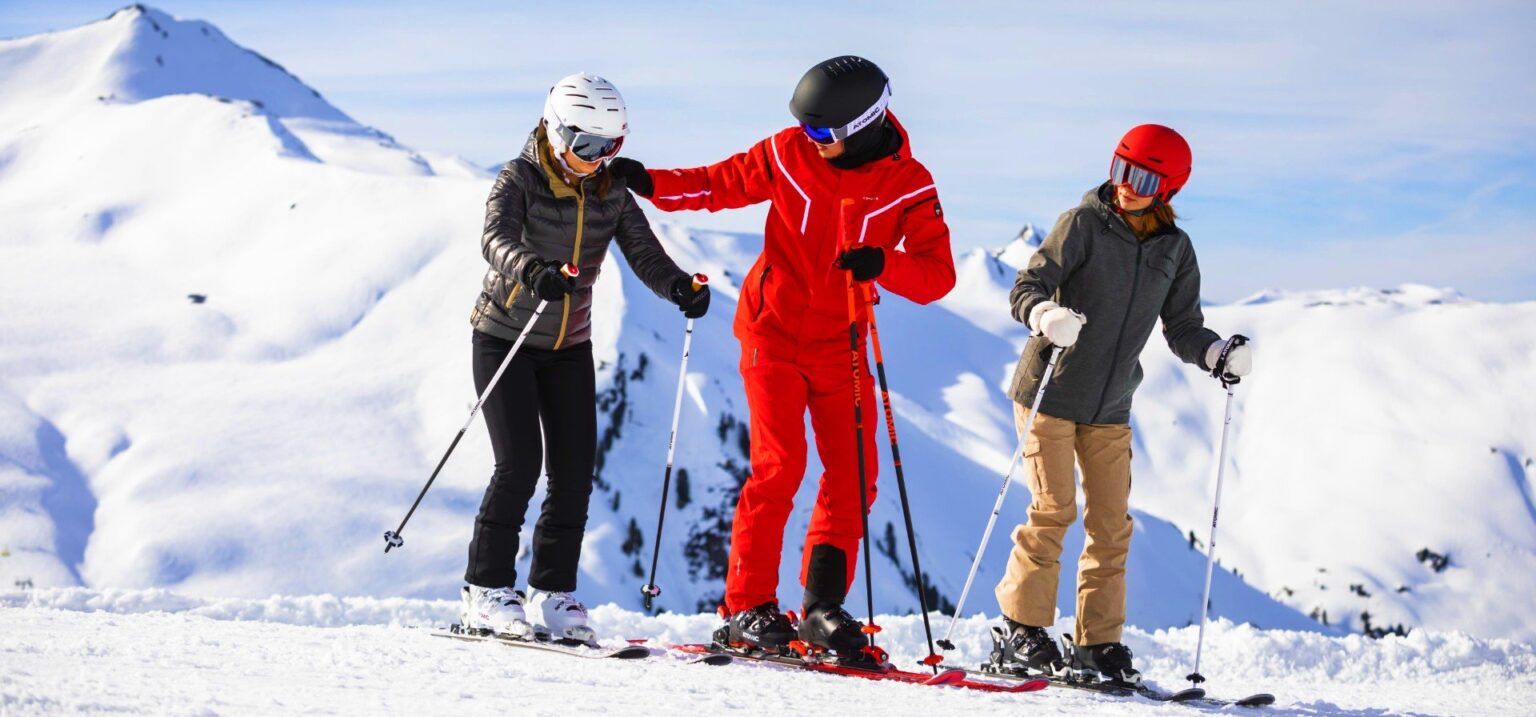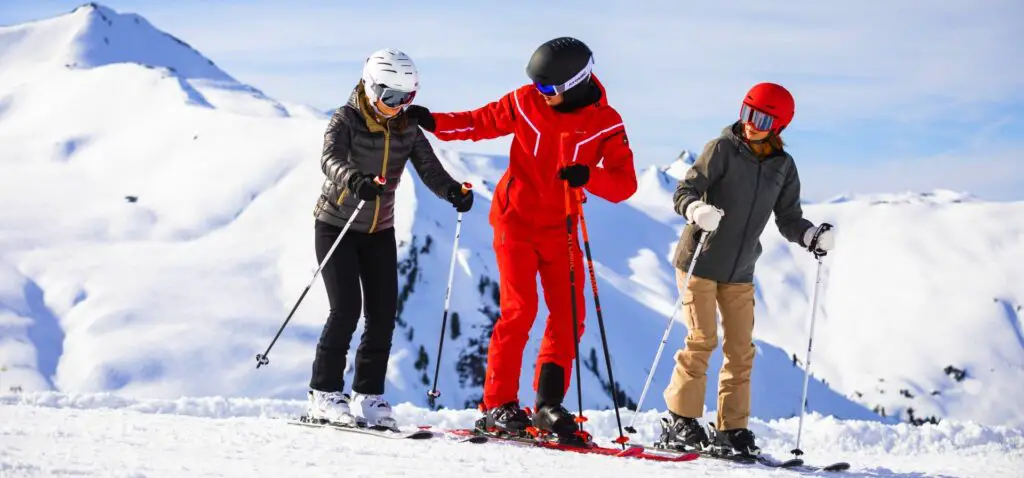 It is better to look for the resorts with guided trips if you are visiting when there's snowfall or aren't confident with your skills. Many crowded resorts generally don't have guides to look for the visitors' safety, which can be unsafe if you aren't an experienced expert.
However, the famous ones like Loon mountain or Mount Sunapee have guided snowboard trips to take the groups to safe skiing spots, arranging for suitable carrier gondolas and finally dropping them back on the base.
Après-ski for an exciting party
Adventure can be fun when you get to enjoy along with your gang after a tedious sport around the hills. Après-ski is the French term for enjoyment and socialization with food and drinks after skiing.
Reputed resorts have before and after-ski refreshments and also house inclusive restaurants, cottage hotels, and lavish bars to enjoy the celebration of the holiday. If not a costly stay inside, you can look for this option to enjoy the resorts' refreshments without looking elsewhere.
Check if there are other activities to enjoy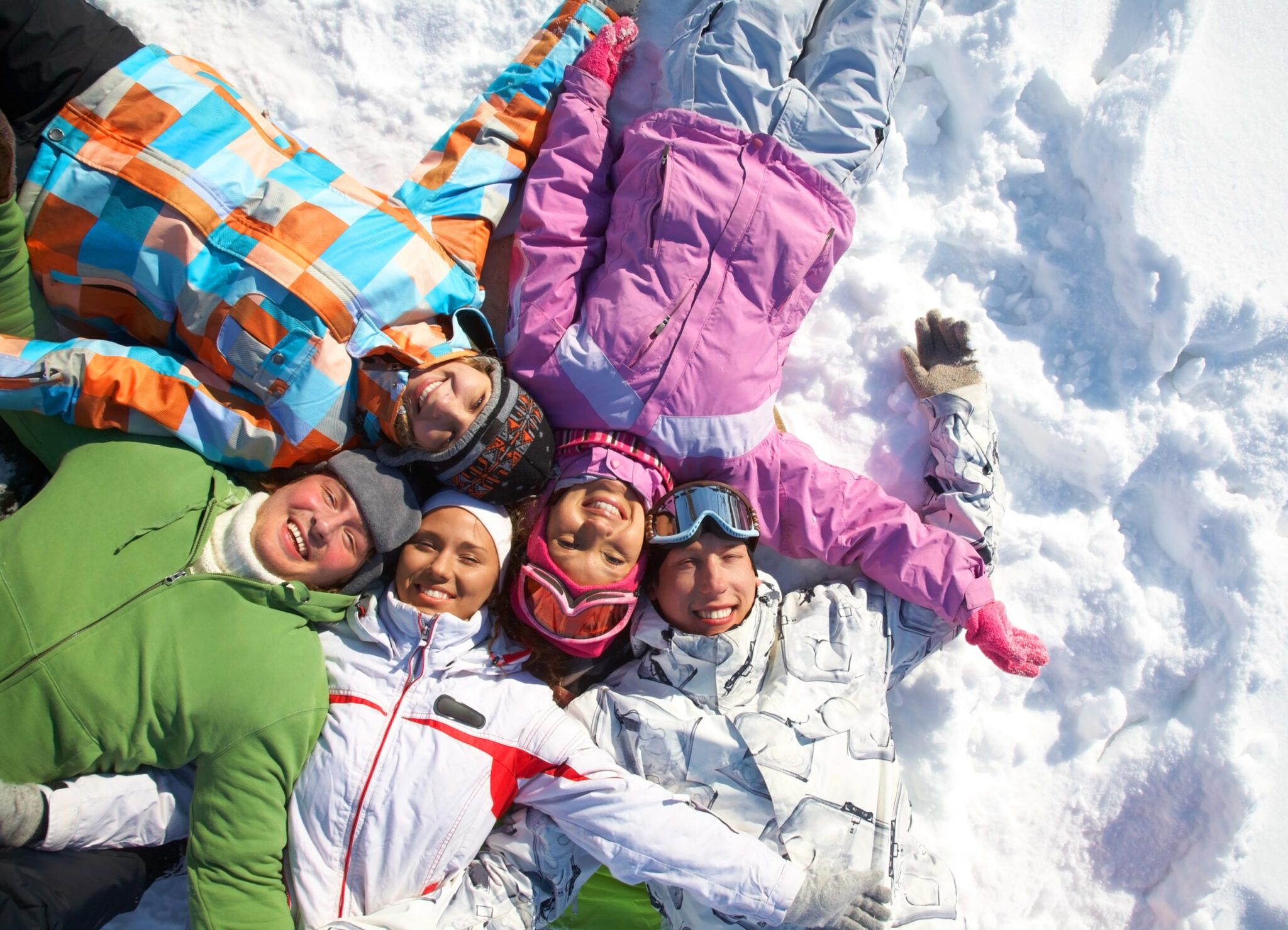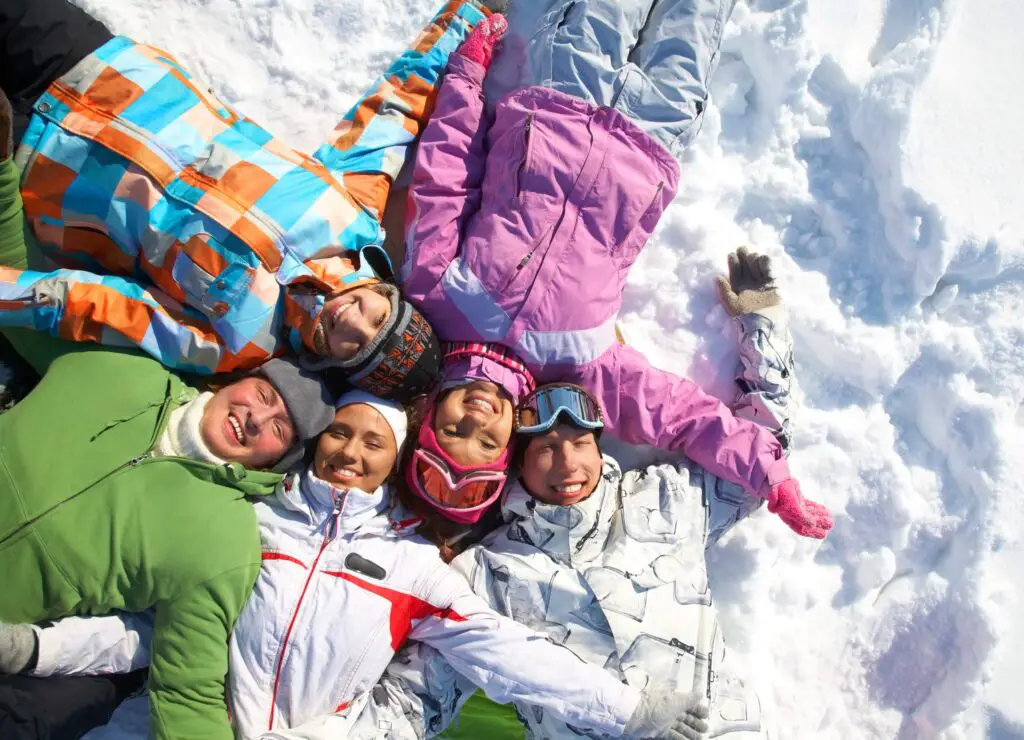 Only skiing may not be fun to you if you are visiting from a foreign country or are a crazy sports enthusiast. Along with ice skiing, you can also look for other games and sports like ice skating, tubing, snowboarding, and sled rides.
You can even find escape rooms coming up in the ski resorts as the owners intend to provide more excitement in a single package. In a single place and package, you can avail yourself of the entire trip's enjoyment!
Look for resorts providing season passes
If you plan early for a holiday selecting the ones providing ski pass offers are the best. Compared to the peak traveling season, you can get a discount of up to 40% on the tickets and amenities.
Additionally, if you book their subsidiary lodge or tickets in a group, you can expect even more reduction. Securing a ski pass can help you save time from standing at the ticket counters and grant you instant entrance anytime you visit.
Top resorts to try
The above-discussed factors are the essential points to check for a suitable resort. Though you can simply open the websites and check for these facilities in one and all, we have covered up the research work for you! Here are a few top resorts popular around NH that is always on the hit list of ski travel planners.
Loon Mountains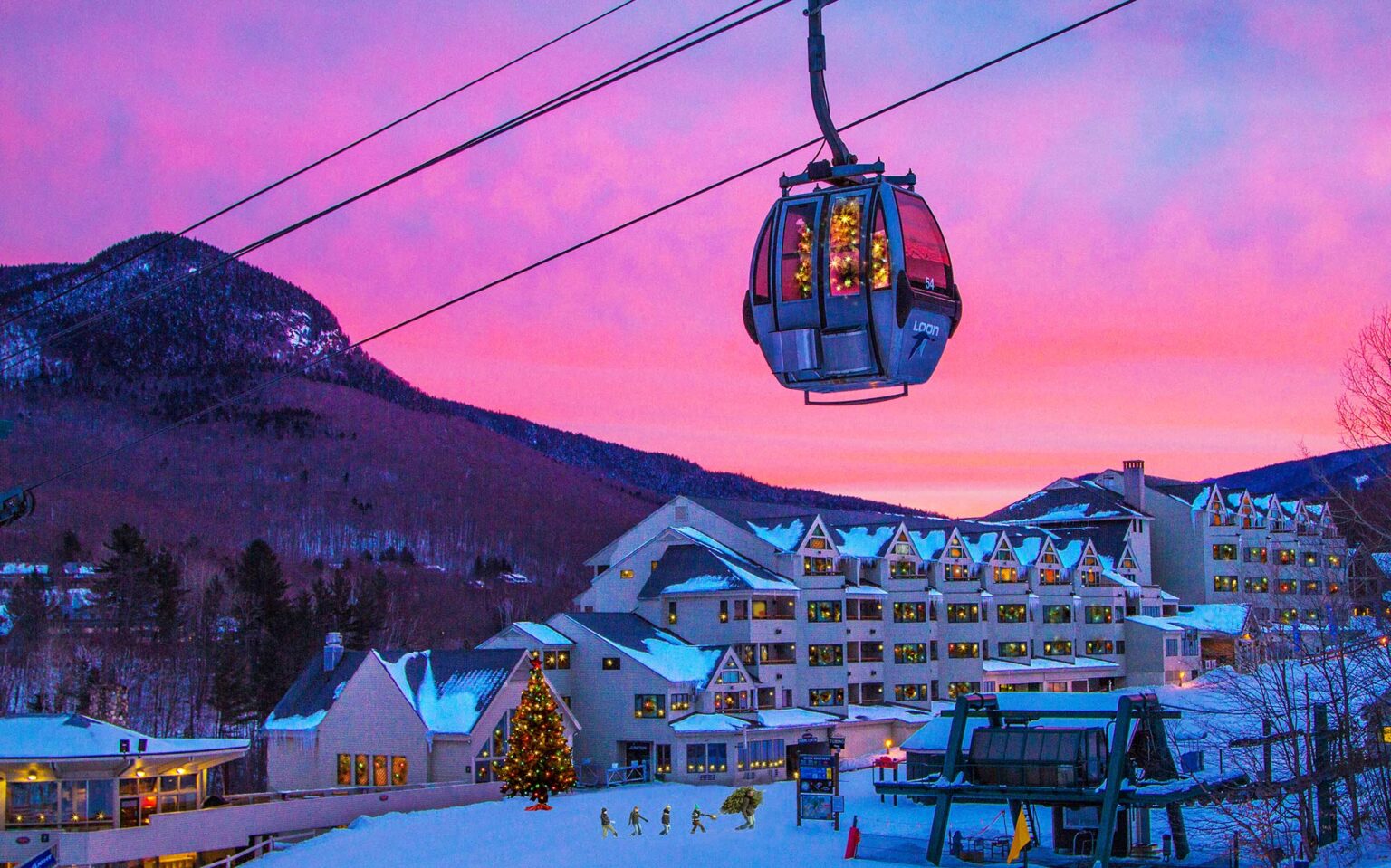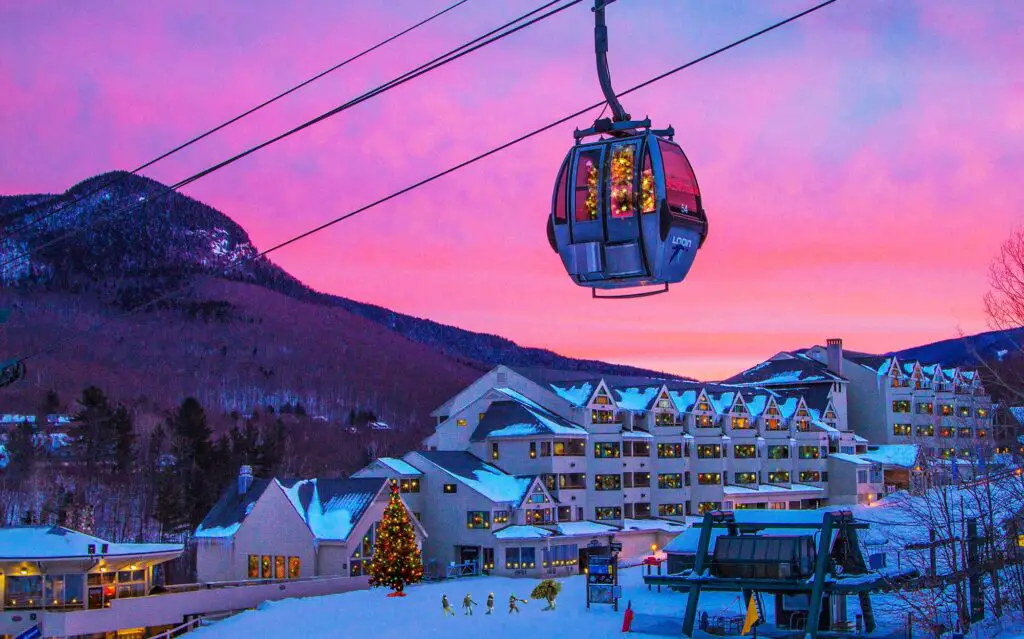 Highlights: Adventure center, Full-service resort, Guided trips, Intermediate skiing terrains, Season passes available, Nearest to Interstate93 highway
If you are looking for a complete saver package, close to the Boston airport or Interstate 93 highway, Loon Mountains is not the ski village to miss. Starting from the adventure camp at the base to the more than 61 steep glades and trails with thick woods, you can expect the ski package well-designed for talented intermediate skiers.
The resort expanse is entirely supported with more than 600 snow guns to ensure a continuous ski season. The place doesn't have any fixed season supporting the best experience anytime you plan to visit. The trails are spread across the White Mountain National Forest, scaling up to a maximum altitude of 2100 miles.
The resorts' base has a frozen river which facilitates ice skating games. The family adventure center also hosts guided ice skiing tours, snowshoeing, and snow tubing games. You can also find an inclusive resort with a swimming pool, spa, and five-star lodging experience to enjoy your time.
Travelers usually prefer the months of January and February, where the natural snow and chilly weather are also prevalent. However, you can book exclusive seasonal passes well before, along with a discount booking in the hotel Mountain Club. With games and lodging well loaded throughout the package, it is among the best après-ski resorts of NH.
Bretton Woods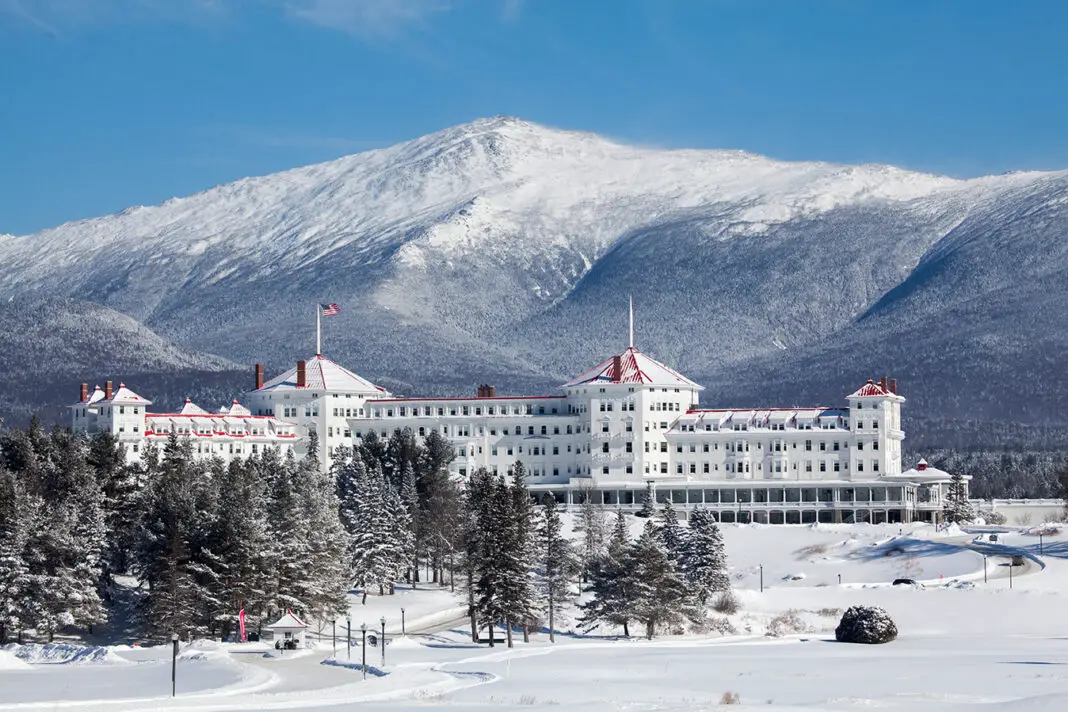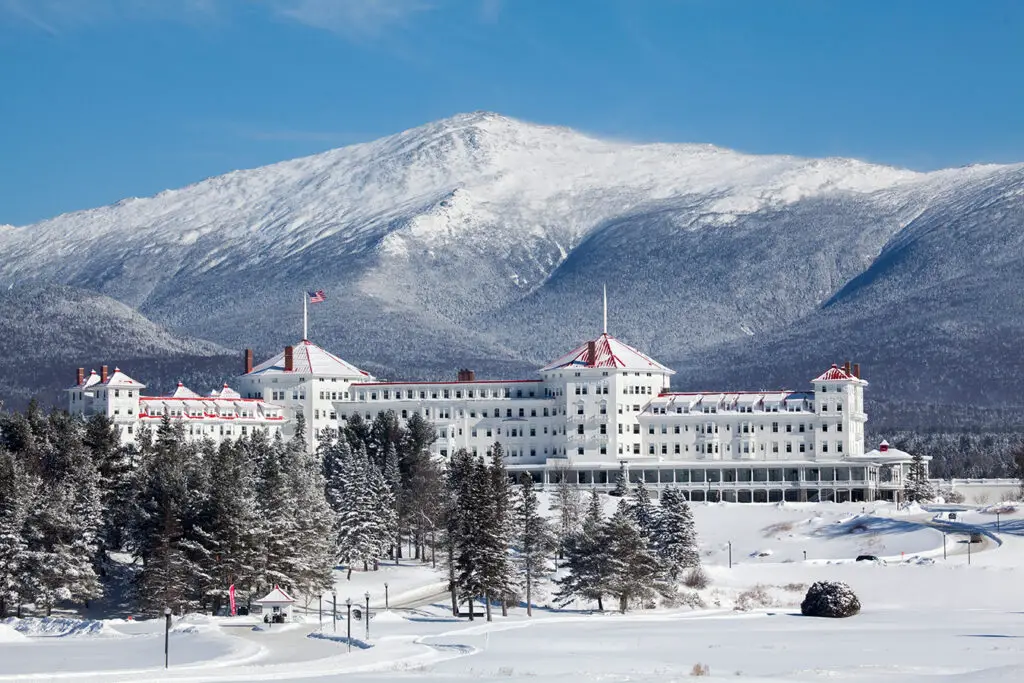 Highlights: Multiple terrains and activities, family resort, lodging available inside
A complete family package resort, you can enjoy a long trip including skiing, adventure sports, lodging, and dining inside the resort premises. The resort expands to 62 miles of the snowy area, covering 98 skiing zones with 62 trails, three family terrain parks, and 35 dense glades.
Complete carrier service of 10 carriers is provided in variation from two-seater gondolas to high-speed quads. Recently, the resort added a new attraction of eight-passenger gondola for group trips which is the first in the NH region. With various terrains to try with your group or family, it is the best resort to try.
The best season to visit the trails is between November to April, when the entire expanse is thick with fluffy snow to facilitate safe enjoyment. Since it is a holiday resort, you can expect flocking skiers on weekends and holiday vacations.
The Bretton Woods are especially famous for their night skiing offers and Mount Washington view in the daytime, making it a great tourist place. The resort also houses an inclusive lodge Omni Mount Washington Resort which provides every amenity of food, bed, and self-care like a five-star hotel at the meager price of around $350 per head.
Cannon Mountain
Highlights: Small area, Expert skiing level, No lodging available inside
Are you an expert skier? Do you want to try natural challenges instead of artificial ski resort arrangements? Cannon Mountain should be your choice if you are looking for a tough skiing trail.
Though the area is small, the nearest resort to Franconia airport, and doesn't support family entertainment, you can find trails scaling highest to an altitude of 4050 miles.  The resort also has limited carriers maximum of up to three-seater gondolas which aren't suitable for groups.
The resort is owned by the NH's state government, which doesn't offer many tourist attractions like the other privately owned resorts but promises a great time for passionate skiers.
There are around 100 trails with a mix and match of tricky woody terrains and open expanses to experiment with your skills in every way. Though a large area is left for natural snow, the recent upgrades have added snow guns to promote ski training and practice throughout the year. Now the resort operates round the year with 97% efficient snow-making systems set up in some dedicated trails.
Recently, the base area has developed a beginner ski zone with guided support to help learners enjoy their time. There are no seasonal passes, early bookings, restaurants, or lodging available inside the grounds. Many aspiring skiers find this place best for development and practice as it has once been the practice grounds of Olympic Medalist Bode Miller.
Ragged Mountain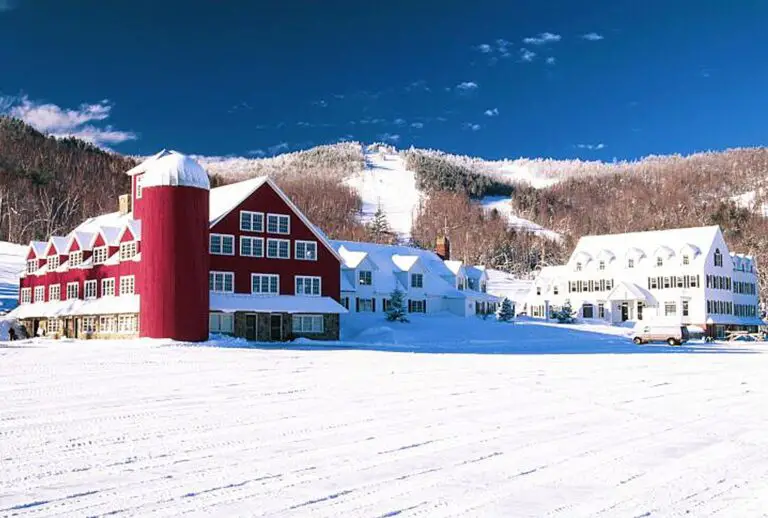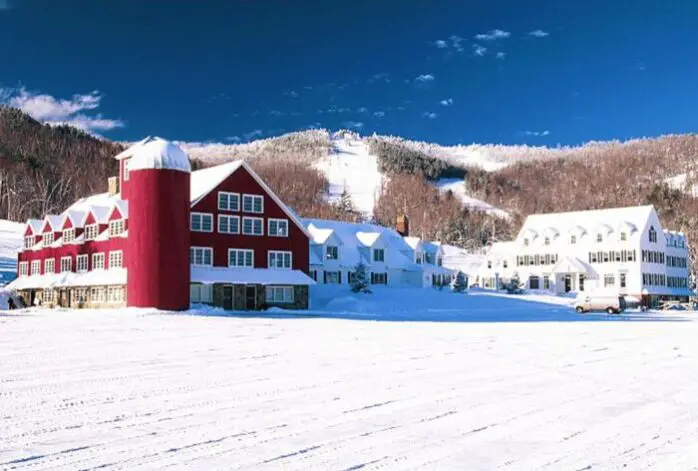 Highlights: Small ski resort, Suitable for all levels, No inclusive lodging facilities, Nearest to Interstate89 highway, Ski-learning programs, Seasonal passes available
One of the best and affordable family resorts to learn, play and enjoy skiing naturally, Ragged Mountains offers you the best expanse with limited expenses. Since there are no inclusive adventure games and restaurants inside, it is a low-budget option for a family skiing trip.
The highest altitude scales up to 2100 miles, where the entire expanse is spread across 250 acres of snowy land. You can choose among 57 trails that are allotted for all levels of skiing talents and experiences. Though the resort has limited carrier facilities for chaired gondolas, the recent high-speed six-seater chairlift has spiked its popularity.
Travelers generally prefer to visit around December, and you can find it quick to approach from Interstate89 highway and Boston airport. The resort has started a learn-to-ski program to provide skiing basics and fully equipped tutorials to the registering tourists.
If you are a beginner, you can find this resort the best to start your journey. To support the family travelers, the Ragged Mountain has clubbed with Vail resorts in 2023 and has launched its new seasonal pass system. Now you can book tickets and learning program slots to ensure your booking.
Gunstock Mountain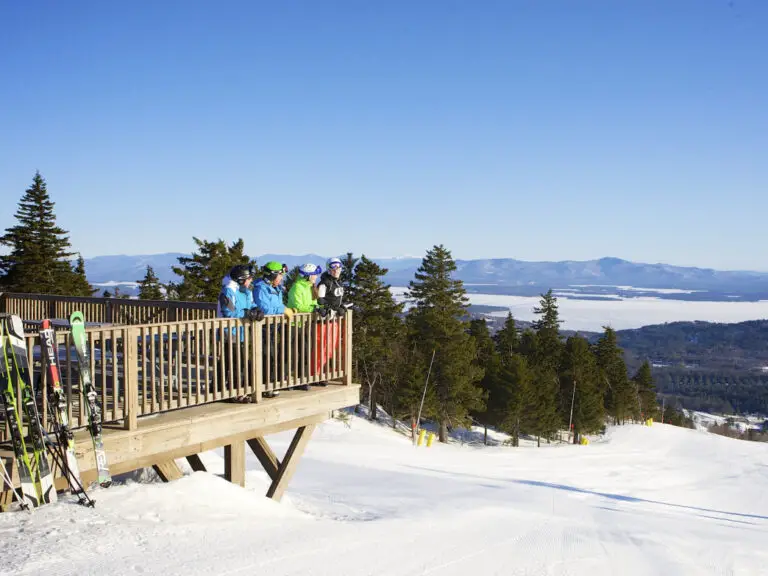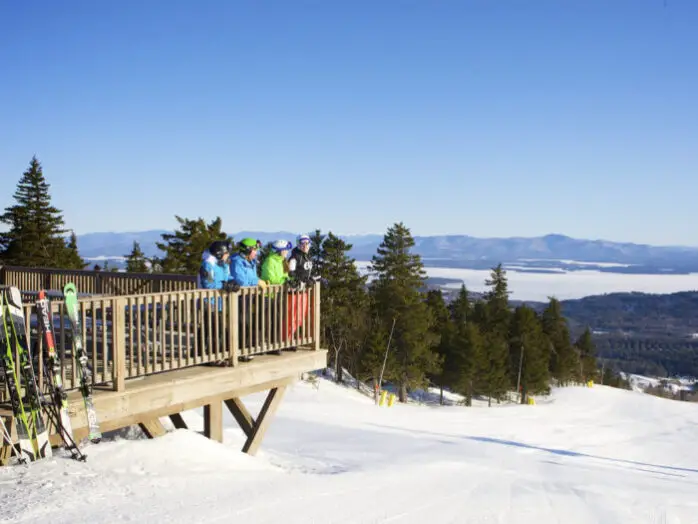 Highlights: Night skiing, Seasonal pass, Beginner-friendly, Low altitude resort
The second-best night skiing resort after Bretton resort, Gunstock mountain also boasts a wide expanse of 60 acres of guide night-time skiing trails. The best beginner-friendly place to enjoy with friends and family, it is best if you don't have any idea about the poles and blades.
The resort has an expanse of 230 acres, with more than 50 trails, scaling just up to the maximum altitude of 1440 miles, which is really safe for the no-ski-experts. It also hosts an extensive learner program to register and start your coaching from the zero level.
The base also has an adventure camp for other than ski activities including, skating, tubing, and sledding options to try. The longest of the tubing zip-lines in New Hampshire, aka the famous Mountain Coaster, is the major attraction of the place.
Small yet supple for low-budget family entertainment, it can be your ideal choice anytime. There are multiple discount offers for learning programs and family booking, but the most exciting is the Golden Age Ski Pass for visitors aged above 70.
If you are a nature lover, the location is best with vintage sceneries and countryside views. Though the resort doesn't have any internal après-ski opportunities, you can still find some best family cottages and country-style restaurants at walkable distances.
Conclusion
Ski resorts are one of the best attractions in snowy countries like New Hampshire. Though tourism is rapidly developing with countless best New Hampshire ski resorts on every mountain and hilltop, travelers always search for the one suitable for their needs and budget.
The resorts have several features crafted for different levels of skiing and varied amenities provided by the owners.  Planning for a family trip, a practice for competition, or a solo trip to enjoy the adventure, one can find the best resorts all around. Along with the attractions, many also offer seasonal passes for skiing enthusiasts, which is a guaranteed offer not to be missed.