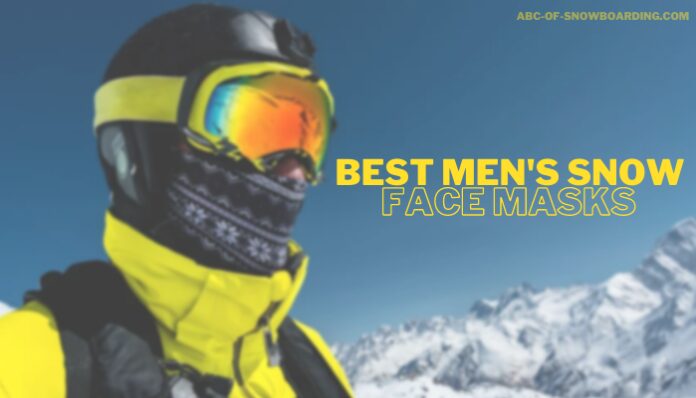 Snowboarders and skiers are some of the most experienced people when it comes to wearing face masks.
Our Pick
Good Choice
Don't Miss
Ergodyne N-Ferno 6823 Balaclava Ski Mask, Wind-Resistant Face Mask, Hinged Design to Wear as Neck...
GearTOP Balaclava Ski Mask for Cold Weather — Ski Mask for Men & Women — Winter Face Mask —...
Ski Mask for Men Women Balaclava Windproof Cold Weather Full Face Masks Neck Warmer or Tactical...
Our Pick
Ergodyne N-Ferno 6823 Balaclava Ski Mask, Wind-Resistant Face Mask, Hinged Design to Wear as Neck...
Good Choice
GearTOP Balaclava Ski Mask for Cold Weather — Ski Mask for Men & Women — Winter Face Mask —...
Don't Miss
Ski Mask for Men Women Balaclava Windproof Cold Weather Full Face Masks Neck Warmer or Tactical...
They wear snow masks to block cold wind, protect their face from direct sunlight, keep their face warm even in freezing temperatures, etc.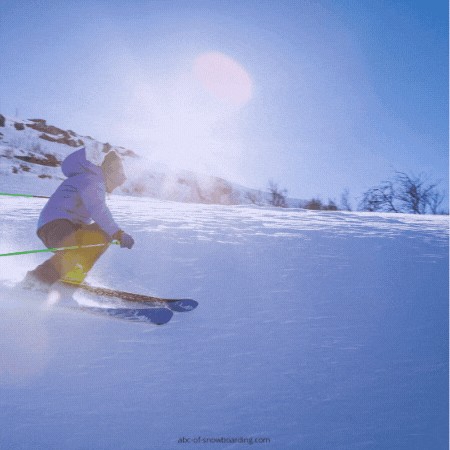 For regular skiers, snow face masks are a must-have item in their bag, and fortunately, you will find numerous options available on the market.
We have shortlisted some of the best men's snow face masks 2023, available for our readers to help them make a definite choice.
Top Men's Snow Face Masks for 2023
1. Naroo Z5H
Whether you are a professional or amateur skier, or you just want to cover your face during harsh and cold winter days, Naroo Z5H is a face mask that will do the job. It is a super comfy mask that cozily wraps around your face and completely avoids any contact with your eyes, so you will quickly forget that you are wearing it at all!
Packed with tons of cool features, Z5H ensures utmost comfort and clear vision. It does so with the unique stitching that effectively pulls at the hem, ensuring that none of the mask's fabric reaches your eye region. Moreover, the fabric is highly breathable, establishing smooth oxygen intake even through the most intense moments during your exercises.
Another feature that makes this mask stand out from the rest is the Ex-Bone air-warming 3D chamber. It is a lightweight cage that separates the mask from the mouth and is something that every skier will appreciate, as it ensures better air circulation and a much comfier wearing experience.
Although there are other masks with such chambers, they often tend to cause itch and irritations, which is not the case with Z5H. In addition, the nylon blend fabric is moisture-wicking, which is a fantastic piece of news since you will stay dry and warm at all times, and no sweat will ever obstruct your vision.
Last but not least, it is worth mentioning that this face mask looks very cool. Some fashion points are not to be overlooked, and Z5H delivers on this end and will make you look cool whenever you hit the snow track.
Features:
Excellent wind resistance
Super comfy and lightweight
Moisture-wicking
Ex-Bone 3D Air-Warming Chamber that separates mask from the face
Superb breathability and air circulation
Cozy neck warmer
2. Ergodyne N-Ferno 6823 Winter Balaclava Ski Mask
After considering several features of the options available, this particular choice deserves the top position on the list. It is one of the best picks with high-end specifications, ratings, and tons of positive comments from users.
It is made from fleece of the highest quality and is designed in such a way so that your face, neck, and head stay protected from the breezy, cold air.
It has an extra synthetic fabric over the mouth and the nose area so that direct winds don't get blown on your face. It has enough height to cover the face of men, even if some have a broad physique.
Also, it doesn't weigh much and is so comfortable enough not to make the user feel irritated. Also, you can wear it easily beneath your helmet or hat.  Its fabric is somewhat stretchable and therefore gives perfect fit when worn.
Features:
A highly versatile option.
It is highly wind-resistant.
This option is extremely comfortable and lightweight.
Long enough and reaches the shoulder easily.
One size fits all.
3. Nike Pro Combat Hyperwarm Hydropull Hood (Advanced Choice)
The brand needs no special introduction when it comes to sports gear, as it has earned a good repo in the industry. The pro model face mask is designed excellently and is made of superior quality to help users keep themselves protected from harsh weather conditions.
Hence, this particular pick is the personal favorite of several athletes. Nylon is the material that they use on the inside so that it is comfortable and doesn't itch.
The length of this choice is average, and it provides full coverage from the head to the neck but is not that long enough to cover the entire neck. It leaves a few parts open. It is an ideal choice for cycling, snowboarding, running, skiing, and other outdoor activities in the cold climate.
The best part of using this mask is that you can easily convert it into a half-face mask or neck gaiter based on personal preferences and fit all face sizes.
Features:
Head protection and full-face cover.
Gives the comfort of form-fitting.
It can be easily converted into a neck gaiter.
Has the construction of flat seams.
4. Under Armour Men's GoldGear Infrared Tactical Hood
This choice is one of the best for several reasons. It has several benefits and uses a thermo-conductive inner coating so that your face stays sweat-free and gets absorbed. It also helps keep you warm in chilly winters and hilly areas.
It also has an anti-odor functionality that helps prevent the growth of microbes and therefore doesn't cause itchiness and allergies. This mask has a four-way stretch capability that enables you to wear the mask comfortably without changing its form.
It gives the desired warmth and comfort when worn around the head, neck, and face. Available in two color options, white and black, and comes in one size that gives a perfect fit to faces of all shapes and sizes. The material is thin enough to be worn comfortably beneath your helmet—the best pick for snowboarding, mountaineering, skiing, and biking amidst breezy weather.
Features:
Has an inner coating of the material.
Durable and lightweight.
Contains anti-odor technology.
Gives full facial protection in extremely cold weather conditions.
5. Balaclava by GearTop
This one is a full face mask from GearTop that helps protect from all kinds of germs and also gives protection from burns and cold temperatures. This one is made using super Roubaix material that has interlocking knit construction and feels extremely soft when worn. It is a great choice for keeping sweat away from your face. It has smooth seams and flat stitches so that the material doesn't irritate when worn.
You can comfortably wear this mask under your helmet. You can wear it in different styles based on your activity and the weather conditions. This one is one of the lightest choices on our list and gives full coverage since it is lengthy enough. It can be worn by both adults and children and is easy to slide on and take off.
Features:
Great fit.
Anti-odor technology.
Durable and lightweight.
Lifetime guarantee.
Warm in winter and cool in summer.
6. Self-Pro Balaclava UV Protection (Runner-Up)
This particular choice has pleased all its customers and has bagged numerous good reviews from several past buyers. This one is made from premium quality polyester, is an excellent choice, and is a durable option that provides next-level protection from cold, sun, wind, etc.
The length of this choice is a bit short and is also comparatively lightweight than most of the other available options. It imparts superior performance and has a great design for extra ease and comfort.
It also has extra length to give full coverage so that the neck doesn't get exposed to cold winds. Your nose will also stay protected, and the mask will not let it get pushed hard. The mask doesn't come in a dedicated size and hence is ideal for men, women, and children as well. The stretch design gives a perfect fit. It is machine washable as well and hence provides maximum convenience.
Features:
Provides ultimate protection from sun and wind.
Is machine washable.
Has flatlock seams.
It can be dried quickly.
Four-way stretch design for best fitting.
Buying Guide To Buying Best Men's Snow Face Masks 2023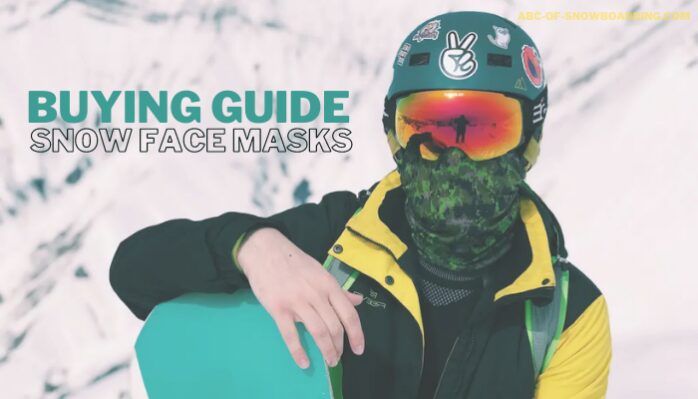 We have incorporated a buying guide to make it easy for you to decide which face mask will be the best for you and have all your needs covered.  The buying guide below will help you make an informed choice when you are looking for face masks that can be worn in cold weather.
There is no one-size-fits-all, and therefore, what you choose will depend on your needs and requirements. Considering several factors that are usually taken into account, you can pick a choice that will be suitable for you. It would help if you also considered the temperature of the place you are going to so that the mask helps keep you warm.
Type
Several different types of masks are available for people to choose from. They vary in style and design. Make sure to choose a type of mask that is well-suited to you as per the location you will be visiting and the season in which you will be visiting. The different types of face masks are as follows:
1. Half Masks:
Half masks are the type that only covers the lower part of the face leaving the upper part exposed.
2. Balaclava:
These types of masks are usually used as under helmets. They are also famous as ski masks and usually have one, two, or three holes. They are not similar to regular ski masks. They are designed to protect the face against the harsh winters. They are made from wool as it is comfortable and provide warmth too.
3. Neck warmers:
They are worn to help you withstand harsh chilling winds. They provide warmth to your neck.
Fit
While most companies claim that their masks are a perfect fit for any adult wearer, it could be concluded true for only a few brands. Thus, you can choose a perfect size for you among various available sizes, which different brands provide. There are also adjustment straps available for you to adjust your mask accordingly.
There are specific masks for children marked as recommended for children. For oversized people, normal masks cannot fit, so for them, custom masks are to be made. Make sure to buy only those masks that fit you properly, else the purpose of purchasing a snow face mask goes to vain.
Material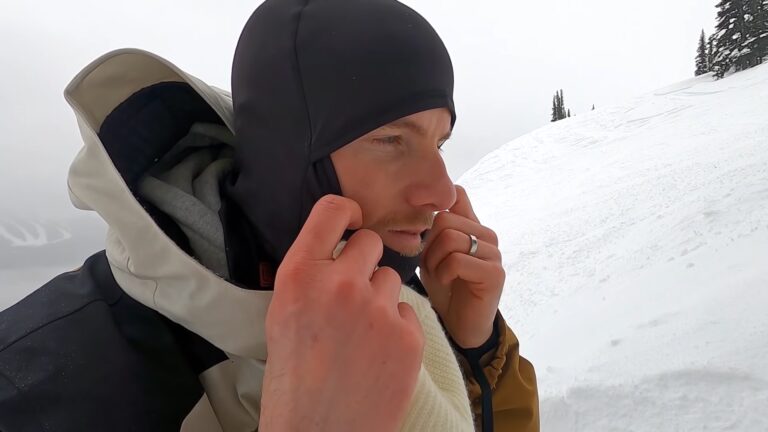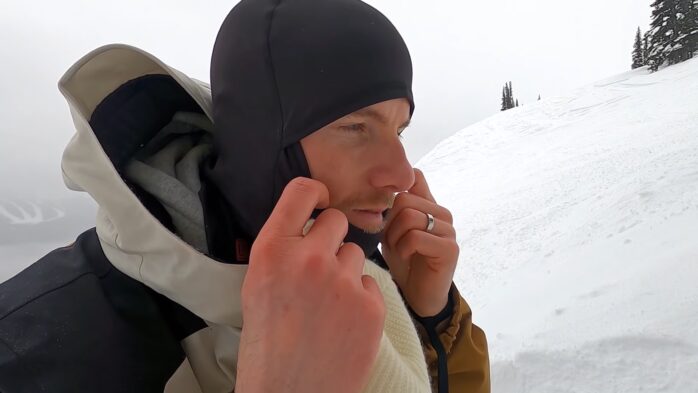 There are various materials for masks with their pros and cons. But materials are generally selected according to the outside temperature; thus, you can choose from the following:
1. Polyester:
They are known for being lightweight, and they consist of minute fishnet vents which enable the evaporation of moisture and also keep you warm. Most of these materials are treated to be antibacterial to prevent the accumulation of odor or germs. They are used to make some of the best warm masks.
2. Merino Wool:
They are regarded as one the best materials to make warm masks. They provide excellent warmth. It is a thick but soft material, but it is not suitable for everyone as some people are allergic to it.
3. Nylon:
They are regarded as one the most durable and affordable materials. They are not only perfect for areas with snow but also for areas with rainfall.
Coverage
There are different types of ski masks even in terms of coverage some masks protect the full face while others cover only the lower part. The upper being open, in each type of mask, there are openings for eyes made. Choose one as per your needs and requirements.
Can be worn with goggles or not:
Some masks are made with smaller openings on both sides. It is made to enable you to wear goggles since the goggles act as protection against the sun's UV rays, debris, and frostbite.
Size
The masks that you wear must have the appropriate shape and size according to your face to fit perfectly.
The mask should not be too loose or tight as it will hinder you and will not let you enjoy it properly. A right size mask will enable you to have fun.
Conclusion
A snow face mask is a must-have if you are a regular skier and love snowboarding. We hope by now you must have found your ideal snow face mask. If you want to crush the bitter cold winds, then a face mask will do the job. You need to make sure that you pick the one that is highly suitable for your needs.
Consider all the factors that we have mentioned above before finalizing any face mask option. Also, take your budget into consideration. You will need a mask capable of keeping the moisture away, is easy to clean, is warm enough and is made up of breathable material. We have compiled the best possible list of face masks to help our readers make a safe choice.
FAQs

Do face masks work?
Yes, face masks are ideal for people who are looking to stay protected on windy days. They help keep cold at bay and also absorb moisture so that you don't get sweat all around your face. Face masks are highly recommended for outdoor settings.
Where can I buy snow face masks?
You can either choose to buy them from a nearby store or can order them online. We recommend that you should browse through the available options online and then order it from the comfort zone of your home.
You will not get more options available online as compared to what you will get offline. The demand for face masks has surged to a great extent, and there are several different styles available to choose from.
What makes a mask best for winters?
One of the major benefits of winters is that staying in a face mask all day long gets easy. Hence, we recommend you bulk up and buy some warmer options so that the cold temperatures don't affect you underneath the face mask.
There is a variety of design and material options available for you to choose from. Material plays a major role in making a mask suitable for the winter season.
Take a look at these men's snow face masks from Amazon: