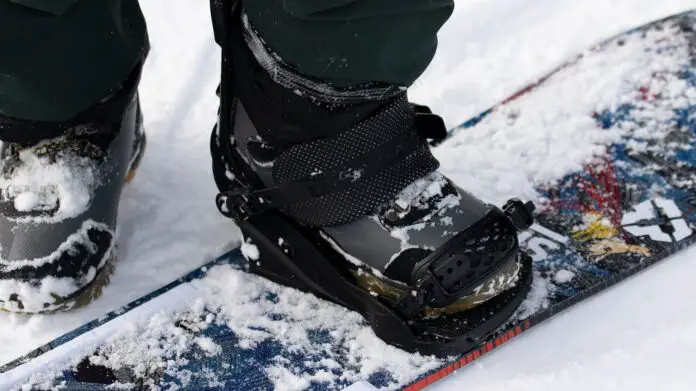 Bindings are an essential part of Snowboarding since these connect your boots and thus your body to your Snowboard. The primary Function of Snowboard Bindings is to transfer the movements of your body to the Snowboard you're riding on, in the most efficient manner. Consequently, it keeps you attached and in control of your board.
Most Snowboard Bindings fall into two categories: strap or step-ins and with or without Highbacks. However, the standard Bindings for Snowboards are Strap Bindings, that is, using a baseplate and ratchet-based buckles to tighten your foot. Nevertheless, the Five Types of Snowboard Bindings are:
1. Strap Bindings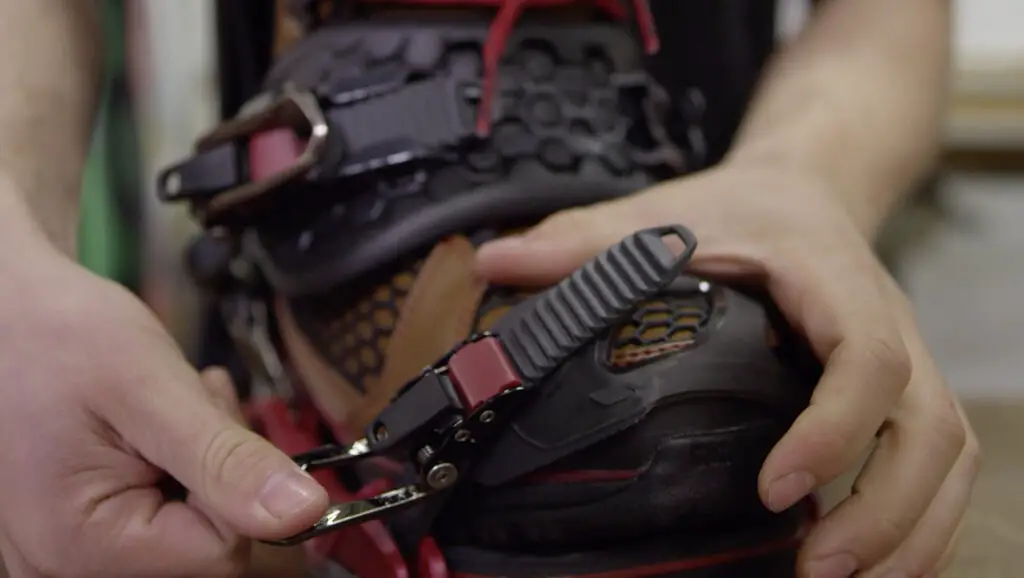 Highback BindingsThe Strap Bindings is the original and still the most popular Binding System in Snowboarding. This is because Strap Bindings are not only adjustable and very secure, they are also comfortable. Nowadays, this Type of Bindings is designed to be lighter and stronger.
Strap Bindings consists of a contoured baseplate where a rider can place his Soft Boots upon. At the back of the baseplate is a vertical plate (the highback) that rises behind your ankles and lower calves. The highbacks on Snowboard Bindings secure the heel of your feet and the backside of your lower legs. It also helps you to force the heel side edge of the board into the Snow Surface and brings the toe side of the board up. At the front of the binding are two or three adjustable straps which can be used to secure the front side of your feet and ankles to the Snowboard. Initially, you may have to sit down to strap in, but with a bit of practice, it'll be easier to strap in while standing.
Strap Bindings can differ in the number of straps, the shape of the base, and highback plate. Alpine riders who need to perform high speed turns will prefer taller and stiffer highbacks for greater control and improved edge control. On the other hand, Freestylers will want a shorter backplate for more flexibility and turning power. Most people go for these kinds of bindings as they are more common, offer excellent control, and offer more options when it comes to boots-bindings combinations.
The combination of the highback plate and the front side straps gives great control. This Type of Bindings is used in combination with Soft Boots. As the Binding gives all the support needed, the Snowboard Boots can remain soft and comfortable. Keep in mind that the Best Strap Bindings have ample amounts of wide padding at the toe and ankle straps.
2. Step-In Bindings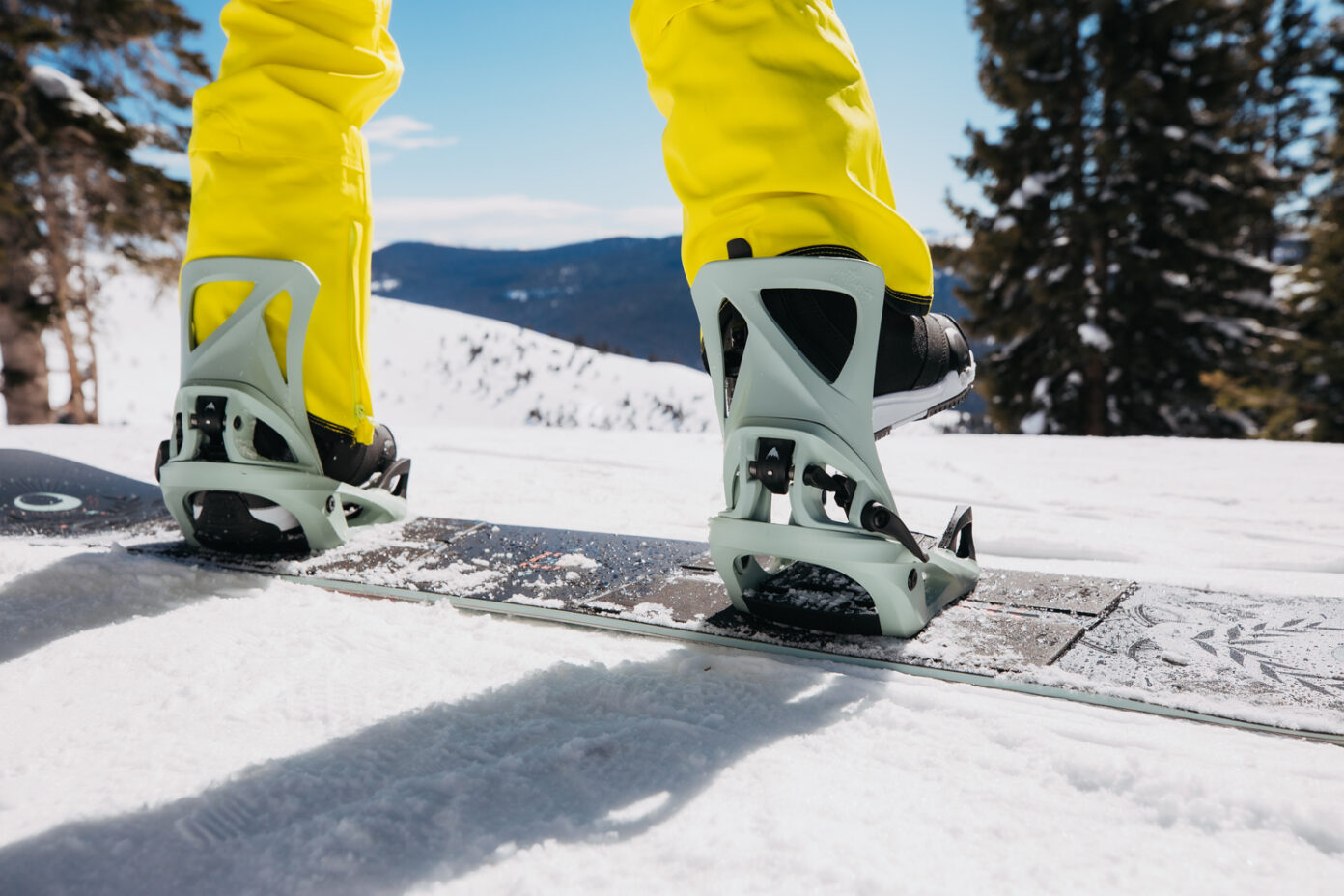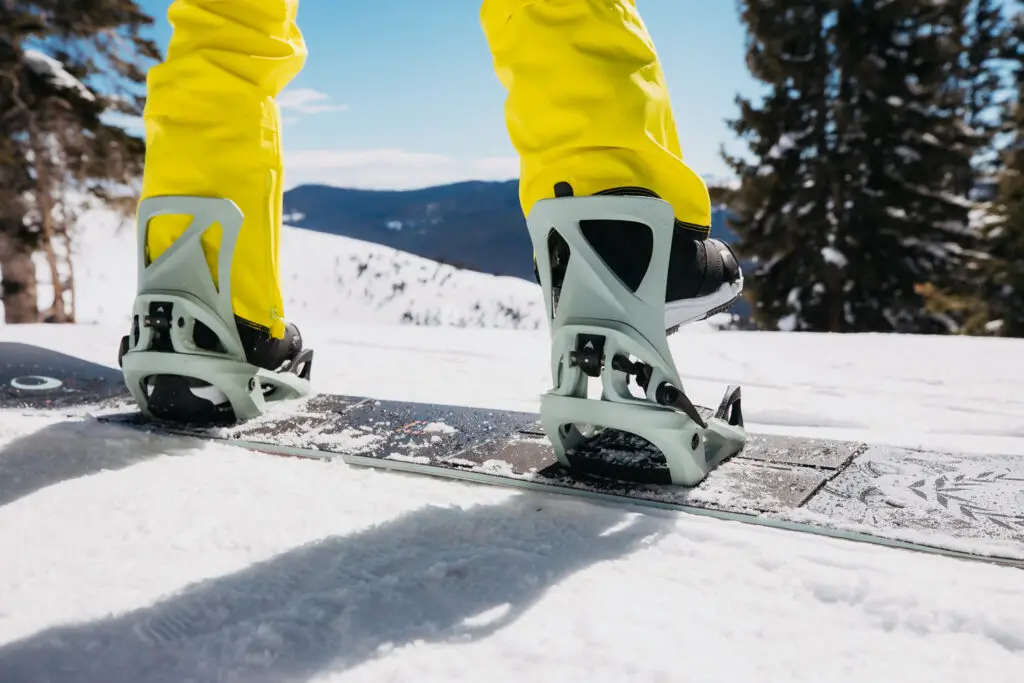 Step In BindingsIt is quite hard to get into Strap Bindings since you need to loosen and tighten the straps every time you get into and out of your bindings. This is why Step-in Bindings were developed. This Type of Snowboard Bindings allow you to simply step down and click into it, thus making it easier for you to get on and off your snowboard.
With this feature, Step-in Binding Systems have become quite popular with rental shops because they often give the beginners fewer Snowboard Equipment to fuss with. Still, while Step-In Bindings give you additional speed and can save you from a load of hassle, you pay for these conveniences when it comes to snowboard control. Step-in Bindings don't have any straps to give additional support, making the Snowboard Boot less flexible, and thus, harder to do Snowboarding Tricks. So make sure you get a good fit if you're planning to buy this.
Step-in Bindings usually work in combination with soft boots which are somewhat stiffer than those used with highback bindings. When you opt for Step-in Bindings, you narrow your selection in choosing Snowboard Boots and Bindings since they both have to be "step-ins". However, there are some higher and more advanced Step-in Bindings out on the market that provide the best of both worlds.
Step-ins can be used for either Freeride or Freestyle riders. Cross-over skiers will often feel comfortable with Step-in Bindings and boots since they are used to stepping in and to harder boots and just turning a switch or a latch whenever they want to get out.
3. Flow-In Bindings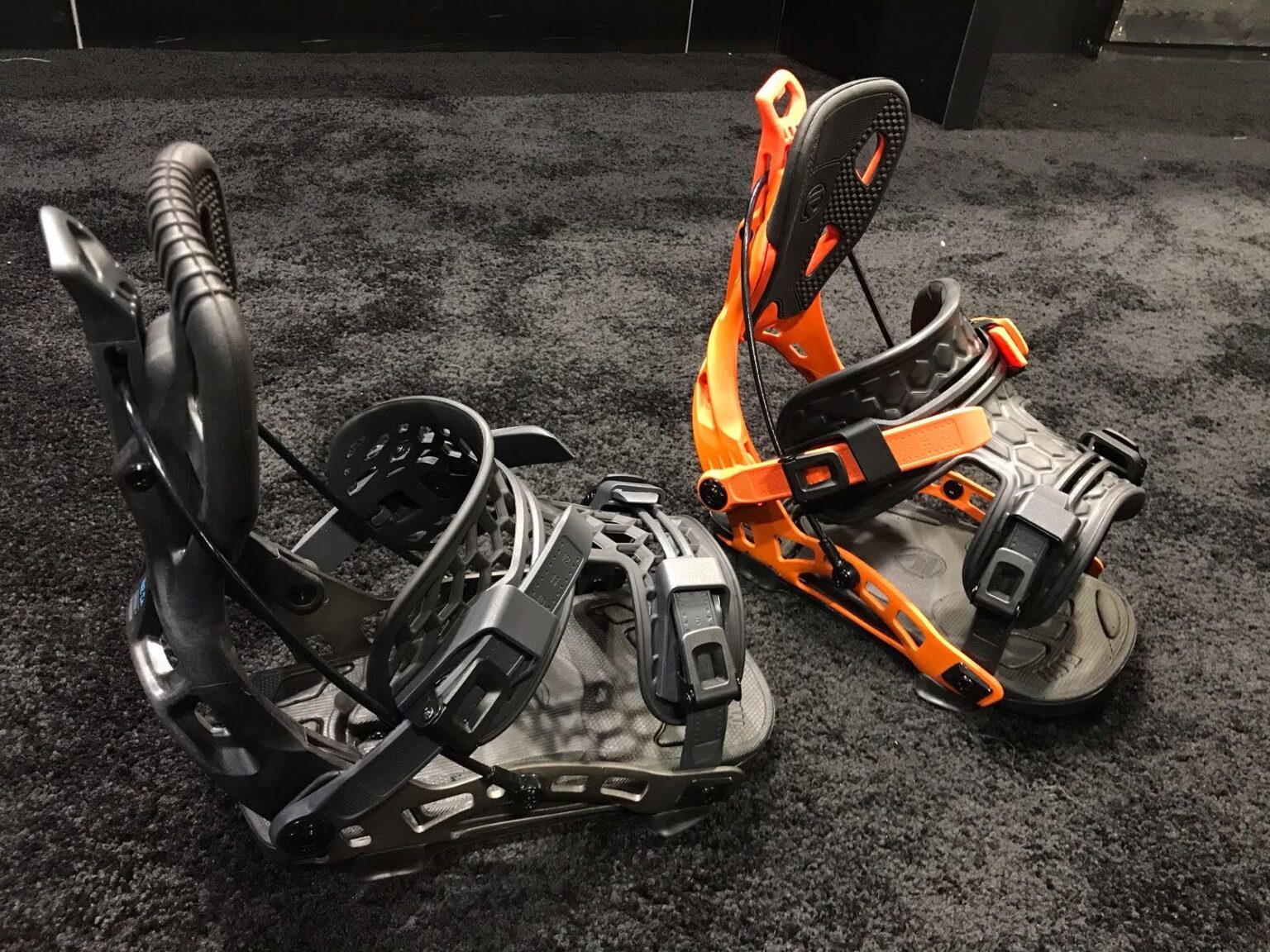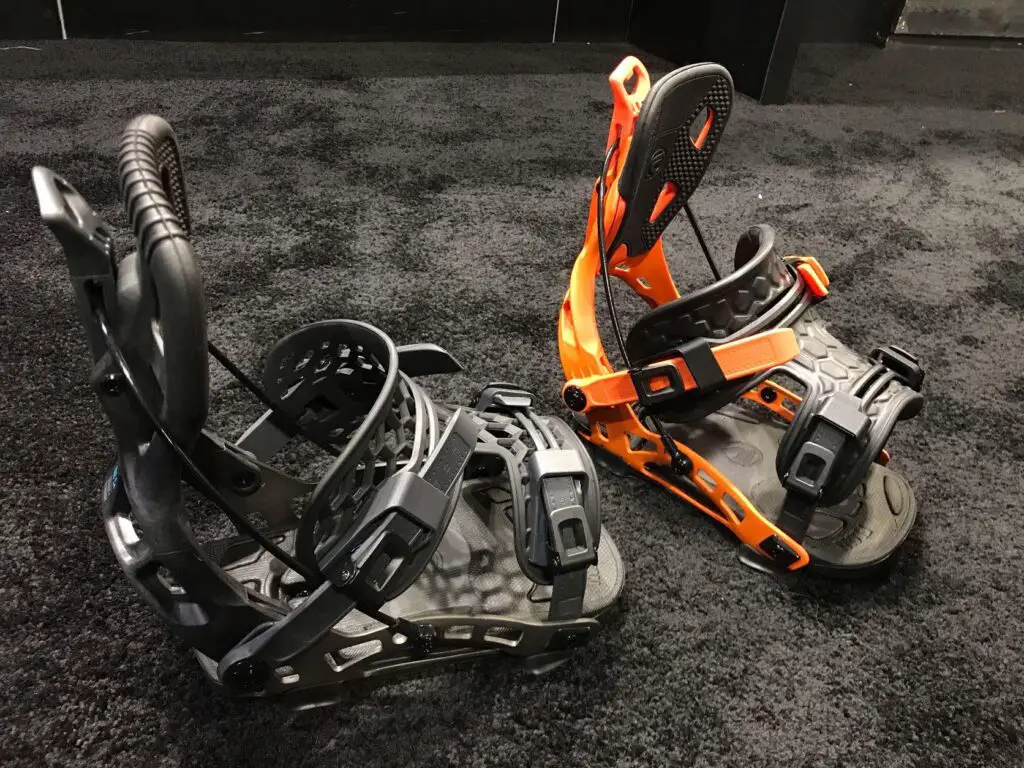 Flow In BindingsFlow-In Bindings is quite new and is a hybrid of the step-in and strap systems. This Type of Snowboard Bindings tries to combine the control of Strap Bindings with the ease of Step-in Bindings. Flow-In Bindings look rather similar to Strap Bindings and also allow you to use soft boots. The notable difference is that, unlike the two or three straps that cover the top of your feet in Strap Bindings, the Flow-in Bindings have only one large tongue that covers a large part of the top of your Snowboard Boot. Getting into and out of your Bindings is a matter of flipping the highback backwards and entering or exiting your boot.
Flow-in Bindings are becoming more popular as the choices and Techniques of Snowboarding improve. People love the Flow-in System as it combines all the advantages of the Strap Bindings with the ease of Step-ins. One disadvantage however is that Flow-in Bindings are more difficult to adjust than strap-ons.
4. Plate Bindings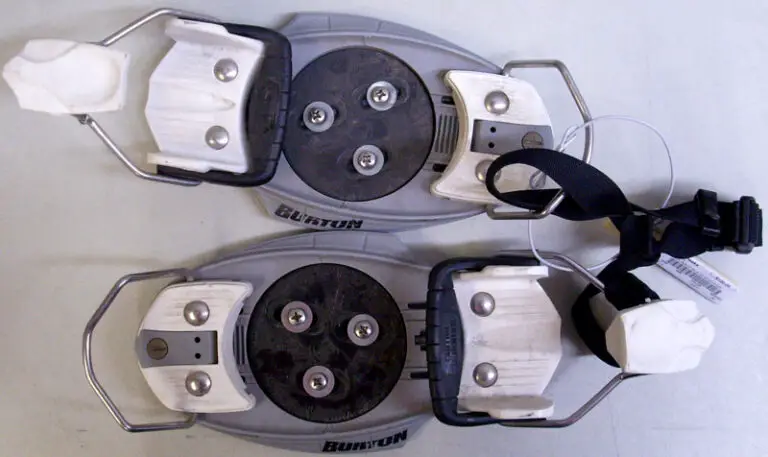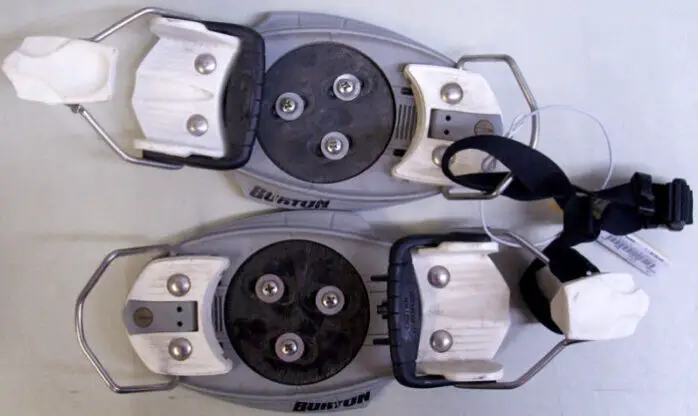 Plate BindingsPlate Bindings, also known as Hard-Boot Bindings, consist of a hard baseplate, steel bails, and a heel or toe lever. This Type of Bindings is used in combination with Hard Boots that can be inserted into the bails. By flipping the lever, the boots are strapped firmly into the Bindings. The features of the Plate Bindings are the closest to a traditional Ski Binding and their rigid responsiveness provides maximum leverage and power for high-speed carving and riding on hard snow. Plate Bindings and hard boots are mostly preferred by Alpine Racers who need the extra edge control that they get from this combination.
5. Baseless Bindings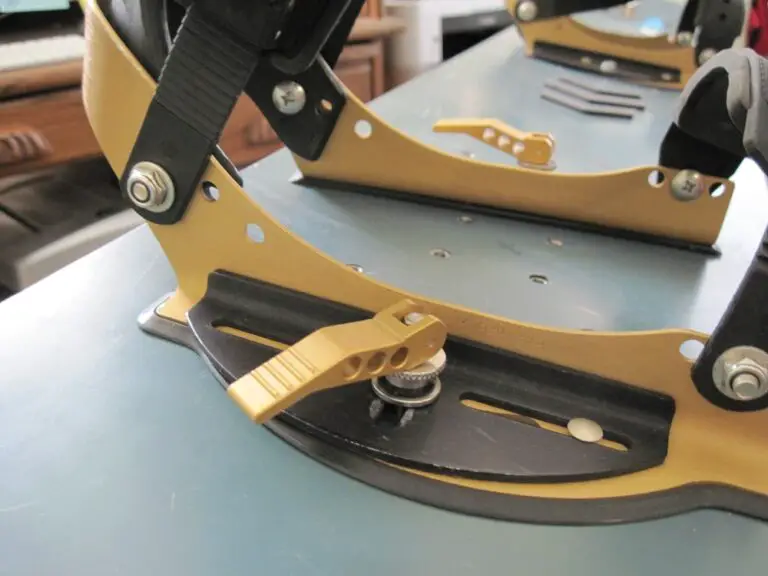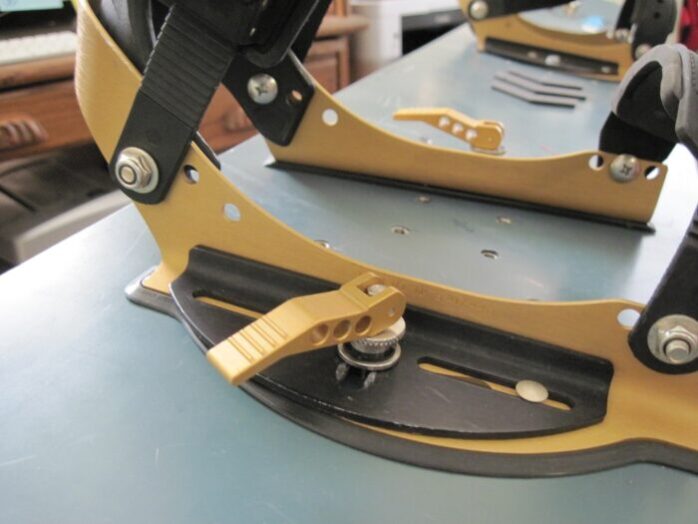 This Type of Bindings was introduced in the mid 1990's by several companies. In Baseless Bindings, the sole of the Snowboard Boot is placed in direct contact with the Snowboard deck by removing the Binding's baseplate. With this, the sole height is lowered by up to 1/8 of an inch. Theoretically, using the Baseless Bindings enhances the "feel" of your Snowboard's flex. However, this Type of Snowboard Bindings aggravates "toe drag" problems for people with large feet. Also, most Baseless Bindings are far more difficult to adjust (stance angle/width) than traditional "4×4" designs. Still, Halfpipe and park riders prefer Baseless Bindings because it provides them with a quicker edge response.
The choice of what Type of Snowboard Bindings to use usually comes down to personal preference and finding the right Snowboard Boot first. If you feel that the convenience of stepping in outweighs the additional control you can gain, then it is best to go for that particular Style of Binding. Regardless of which Type of Binding System you wind up with, don't head for the slopes until you know exactly how to get in and out of them.
With or Without Highbacks?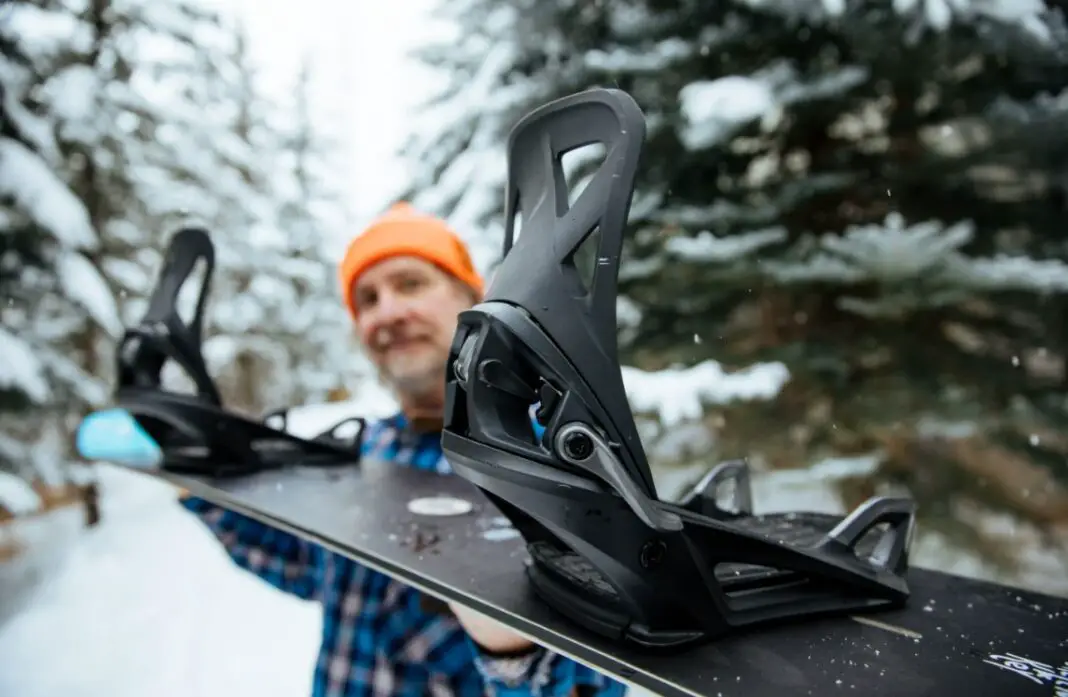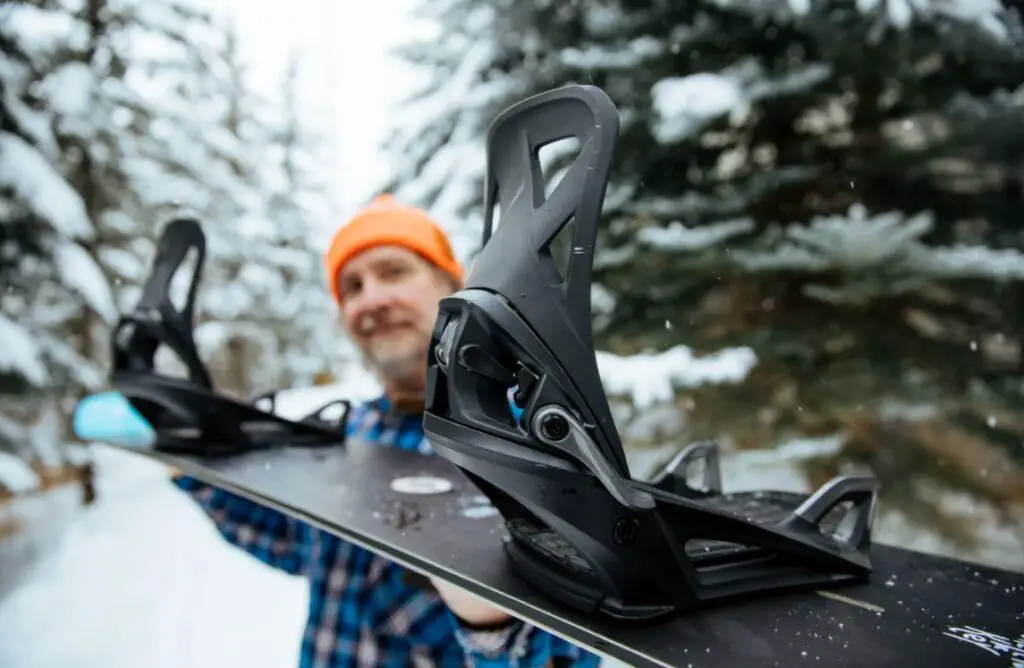 The large curved piece of plastic screwed to the base of the binding is the Highback. Its main function is to give riders some control over their Snowboard's Heel Edge. These can be found on all Bindings or are built into the boot with some Step-in Systems. Alpine riders who need to perform high speed turns will prefer taller and stiffer Highbacks for greater control and improved edge control. On the other hand, Freestylers will want a shorter backplate for more flexibility and turning power.
Snowboard Boots and Bindings form a combination wherein not all Kinds of Bindings are suited for each type of Snowboard Boot. It is often best to buy them together. In here, knowing your intended Snowboarding Style is crucial before buying a combination of boots and bindings.