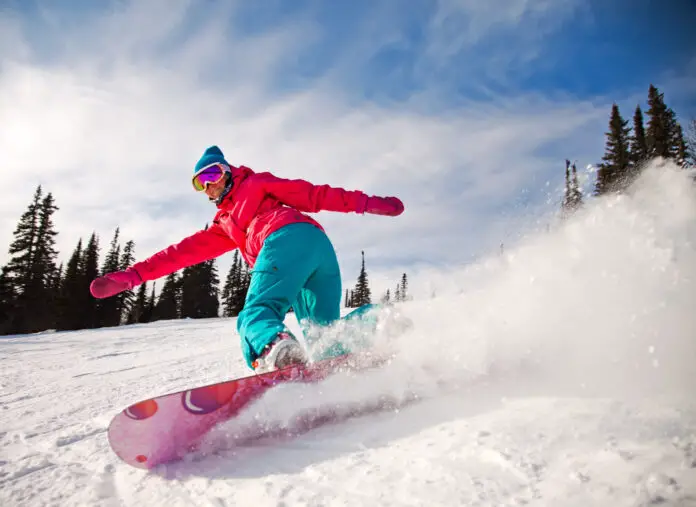 Snowboarding is an activity for which you will need the appropriate gear in order to make the most of the experience. Each female rider needs perfect snowboarding pants so that they are comfortable and free to move.
Editor's Pick
Good Choice
Don't Miss
Also Consider
Roxy - Junior Rising High Pt Pants, Size: X-Small, Color: Fusion Coral
Volcom Women's Species Stretch Snowpant, camouflage, Extra Extra Small
Burton Womens Avalon Bib Softshell, Rose Brown New, Small
THE NORTH FACE Women's Freedom Insulated Pant (Standard and Plus Size) - Short, TNF Medium Grey...
Editor's Pick
Roxy - Junior Rising High Pt Pants, Size: X-Small, Color: Fusion Coral
Good Choice
Volcom Women's Species Stretch Snowpant, camouflage, Extra Extra Small
Don't Miss
Burton Womens Avalon Bib Softshell, Rose Brown New, Small
Also Consider
THE NORTH FACE Women's Freedom Insulated Pant (Standard and Plus Size) - Short, TNF Medium Grey...
The pants mentioned below vary based on affordability, looks, durability, and features. There are many options available based on whether you want to feel comfortable or also want to look good while riding.
Top Women's Snowboard Pants Review
1. Roxy Rising High
While all snowboarding pants tend to provide protection from moisture, this one will be excellent if you are going to focus on waterproofing. The waterproof rating of these pants is higher than average.
If you are looking for the best option in the market for waterproof snowboarding pants, then this is it. The Roxy DryFlight material is explicitly created for repelling the moisture from the snow.
The material of these pants, while repelling moisture, would not stop airflow. If you're looking for breathable fabric while snowboarding for comfort, these will do nicely. Another great feature of these pants is that they offer the users the chance to connect their upper and lower clothing.
These pants, therefore, can effectively seal in the warmth against the cold. If you are regular with snowboarding and you stay out in the cold a lot, then these pants are worth investing in.
Features:
High neoprene waist panel
15K ROXY DryFlight Technology
Perfect for Waterproofing
Front hand and back pockets
Easy attachment to upper garments
Taffeta boot gaiters
2. Burton Vida
The perfect worth the money option for every woman looking for snowboarding pants is the
Burton Vida. Combining good looks with comfort, these pants are excellent for all. Like the pants mentioned above, these also offer excellent waterproofing against the moisture from the snow. A combination of good fabric and weather resistance, these pants are ideal for extremely cold weather.
The face fabric used in these pants allows for added flexibility and movement. Along with insulation, these pants do not block the airflow, so the fabric is breathable, which is a plus point in winter wear.
Another important feature of women's wear is whether or not it has pockets. The pockets of these pants are quilted, made for warmth, along with practical storage. If you want to look stylish while snowboarding, this is the right option for you.
Features:
Slim fit
Waterproof and weather-resistant
Living lining
Breathable fabric with insulation
Affordable
3. Volcom Species
The ideal women's snowboarding pants will be weather resistant, will not restrict movement, and will be waterproof. These pants come with all three features. The fabric is flexible while providing insulation so that you can stay protected from the cold. The waterproof rating of Volcom Species is excellent, making it one of the best snowboarding pants in the market.
If you are comfortable with yoga pants, you will not mind wearing this. It is because the flexible fabric allows for the slim fit to feel comfortable rather than restricting. There is no restriction of airflow either, so you will feel as comfortable as when you walk in the park.
If you stay in cold areas for extended periods, you can choose to invest in this option as it is a bit on the expensive side.
Features:
Can connect the jacket to pants
100% Nylon lining
Comes with boot gaiters
100% Recycled Polyester
Slim fit and stretchable
4. Burton Avalon
These are ideal for shoppers who are looking for bibs. These bibs are extremely comfortable and will also add to your look as you step out for a rich experience in the snow. The two-layer fabric is made so that movement is facilitated without compromising insulation and waterproofing.
If you want to buy bibs that are made of fabric that will assess your needs according to the temperature outside, then this is the right choice. It will be breathable as well as insulating, depending on your surroundings.
The fit of these bibs is made so that you do not feel restricted. They are not too loose and hence are easy to style. You will not be able to find slim-fit bibs because, as compared to pants, they will always be a little baggier.
Features:
Mesh-lined thigh vents
Multiple pockets and zipper closure
Stretch woven shell fabric
2-layer DryRide fabric
5. The North Face Freedom
If you are someone who gets cold too quickly, then consider this option. While most of the available snowboarding pants offer insulation, these pants are different. How? There is a double layer of insulation for extremely cold weather. Along with the insulation, you can also expect effective waterproofing with the 2-layer DryVent membrane fabric.
Unlike most snowboarding pant designs, these pants come in a standard fit. If you want to be comfortable at all times and do not want to compromise movement, then the standard set of these plants will help you. You do not need to worry that these pants would be too loose at the waist. Adjustable waist tabs allow for easy fastening of the pants according to your comfort.
While these pants are durable and comfortable, the bottom of the gaiters might be too wide for your taste and will flap around when you are riding. There is no restriction of airflow, so expecting a comfortable experience is a given.
Features:
Recycled Polyester fabric
Heatseeker Eco
Lightweight and compressible
Chimney venting system
Stretch gaiters
Adjustable waist tabs
6. The North Face Sally
If you are interested in buying a pair of pants that do not cost a hefty amount, then consider this option. You will get an affordable pair of pants without compromising the quality. Most of the features offered by these plants are offered by expensive pairs as well. Giving you warmth and moisture protection, these pants are the perfect pair for your snowboarding quests.
These pants have zipper pockets so that you can store your belongings without having to worry about them getting lost. Longer gaiters ensure that you can talk these in your socks or shoes, preventing snow from direct contact with your skin.
Features:
Heatseeker synthetic insulation
Zipper closure and zipped pockets
Reinforced kickpatches
Reinforced edge guards
Buyer's Guide to Buying Women's Snowboarding Pants in 2023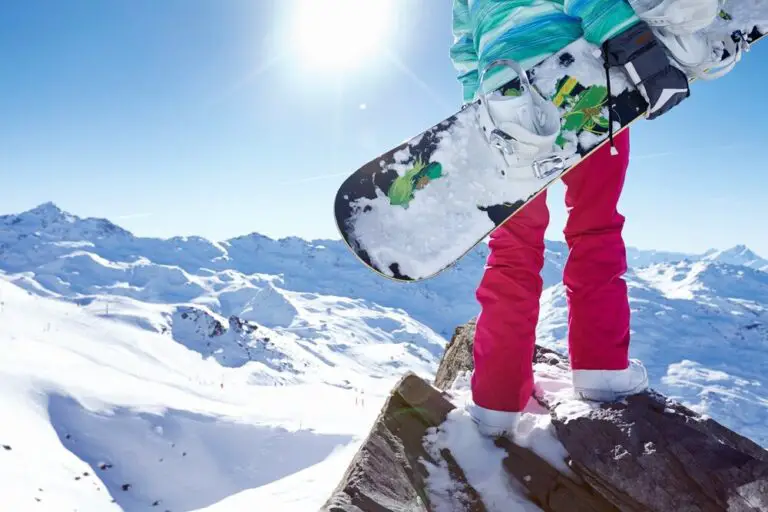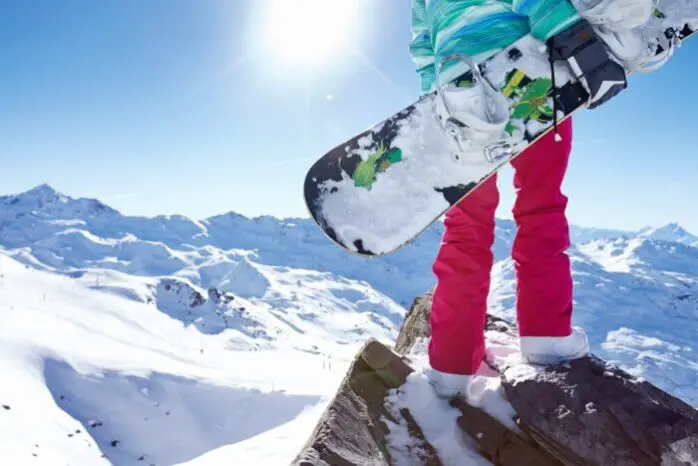 Every buyer needs to have a few things in mind while shopping online. Combined with that, you also need to know what factors to consider while buying snowboarding pants. There is no shortage of features that will set apart one pair of snowboarding pants from another. Some of these are as follows:
Consider the fit
While you may think that the look of the pants does not matter, it can significantly impact how you look once you are all dressed up for snowboarding. The fit of the pants matters because you would need to consider comfort while riding. Slim fit is not a comfortable option for many in case they find it restricting.
Bibs are always looser than pants, while the standard fit is a good option for many women. Try out the options available so that you know which fits best. If that is not an option like with online shopping, stick to what you find comfortable, especially when you are investing a lot of money.
Protection, Insulation, and Breathability
Both of these features go hand in hand. The snowboarding pants you choose should be weather resistant. The snow when coming in contact with your clothes will melty from body heat which would mean that you need clothes that are waterproof.
Almost every snowboarding pant offers waterproofing features. Seam sealing is the best type of fabric sealing available in the market. Once you have received the product, thoroughly check the seams to see if the fabric is bonded together.
When it comes to providing insulation, some pants do it better than others. Some may even provide an extra layer of insulation for extremely cool temperatures. Read through the type of taping which is used to glue the fabric together.
The kind of insulation provided by the fabric is ensured by the type of glue used and how effective it is in keeping the elements out of your clothes.
It is a common misconception that waterproof fabric compromises on breathability. Many women refrain from buying slim-fit snowboarding pants because they feel that the insulation and the waterproofing will not leave room for the skin to breathe. But that is rarely the case. All the pants are made with fabric which is made to keep women as comfortable as possible.
Vents, Pockets, and Boot Gaiters
Many pants come with vents sealed with zippers. These are created so that you can release heat when you feel too hot after a ride. Another tip is to always look for pockets in your pants. The more the pockets, the more space you will have to keep your things in.
If the pockets are insulated or have zippers, give them priority over other pants that have neither. Boot gaiters are essential to ensure that snow stays out and does not come in direct contact with your feet.
Waist Adjustment and Cuff Reinforcement
Waist adjustment so that a standard fit can fit any woman. It is the perfect way to ensure comfort with the clothes one is wearing. Cuff reinforcement in the back for added durability ensures that there is no wear and tear in the fabric of the pants.
Jacket and pant connection
Jacket and pants connection is offered by many products because people are looking for complete protection against heat and snow. This will not let powder snow get inside your clothes and will protect both your legs and torso against the cold weather.
Choose the Right Fabric
The fabric should be durable and high quality so that your investment pays off. Insulation and waterproof material are often made from the best in the market, but it would be good if you checked the specifications of the fabric beforehand.
Check the Ratings and Reviews
Buying anything online means that you will have to trust the seller to deliver a good product. You can only know the details of the product by checking to see if the other customers who bought that product felt satisfied with it.
Many times, the product is good, but the service of the seller is questionable. Check the reviews, both good and bad and compare the ratings of one product with another before making a decision.
The Takeaway
There is something for everyone once you step out to buy snowboard pants. From bibs to standard and slim fit pants, there are variations in the market based on the fabric used, the insulation provided, and the comfort you want to experience.
Of course, you would have to closely look at the specifications of each product and compare it with others available in the same range. If you feel satisfied with the products, then go ahead and make the purchase.
FAQs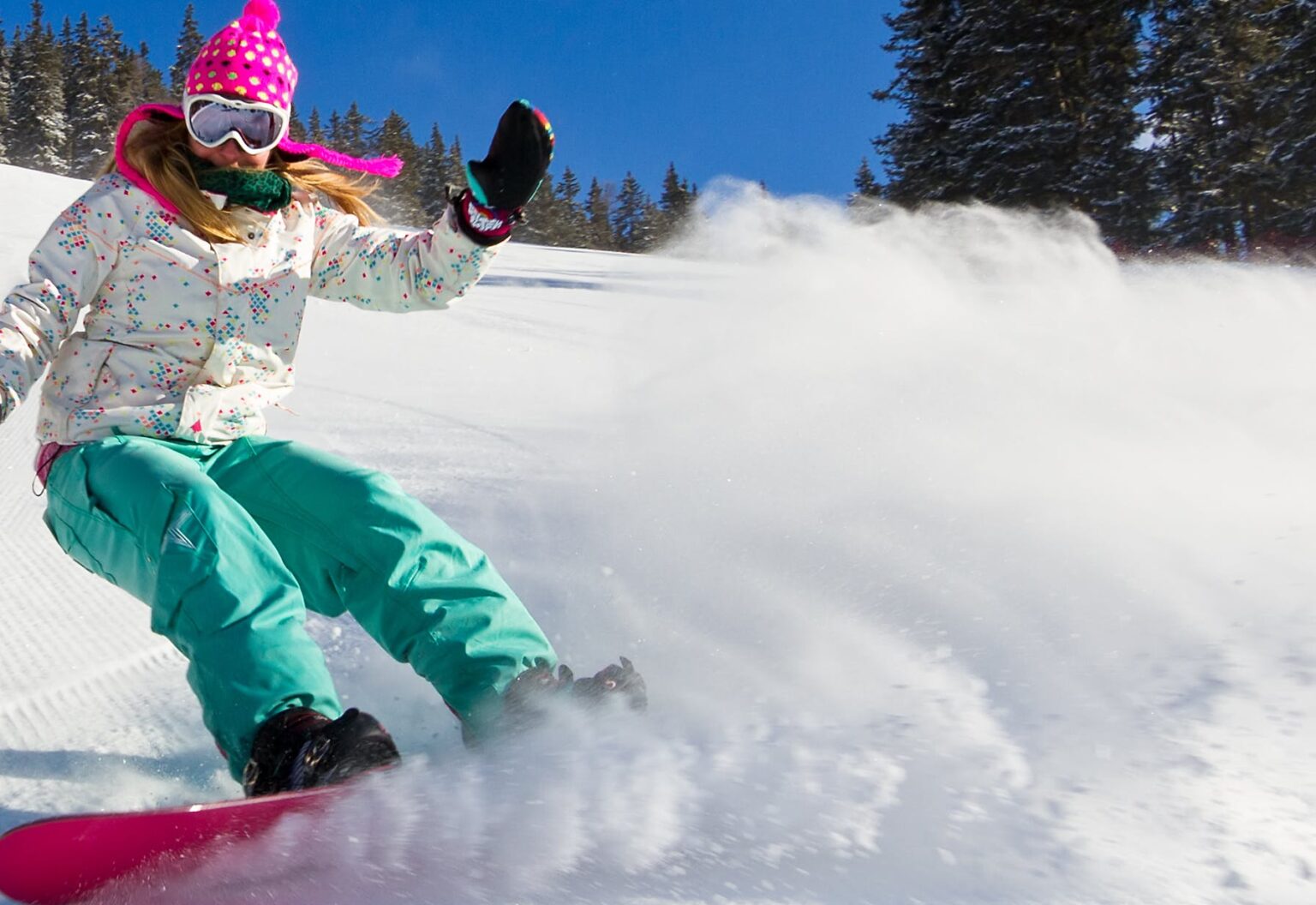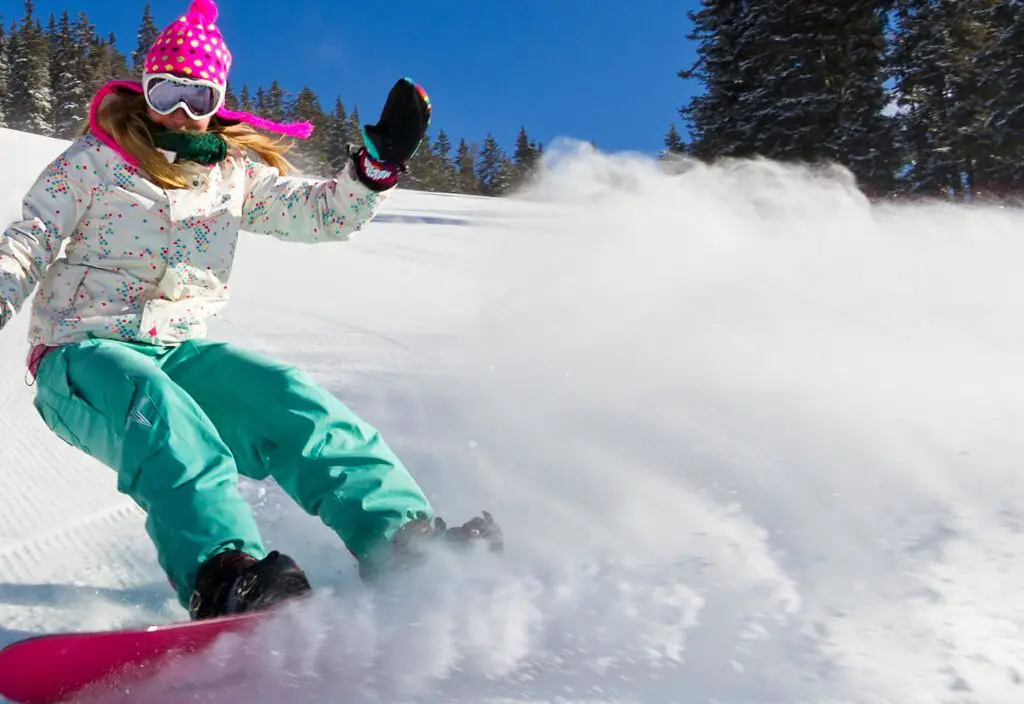 1. Does the fit of the pants matter while snowboarding?
No, the fit does not matter when you are snowboarding. The fit of the pants is primarily advertised because many women want to look good while snowboarding and choose their clothing accordingly.
Many women consider a loose fit a better choice for themselves since it allows them more room to move. While slim-fit pants also offer flexibility, the fit of the pants is a clearly subjective choice for buyers.
2. Are slim-fit pants breathable?
Yes, slim-fit pants are made of breathable fabric. It is a common misconception that tight-fitting clothes do not provide breathability. Many slim-fitting pants are specially made of materials that are breathable when there is movement so that you feel comfortable. All the options mentioned in the above list have mastered the art of providing insulation without restraining breathability.
3. Why do I need to buy waterproof snowboarding pants?
Technically, snow is solid, so many people think that waterproof fabric is not needed. But snow melts. And to prevent it from absorbing into your clothes, you need to buy waterproof clothing. Waterproof pants are essential, especially in cool weather.
Read also: Snowboard Boots Buying Guide
If these weren't enough, check out some other picks from Amazon also:
Burton Womens Society Pant, Dress Blue Heather, XX-Small
Regular fit is just right: Not too tight or too baggy
DRYRIDE two-layer fabric [10,000MM, 10,000G] is waterproof and breathable for outstanding weather protection; Fully-taped seams create the ultimate seal against foul weather
Living Lining provides consistent temperature regulation without adding bulk or weight; Low-bulk ThermacoreECO insulation is lightweight and soft, providing superior warmth-to-weight performance using...
Mesh-lined inner thigh vents add breathability
Zippered microfleece-lined hand-warmer pockets and back pockets with hook-and-loop closure
Gopune Women's Snow Ski Waterproof Softshell Snowboard Pants Outdoor Hiking Fleece Lined (Army...
85% Nylon & 15% Spandex
Gopune hiking pants with multi pockets design.2 front slant pockets,2 back velcro pockets and 2 knee pockets provide extra store space for great convenience,ensure that you can carry large items
The soft shell pants are designed for water resistant coating on the surface to make the pants waterproof,cool,smoothy which can keep you comfortable for all day waer
Partial elastic waistband on the side make the waist more comfortable and full mobility.The inner fabric uses high quality fleece lining to increase warmth
Perfect for outdoor sportswear like snow skiing,camping,hiking,mountaineering,hunting,travelling,climbing,cycling ect
SEARIPE Women and Mens Snow Bibs Adjustable Overalls Pants Wear-resistant Bib Hiking Climbing...
Note: If you are thin,please choose one size Smaller! K05 Womens snow bibs is loose style.If you can't make sure which size is fit for you,please contact with the customer service.
Size Chart : XS: Length 53'', Chest 36",Waist 37.8",Hips 41",Bottom 18"; S: Length 54'', Chest 37.8",Waist 39",Hips 42.5",Bottom 18.9"; M: Length 55'', Chest 39",Waist 40.5",Hips 44",Bottom 19.7."; L:...
Premium Material: SEARIPE snow pants made of high quality polyester fiber, with superior heat preservation and moisture-wicking performance provide you the super warmth comfort.
Unique Design: Women snow bib overalls adjustable shoulder strap design, with a big pocket on the chest for convenient storage of mobile phones and snowcards.. The zipper make it easy to put on and...
Widely Application: SEARIPE snow bib ski bibs women suitable for hunting, camping, hiking, cycling, fishing, jungle, running, combat, military, backpacking, working, traveling, climbing, skiing,...
Burton Women's Standard Gore-Tex Gloria Pant, Green, XX-Small-Tall
Slim fit sits close to the body; Lengthened 34.5" inseam
Constructed from waterproof GORE-TEX fabric; Fully-taped seams with GORE-SEAM tape locks out the elements
Living Lining helps regulate your temperature; Lining is mapped with stretch woven fabric for mobility
Sleek mesh-lined inner thigh vents add breathability; Anti-scuff cuffs
Microfleece-lined hand-warmer pockets, hook-and-loop back pockets and cargo pockets and zippered thigh pockets
Flylow Men's Baker Bib Waterproof Breathable Ski and Snowboard Pants - Black - Small
Full Powder Protection | Chest-high bib style keeps the fluffy stuff from sending a chill down your spine.
Intuitive Oxford Membrane | Made for the deepest days, the biggest lines, and the heaviest of storms, these bibs feature a 20k/20k waterproof breathable membrane that can handle any conditions on the...
Built-In Ventilation | Inner and outer thigh vents will have you wondering who kicked on the air conditioning for sunny, spring ski days.
Burly Design | 100% Polyester face fabric with 1000D reinforced cuffs and knee patches means you can yard sale all you want, these ski pants will keep kicking.
Storage Space | 6 pockets (2 hand, 1 rear, 1 thigh, 1 kangaroo, and 1 button stow) let you stash all of your on-mountain essentials, including pocket pizza, without overstuffing.