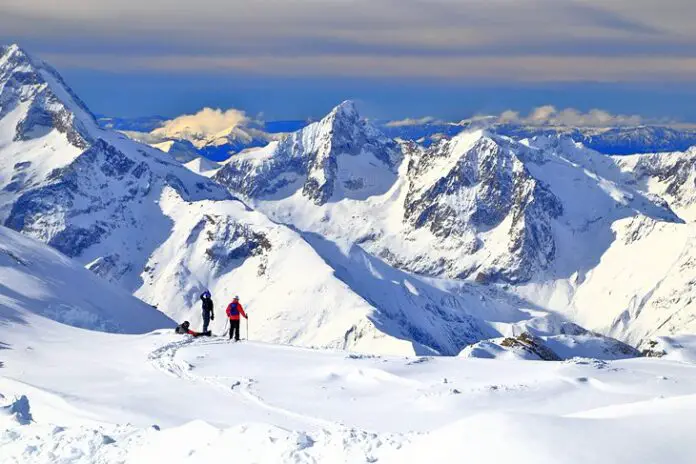 With the winter season just around the corner, many adventure junkies and families are looking for destinations where they can enjoy winter sports and activities. While there are many places in North America and Canada, many people flock to Europe to experience the best ski holidays and skiing and snowboarding adventures. If you are heading to Europe this year for some snowboarding adventure you must include French Alps in your list. This is because here you can find wide-open pistes and terrains that are suitable for beginners and experts alike.
Also, you can find some of the best ski resorts here that can provide you with the best accommodation and strategic locations allowing you to make the most of your snowboarding trip. If you are looking for accommodations in ski resorts like Meribel, Alpine Elements can help you create exciting snowboarding holiday plans that are based on your requirements and budget.
Let's take a quick look at the 6 best snowboarding areas in France that you can visit in 2023.
Avoriaz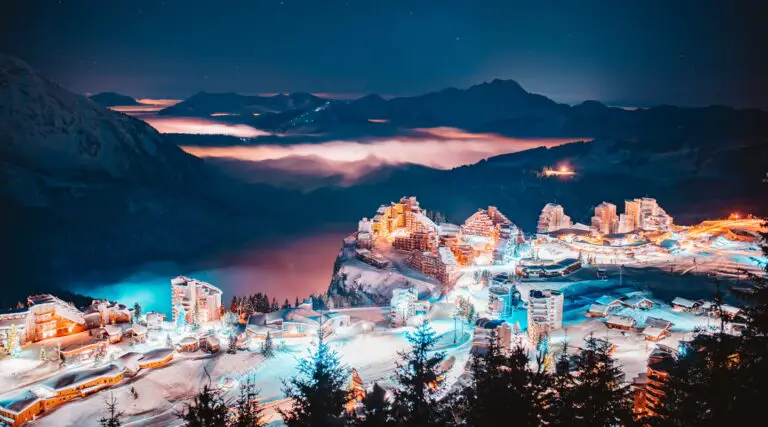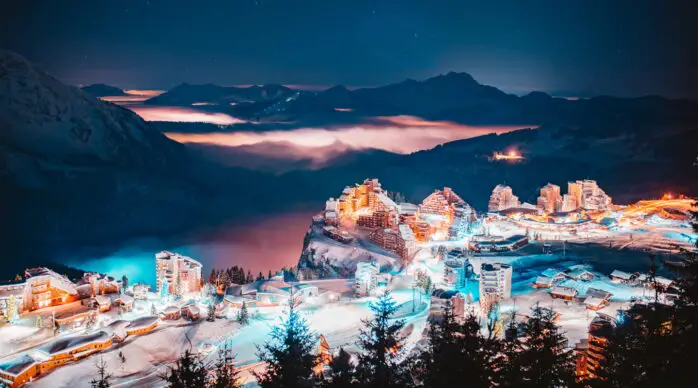 Avoriaz has always been at the core of snowboarding events and activities and therefore it remains one of the popular places for snowboarders. Undoubtedly, it is one of the snowiest places in France making it a perfect destination for skiers and snowboarders to get the best adventure out of the terrain. Additionally, Avoriaz does share some areas with the Portes du Soleil ski region and therefore you can make the most of this place if you are planning to visit Switzerland as well.
With vast terrain and diversity, snowboarders have plenty of pistes to choose from based on their skills and levels. Skiers and snowboarders can choose from a diverse range of beginner and intermediate for both on and off-piste terrain. Expert snowboarders have the opportunity to trail down massive freeride terrains. Solo snowboarders have the option to choose from budget accommodations available off the mountains. There are 12 ski resorts that you can choose from for your stay. Avoriaz also offers affordable weekend lift passes for adults making it a mecca for most snowboarders looking to snowboard in the French Alps.
Chamonix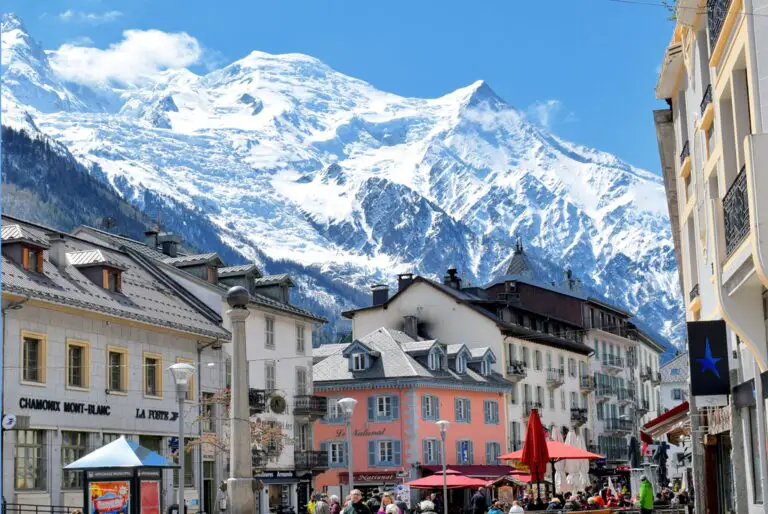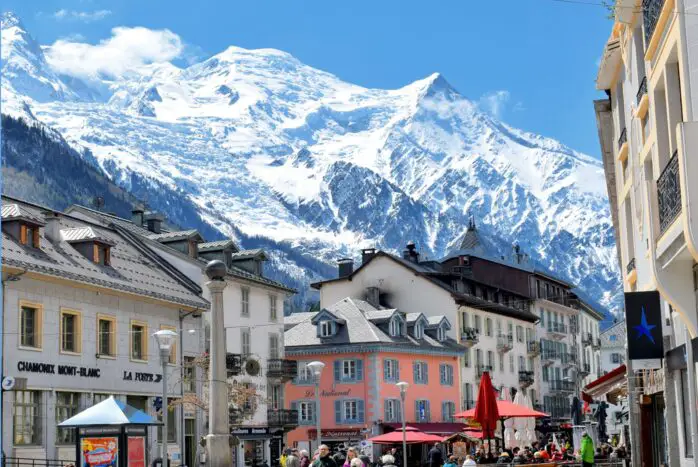 A little south of Avoriaz on the map, Chamonix offers a vast terrain for the world's best freeriding snowboarders looking for some adventure and fun. Nestled at the foot of Mont Blanc, Chamonix holds a legendary status amongst the snowboarding community around the world. With stunning alpine landscapes, Chamonix is a complete package for snowboarders looking for a memorable time in French Alps. However, having the right ski trip packing list would help you make the most of your trip.
While Chamonix does not have as much ski area as Avoriaz, it still offers 170 kilometers of pistes that you can cruise. Here you can also find green pistes that are ideal for snowboarders learning how to snowboard. However, Chamonix is more popular with expert skiers and extreme sports enthusiasts that love to challenge themselves and prefer off-piste skiing and freeriding. With 4 excellent ski resorts and plenty of restaurants and bars for après ski, Chamonix offers a great value in the French Alps. It is also easy to access from Geneva airport.
Courchevel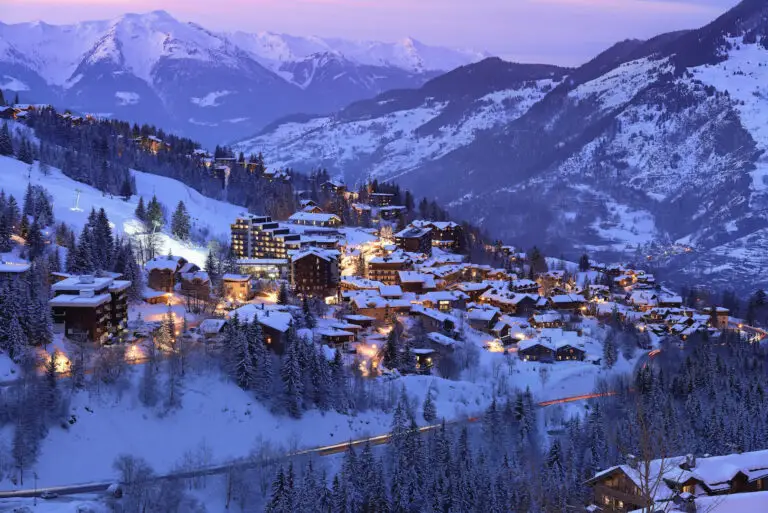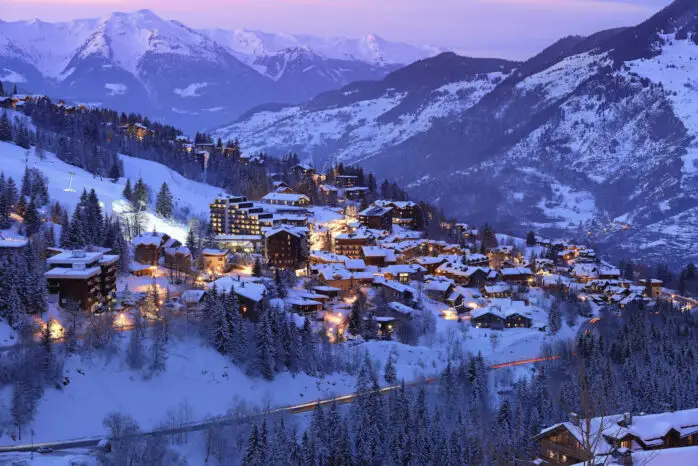 Known as the most glamorous ski resort in France and a billionaire's winter playground, Courchevel is also one of the top spots for snowboarders looking for adventure in 2023. With luxurious resorts and chalets and exceptional weather conditions, this is an ideal ski resort for snowboarders and skiers wanting the best experience. Snowboarders still perfecting their skills and learning how to freestyle snowboard would enjoy the variety of groomed green piste trails that are considered to be the best in Les 3 Vallees. With 150 kilometers of piste served by 58 lifts, Courchevel is definitely amongst the best in the French Alps.
On the other hand, experienced snowboarders and extreme sports enthusiasts can enjoy freeriding off-piste terrain with high-quality powder in the area. In terms of accommodation, snowboarders and skiers can choose from a plethora of budget and luxurious resorts, apartments and lodging options. Courchevel also boasts of modern and efficient lifts in the area shortening your wait time. The après ski option in Courchevel is equally good ensuring the best food and live music and even disco clubs for those who seek excellent nightlife options.
Les Arcs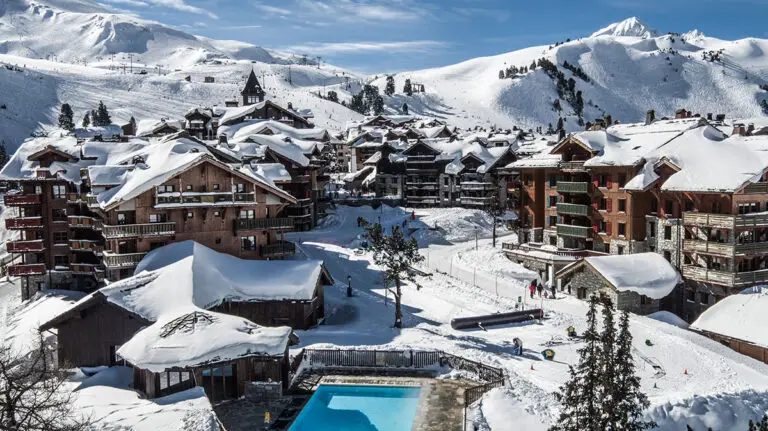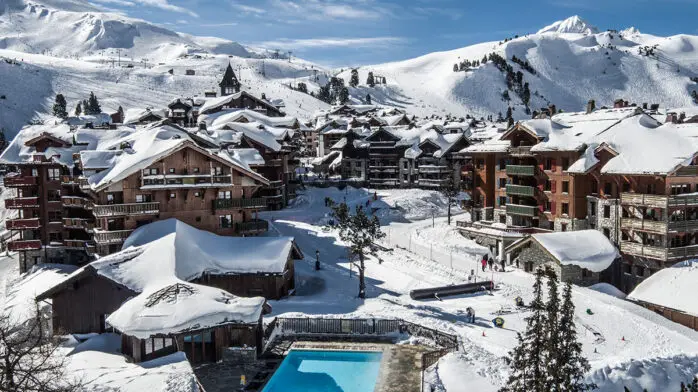 Nestled in the Tarentaise Valley, Les Arcs ski resort is a mega ski area in the French Alps that offer one of the best snowboarding experiences. With a massive interlinked ski area, snowboarders and skiers can cruise through 425 kilometers of the ski area. For many expert snowboarders, Les Arcs offer off-piste terrain with trees, bowls and super-long steeps that are perfect to try and improve their skills.
Beginners can learn snowboarding on perfectly groomed green pistes close to town. If you are interested in apartments for accommodation, Les Arcs can offer you those in plenty. Les Arcs also connects with the neighboring La Plagne to form the mega ski resort of Paradiski which doubles the ski terrain and lifts available in the area. Snowboarders can also find plenty of excellent après ski options and easy access via train and funicular from Bourg St Maurice. It is also easy to access via Geneva airport which is the closest one.
Morzine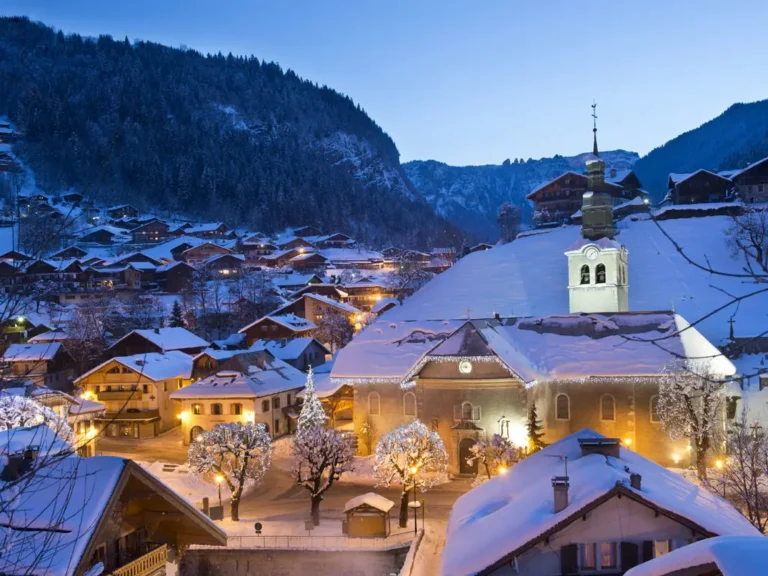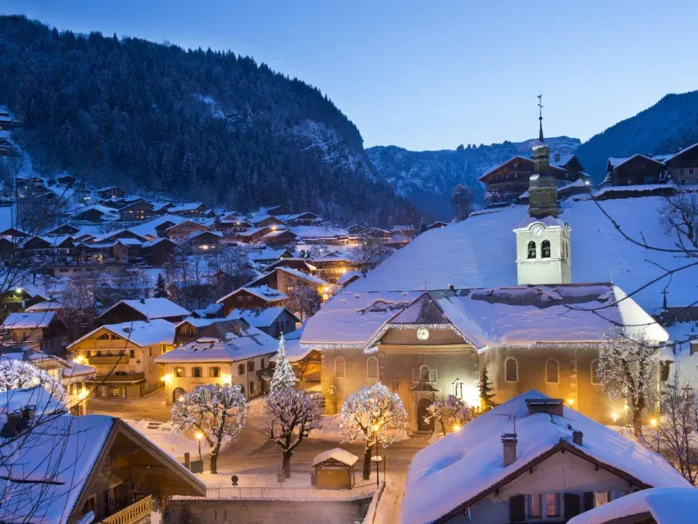 Straddling the French-Swiss border, Morzine is an excellent ski resort that offers the best snowboarding experience in the French Alps. Morzine ski resorts sit between Avoriaz and Les Gets and therefore it offers a great opportunity for snowboarders and skiers to explore other ski resorts if they have time. The snowboarding terrain here blends with Les Gets and combined snowboarders get 120 kilometers of trails and 47 lifts at prices that are reasonably affordable.
While beginners and intermediates can cruise through plenty of green and blue pistes in the area, expert snowboarders can find more adventure in the Chamossiere sector which offers a steep off-piste powder day fun. Morzine is also interlinked with Portes du Soleil via the Super Morzine gondola which heads towards Avoriaz. Hence, snowboarders can have access to more than 600 kilometers of the Portes du Soleil ski area.
Tignes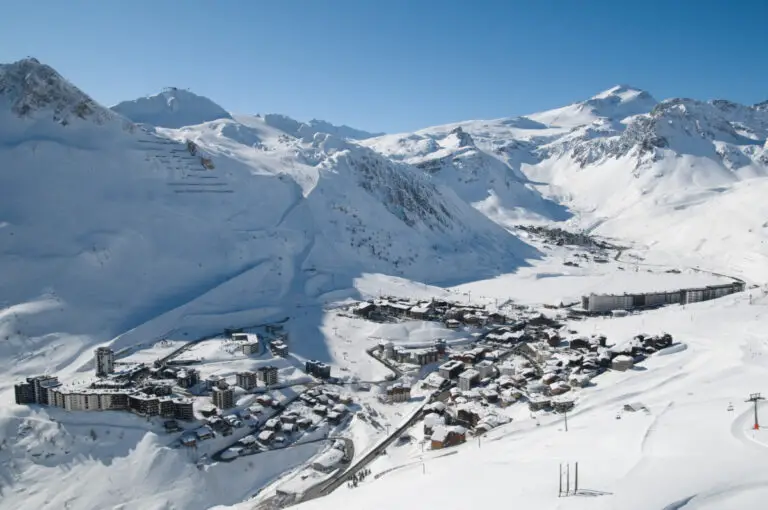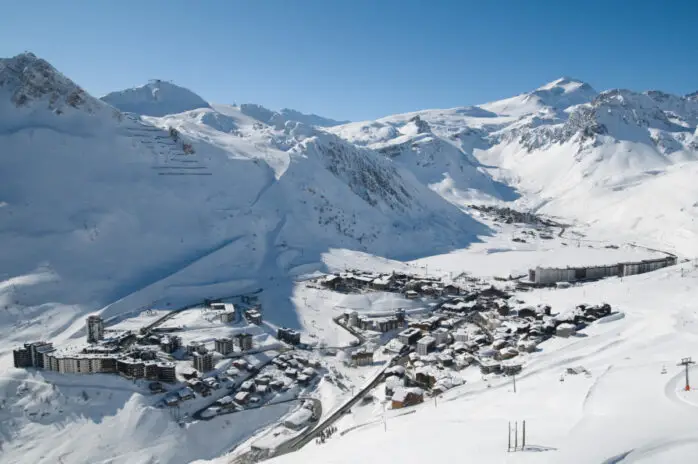 With world-class piste terrain, Tignes ski resort is among the leading resorts in the French Alps and the world for snowboarding and skiing adventures. With access to Grand Motte glacier, this purpose-built ski resort offers something to all types of skiers and snowboarders. With never-ending areas of snow, modern lifts, reliable weather conditions and good après ski, Tignes offers a great value for most snowboarders planning to snowboard in French Alps.
Various snowboarders prefer Tignes for the massive on and off-piste terrain that allows them to try their skills. While there are green pistes for beginners, Tignes is usually preferred by intermediate and expert snowboarders that are ready to take on the challenge and enjoy the 1900m vertical drop. With plenty of restaurants and bars, snowboarders can find good food and après ski options and better connectivity via bus and train.