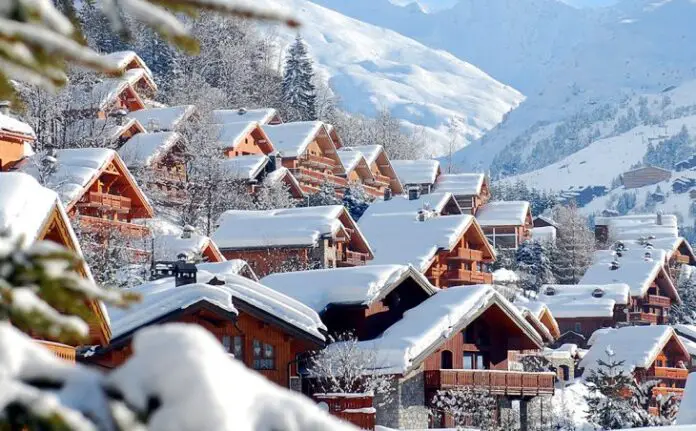 When you are thinking of holidays you need to think about how you can make the most of the time you have. Many people prefer to head to international tourist destinations that offer them a great way to unwind and relax. However, if you are seeking some adventure, fun and winter sports action you need to head to the French Alps. With spectacular scenery and stunning alpine landscapes, the French Alps offer the best that you can get. If you are into skiing and snowboarding you can browse multiple ski resorts that make the French Alps the go-to destination, especially during the winter months.
Nestled in the Tarentaise Valley, Meribel is among the leading ski resorts in the French Alps that attract plenty of local and international skiers and visitors. With full access to the full range of world-class skiing and snowboarding, it offers the best skiing experiences to skiers and snowboarders who want to explore the terrain and make the most of their winter holidays. If you are planning to visit Meribel you can book accommodations in Meribel via Ski Vertigo to help you secure the best deals.
Being at the heart of the Les 3 Vallees, the world's largest ski area, Meribel receives plenty of skiers and snowboarders that come here to explore the massive ski area that they can find. Meribel resort comprises three neighboring villages in the Les Allues commune called Meribel Centre, Meribel-Mottaret and Meribel Village. All three villages have an interlinked ski system that is a part of the Les Trois Vallees.
Massive Ski Area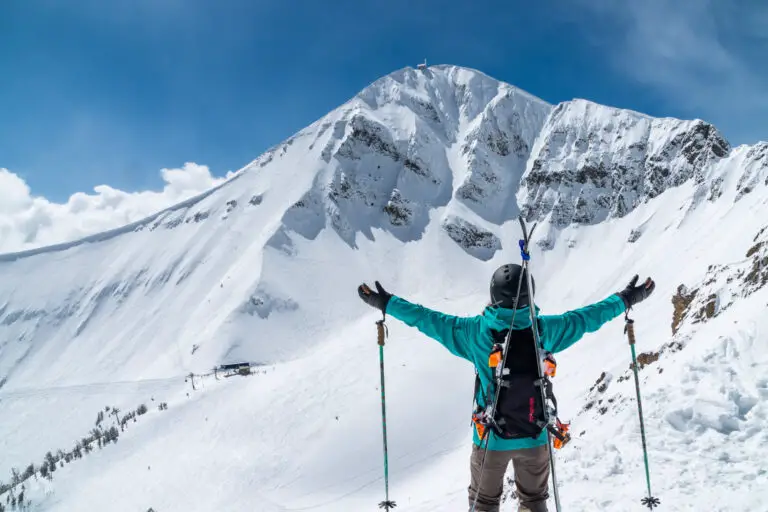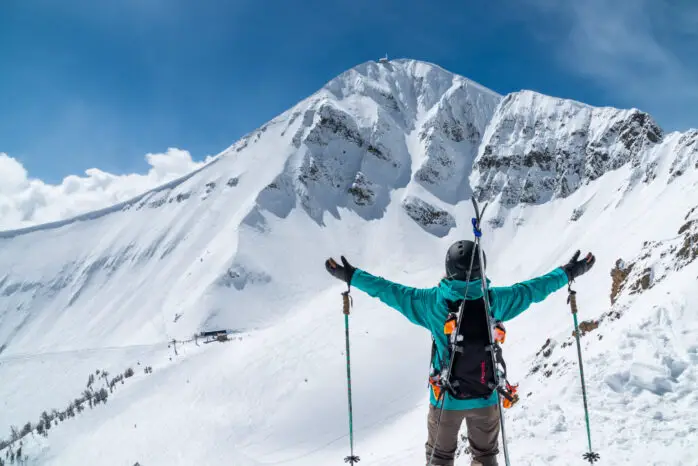 The 3 Valleys, also locally known as Les 3 Vallees include 7 ski resorts: Meribel, Courchevel, Brides-Les-Bains, Saint Martin-de-Belleville, Les Menuires and Val Thorens. With a massive ski area that offers 600 kilometers of slopes, this is the best place for snowboarders in the world where they can find all types of slopes and terrains. However, if you are looking for something bigger than this you would need to travel to Italy to experience the Dolomiti Superski, which is the largest ski area in the world.
Also, snowboarders can enjoy the beginner and intermediate pistes that would offer the right experiences. However, if you are an expert snowboarder you can also find enough red pistes that would allow you to get the best thrills. Also, with more than 85 per cent of the area being above 1800m, high one can expect guaranteed snow for the winter months.
There are four zones in Meribel to learn freestyle allowing beginners to feel gliding sensations, and learn how to jump and balance. The lifts in the area are among the fastest in the area allowing you to save time and optimize your snowboarding and skiing time. You can also find plenty of expert instructors here that can help you learn how to snowboard and ski and understand the terrain.
Centrally Located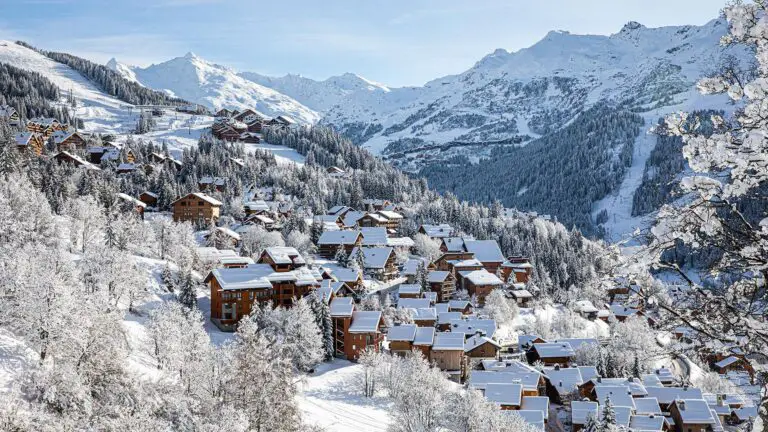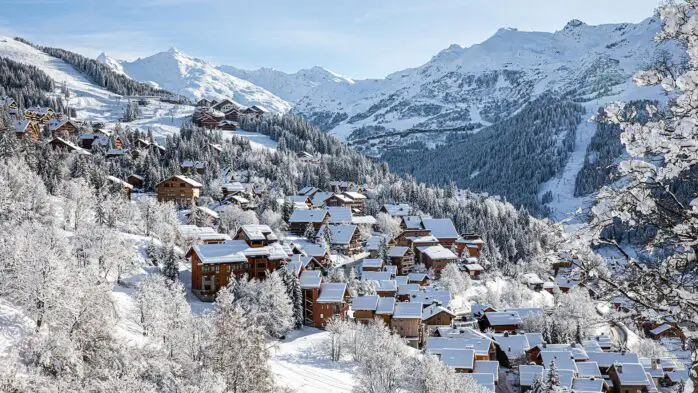 Geographically, Meribel sits right in the middle of the Les 3 Vallees and therefore snowboarders have the liberty to explore more pistes and powder tracks. On the map, Meribel is located right between Courchevel on the west, Brides-Les-Bains on the southern side and Saint Martin-de-Belleville and Les Menuires on the east. Hence, snowboarders and skiers can quickly access the valley of Courchevel and Saint Martin-de-Belleville and get home quickly without the need to cross an entire valley.
Also, in terms of accessibility, Meribel offers more advantages than any other ski resort in the Les 3 Vallees. With easy access via plane, car and train Meribel offers straightforward travel options to families and snowboarders looking for winter adventure. Chambery Airport and Geneva Airport are the closest international airports.
Variety of Slopes and Terrain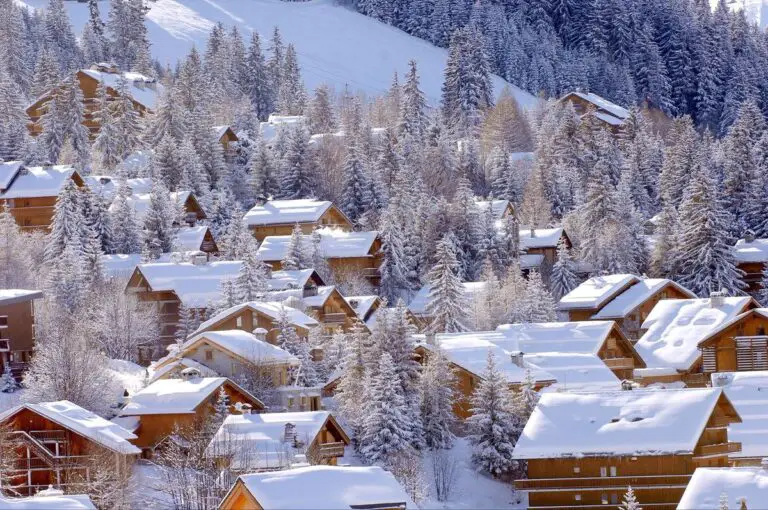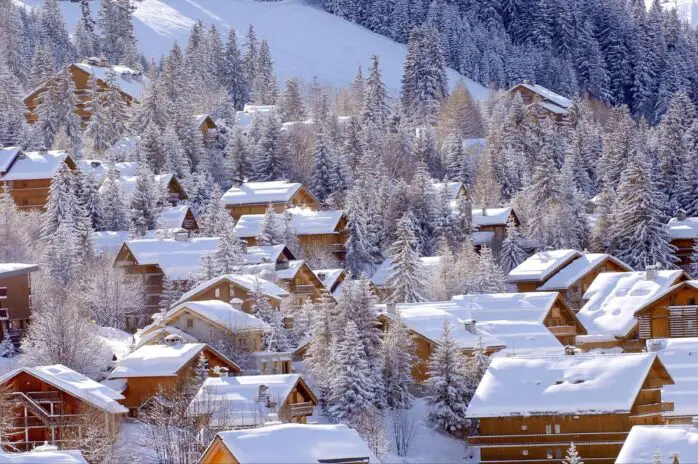 Snowboarders and skiers from around the world prefer Meribel mainly for the variety of slopes and terrains that they can get here. With 51 green pistes, 132 blue pistes, 106 red pistes and 32 black pistes there is plenty of adventure available for snowboarders and skiers alike.
You can choose from a wide range of north-aspected terrain that has ski verticals of 1500m in one run. Even if you are a beginner you can learn and improve your snowboarding skills on one of the well-groomed green pistes in the area. There are 169 lifts in Meribel to ensure that you don't have to wait once you get down.
Beyond Skiing and Snowboarding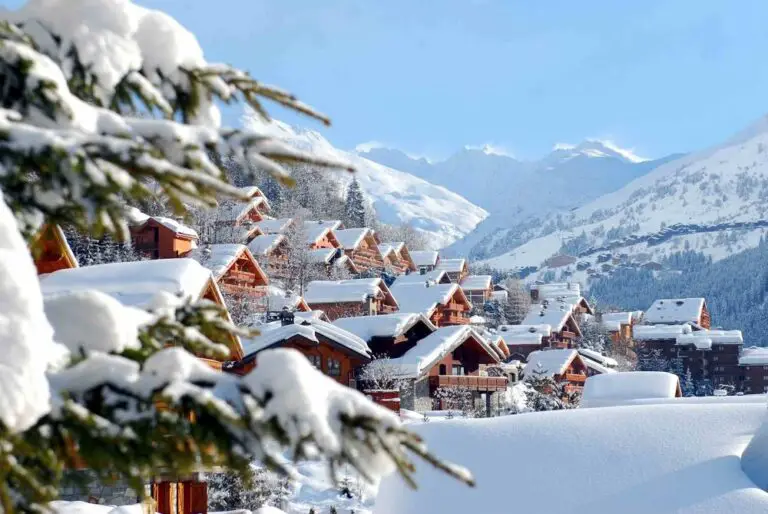 The best part about Meribel is that it has a lot to offer to people who want more than just skiing and snowboarding adventures. If you visit Meribel during the winter months you can enjoy the ice rink in the center of Meribel. Here you can showcase your ice skating skills.
You can also enjoy a game of ice hockey and other winter activities like dog-sledge and ice fishing. Furthermore, you can find many other adventure options here like paragliding, snow-shoeing, and riding horse-drawn carriages. This is a great way to break the monotony especially if you want to explore options beyond snowboarding.
Accommodation Options
For most snowboarders, accommodation is the key to their winter snowboarding experience. Hence, you can find plenty of accommodation options when you are in Meribel. Here you can find a wide range of chalets, ski resorts and even budget lodging options. If you are traveling solo and want some great budget accommodations you can find plenty of choices in the Brides-Les-Bains which is connected to Meribel via gondola.
On the other hand, Meribel has a variety of luxurious chalets and apartments that are both self-catering and fully catered. These accommodations also come with in-house babysitting and childcare services. The town of Moutiers also offers affordable accommodations and allows you to make day trips to Meribel.
Food and Apres Ski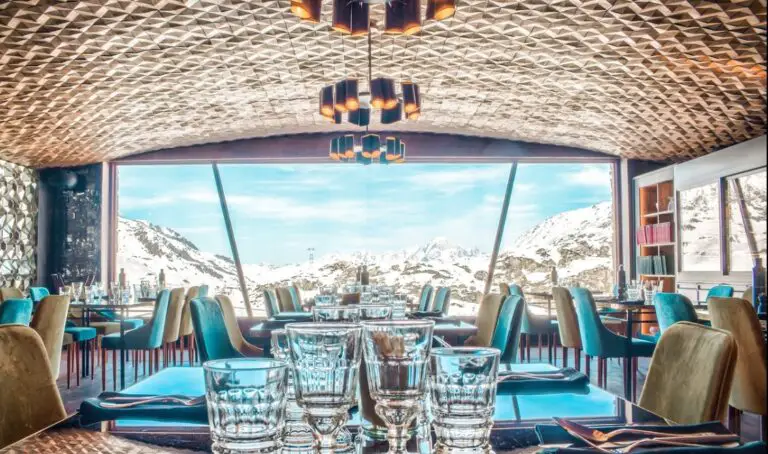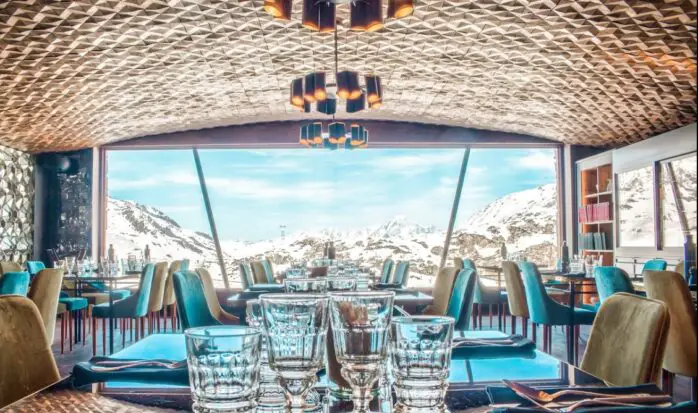 When you are done with snowboarding you would want to head for some quick bites or have some quality time with your family. Les 3 Vallees has 21 Michelin star restaurants offering a gastronomic treat to visitors in any of the 7 ski resorts. Located in Hotel Kaila, the 5-star hotel property is L'Ekrin, a Michelin star restaurant that serves the right flavors and tastes that you can try.
If you are up in the mountains you would want to try La Fruitiere, a restaurant run by La Folie Douce where you can enjoy some live music and entertainment as well. For après ski, you can also head to La Rond Point Bar where you can find a variety of cocktails and drinks. Meribel also has several disco clubs and pubs that are open till dawn where you can party hard.
Over the years, Meribel has remained one of the leading ski resorts in the French Alps for skiers and snowboarders that come here for its strategic location, massive ski area and an array of on and off-piste ski terrain that has so much to offer. With multiple modern resorts, apartments and lodging options and plenty of food facilities and amenities, Meribel is certainly a paradise for snowboarders who would like to have some fun and adventure.